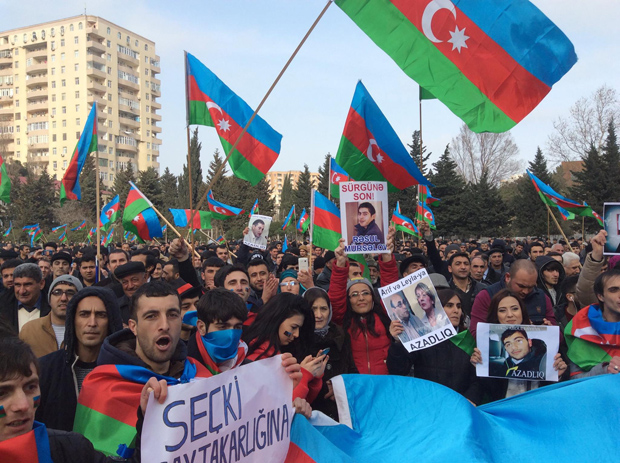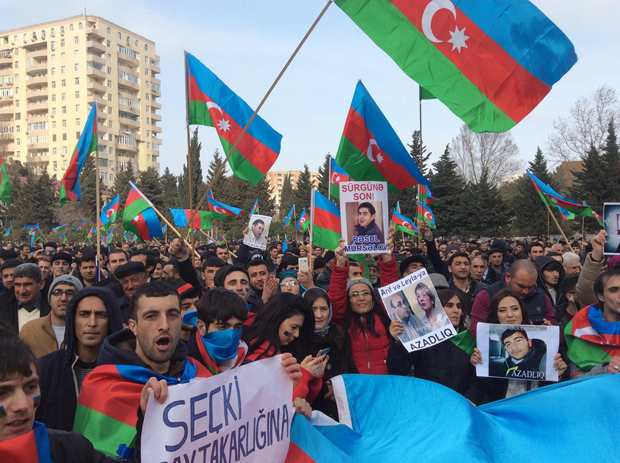 "Stop the plunder! Thieves in power, go! Resign!"
These were just some of the chants from the scores of Azerbaijanis who gathered in Baku's Mashul stadium on Sunday. The estimated 10,000 strong crowd was protesting the recent devaluation of the country's currency and its detrimental effects on living standards. Demonstrators also spoke out against human rights abuses in the country, just 87 days before its capital is set to host the inaugural European Games.
In late February, Azerbaijan's central bank made the choice to devalue the manat around 30% against the dollar and the euro, in response to the recent drop in oil prices. Around 70% of government revenues come from oil exports. But the policy has led to significant price hikes, igniting the public anger which culminated in Sunday's protest.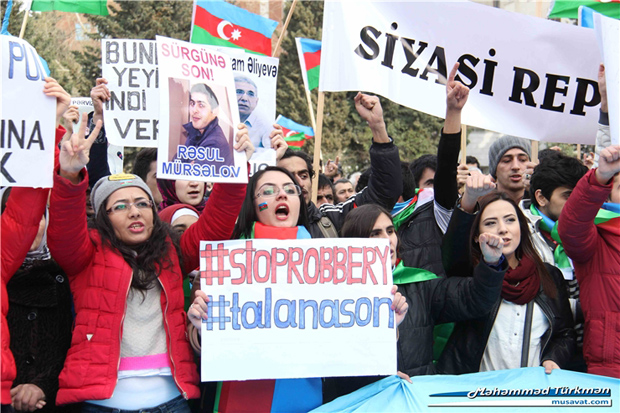 "Ranging from consumer goods, real estate, construction materials, equipment, automotive spare parts, everything is so much more expensive," stated the official Facebook event, which attracted over 2,400 attendees. The organisers — the oppositional National Council of Democratic Forces (NCDF) — however, put attendance on the day at some 10,000.
The peaceful rally was authorised by the the regime of Ilham Aliyev, who has been in power since succeeding his father Heydar in 2003. In 2013 he won the presidency for a third time, following his 2009 decision to remove term limits, and amid accusations that the vote was not free and fair.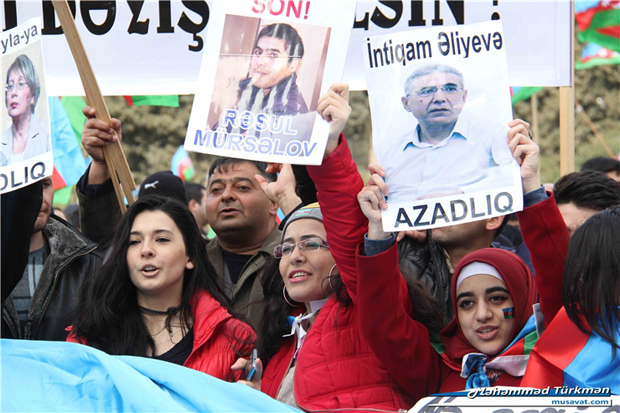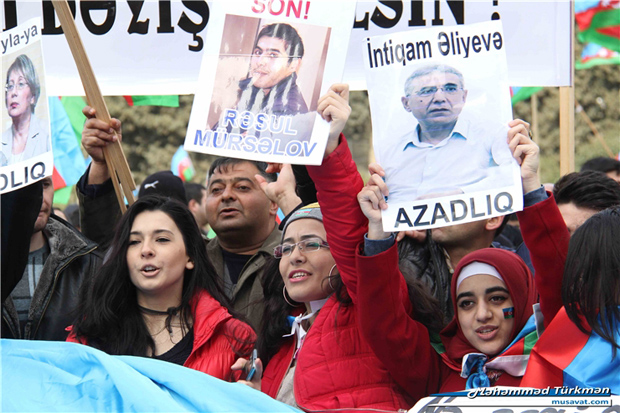 It took place against the backdrop of the countdown to this summer's International Olympic Committee (IOC)-backed Baku European Games. This fact was not overlooked by protesters. Ali Kerimli, from opposition party Azerbaijan Popular Front, criticised the amount of money spent on the event, saying it could instead be "directed to address the serious social and economic problems, raising the minimum wage and pension, which is only 150 manat," according to contact.az.
The games have been budgeted at over £5.4 billion, with Simon Clegg, the organising committee CEO (formerly of the British Olympic Association), promising it will be "the most fantastic show ever staged in Azerbaijan".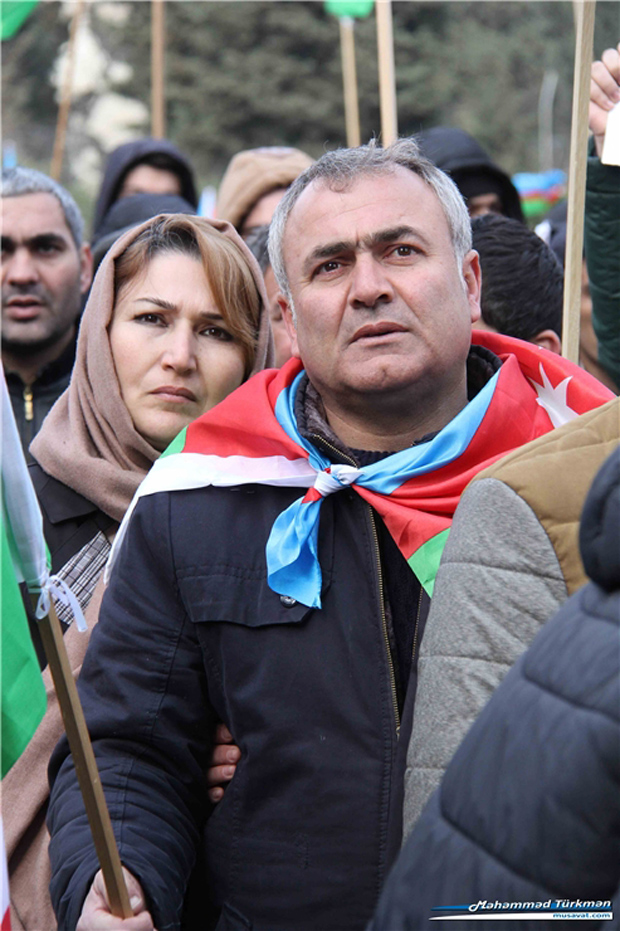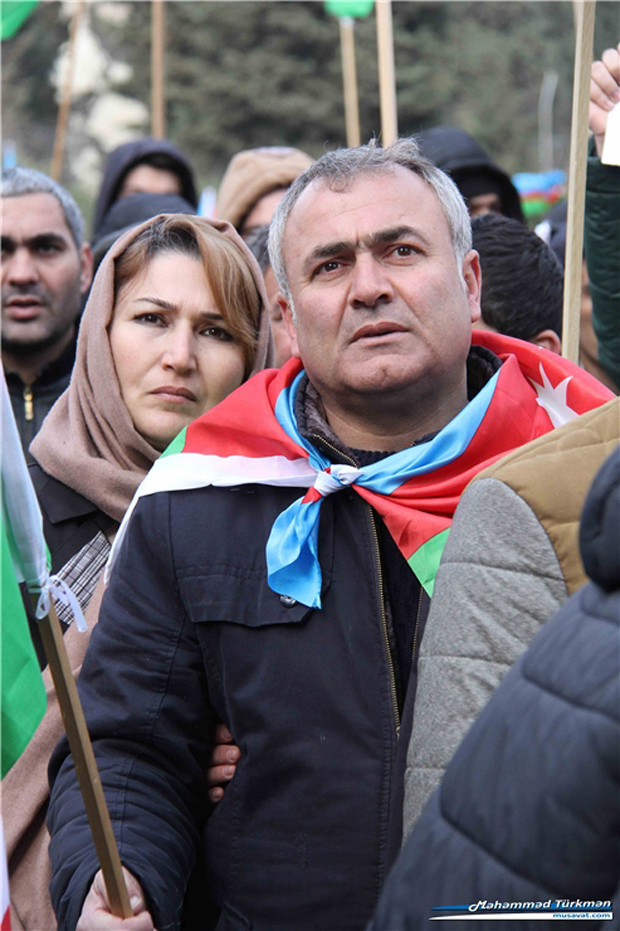 Kerimli also brought up the recent revelation that Azerbaijan will cover the costs of all 50 participating delegations. Such grants, most often connected to travel, have played an increasing part in Olympic bidding processes since they were first used at Sydney 2000. Today, "you cannot win without it", according to the organising committee chair of this summer's Pan American Games in Toronto. But as it is understood Azerbaijan was the only country willing to take on the risk of hosting the first ever European Games, it was not competing with anyone. Index contacted the European Olympic Committee (EOC) for documents related to the games, such a bid book detailing a city's hosting plans, including the budget. We were told that as there is no formalised bidding procedure for the European Games, the only such documents that exists is the host city contract. This, we were told, is private and not available to the public.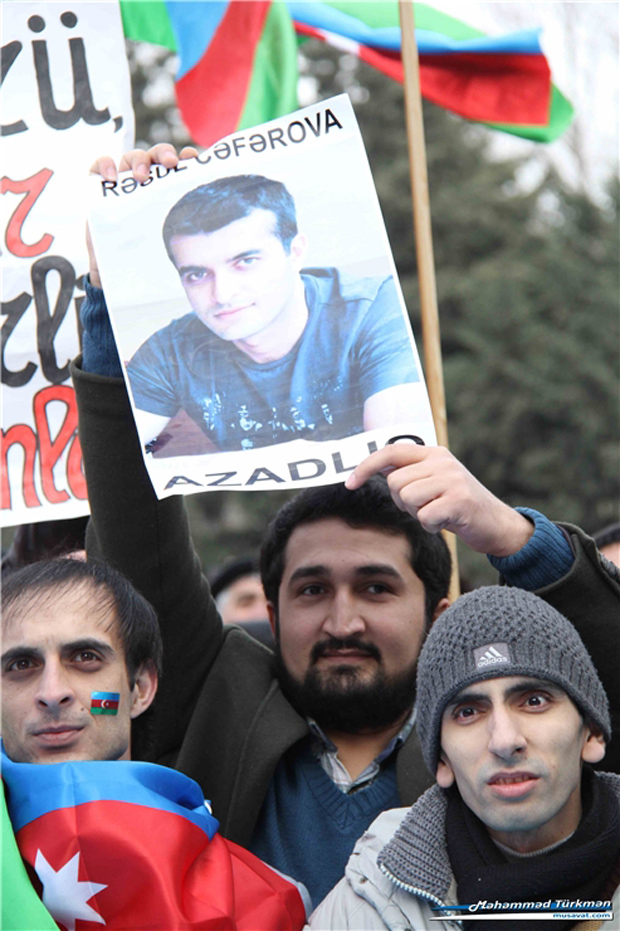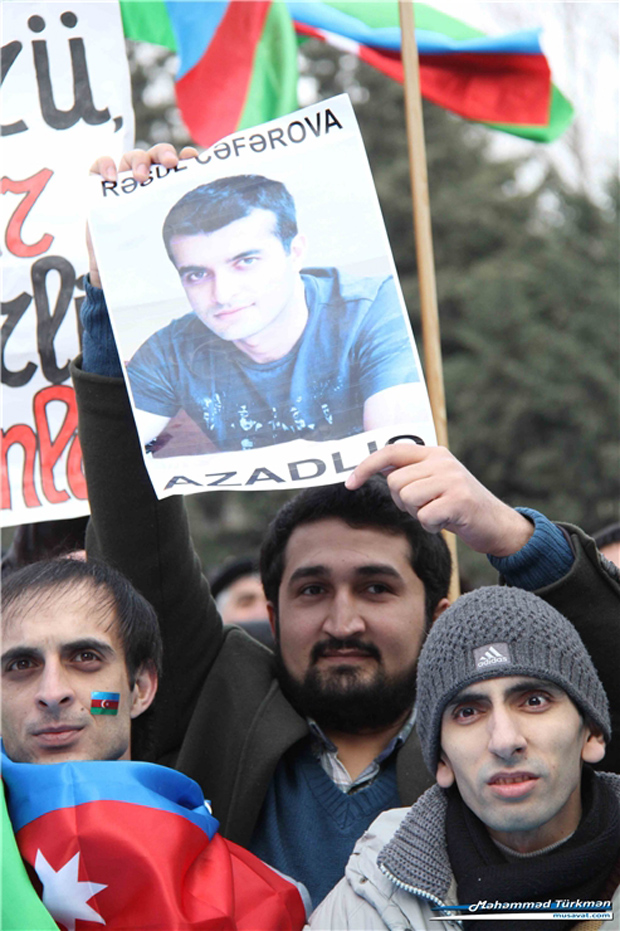 Azerbaijani authorities have been fighting a PR battle on multiple fronts for some time, paying for everything from beautifying Baku, to glossy magazines and international mega-events like the Eurovision Song Contest — with sports playing an increasingly important role.
The most famous example to date is the shirt sponsorship deal with reigning Spanish champions Atletico Madrid. Fernando Torres and his teammates recently started doubling up as miniature Baku 2015 advertising billboards. If nothing else, this will help football fans familiarise themselves with the name by 2020, when the capital will host three group games and one quarter-final of the European Championship. Last September, Azerbaijan also became Manchester United's "only Official Football Federation and Football Development Partner". And with two failed Olympic bids behind them, it seems authorities are pinning their hopes on a successful European Games to further boost their credentials among global sports' biggest players.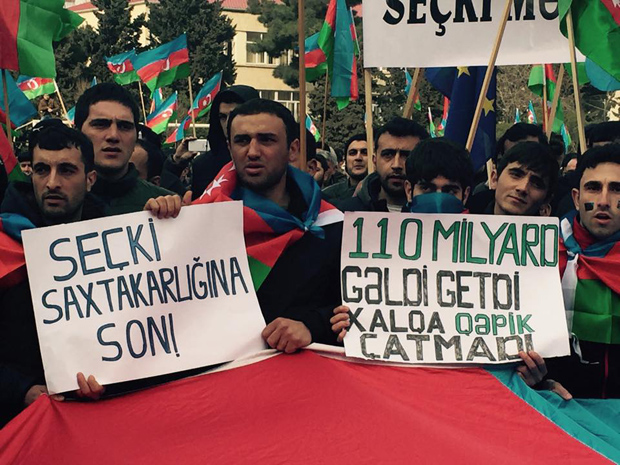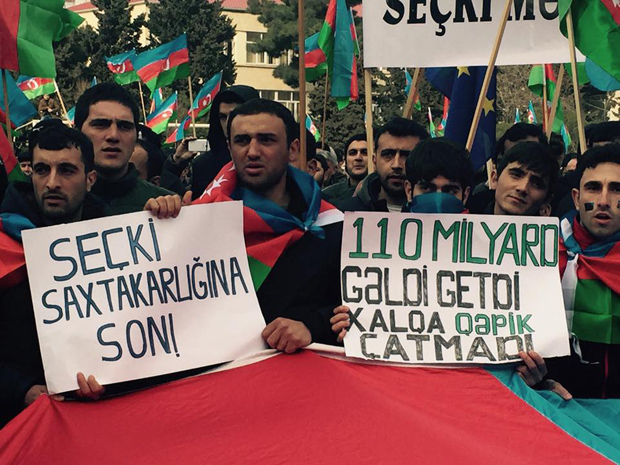 Despite the attempts to rebrand, Azerbaijan has failed to do away with accusations of human rights abuses and high-level corruption. Ranking 126/175 in the latest Transparency International Corruption Perceptions Index, a leaked US diplomatic cable once compared the country to "the feudalism found in Europe during the Middle Ages".
In fact, some of the corruption claims have gone hand in hand with ambitious projects. Ahead of the 2012 Eurovision Song Contest, journalist Khadija Ismayilova uncovered how the Aliyev family profited from the building of the Baku concert hall where the final was to be hosted.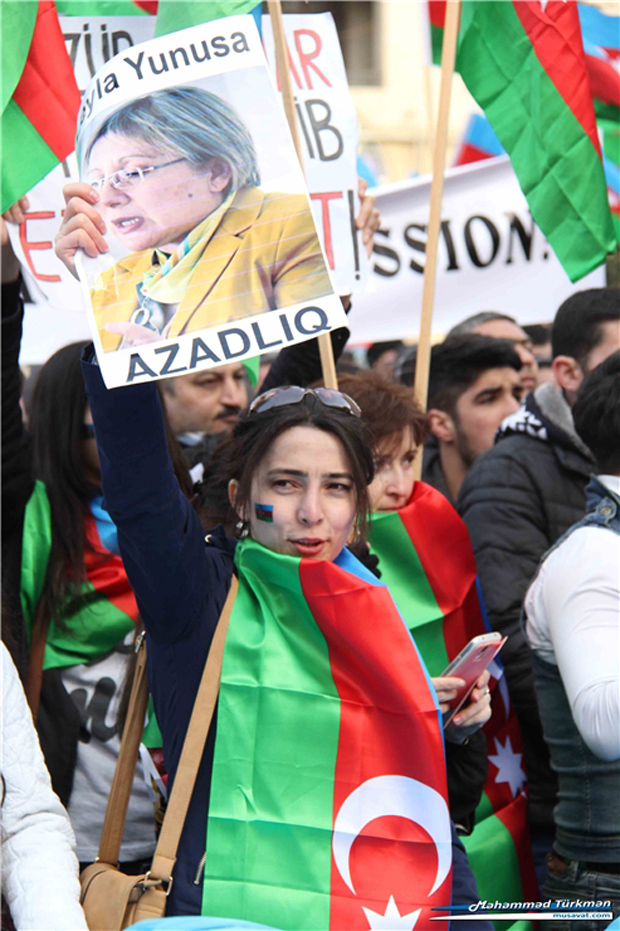 Today, Ismayilova, the country's most famous and celebrated investigative reporter, is in jail on what is widely believed to be trumped up charges. "I have spent three and a half months in detention waiting for one prosecution, which didn't work out. Now another one starts. Let us see if prosecutors will produce something smarter than they did so far," she wrote in an open letter last week.
Just a few months before Ismayilova's arrest, a number of other prominent government critics — including human rights activists Rasul Jafarov and Leyla and Arif Yunus, lawyer Intigam Aliyev, and journalist Seymour Hezi — were all detained. Though not there in person, they and the other 100 or so political prisoners in Azerbaijan, played a key part in Sunday's protest; their faces and names adorning posters across the stadium.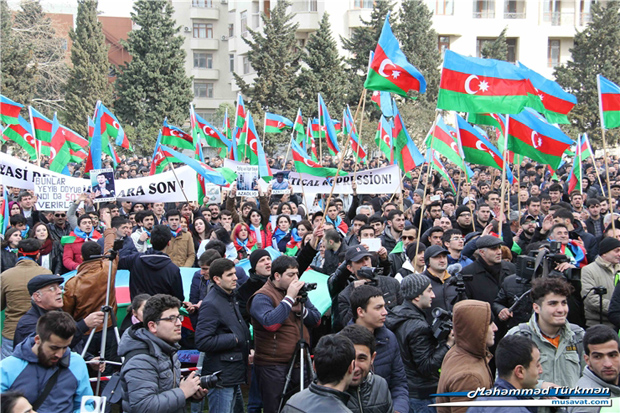 Human rights groups have warned that the European Games, like Eurovision before them, could be used to whitewash these rights abuses, and present a sanitised version of Azerbaijan to the world. With the another protest planned for 5 April, it seems government critics and regular people inside the country are determined to not let that happen.
All photos via Azadliq, reposted with permission.
This article was posted on 16 March 2015 at indexoncensorship.org