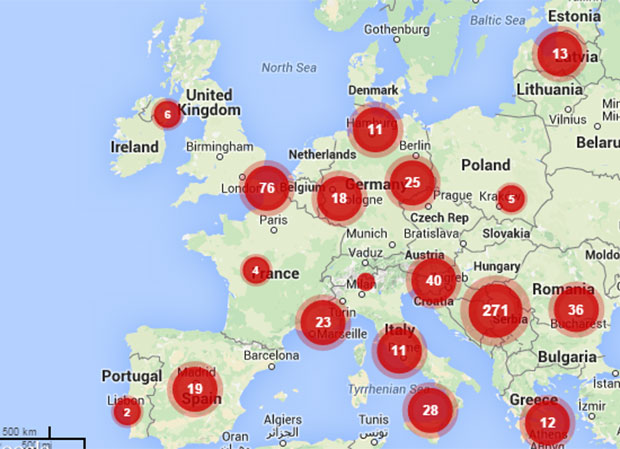 Index on Censorship is delighted to announce that its project to map media freedom in Europe has received renewed funding from the European Commission – one of just two projects selected.
Mapping Media Freedom – launched as a pilot project in 2014 – records threats to media freedom throughout the European Union and EU candidate countries. In the last 12 months, more than 750 violations have been reported, including threats of violence, harassment, intimidation and legal penalties. The map includes threats faced by journalists and media groups at local as well as national and regional level, enabling policy makers and activists to identify trends in media freedom and to respond either with immediate assistance such as legal support, or to campaign on specific cases and issues.
The new phase of the mapping project will be run in collaboration with the European Federation of Journalists and Reporters Without Borders.
"Media freedom is often taken for granted in Europe, but serious threats remain and in many countries are on the increase," said Index on Censorship CEO Jodie Ginsberg. "This mapping project allows us to monitor these threats and provides the information and evidence needed to tackle them."
Secretary General of the European Federation of Journalists, Ricardo Gutiérrez, added: "Recording and mapping violations to media freedom is critical to raising awareness and strengthening solidarity networks for journalists across Europe. Many European countries are experiencing a step backwards when it comes to media freedom and the EFJ is happy to bring the contribution of its members to unveil threats and campaign for change."