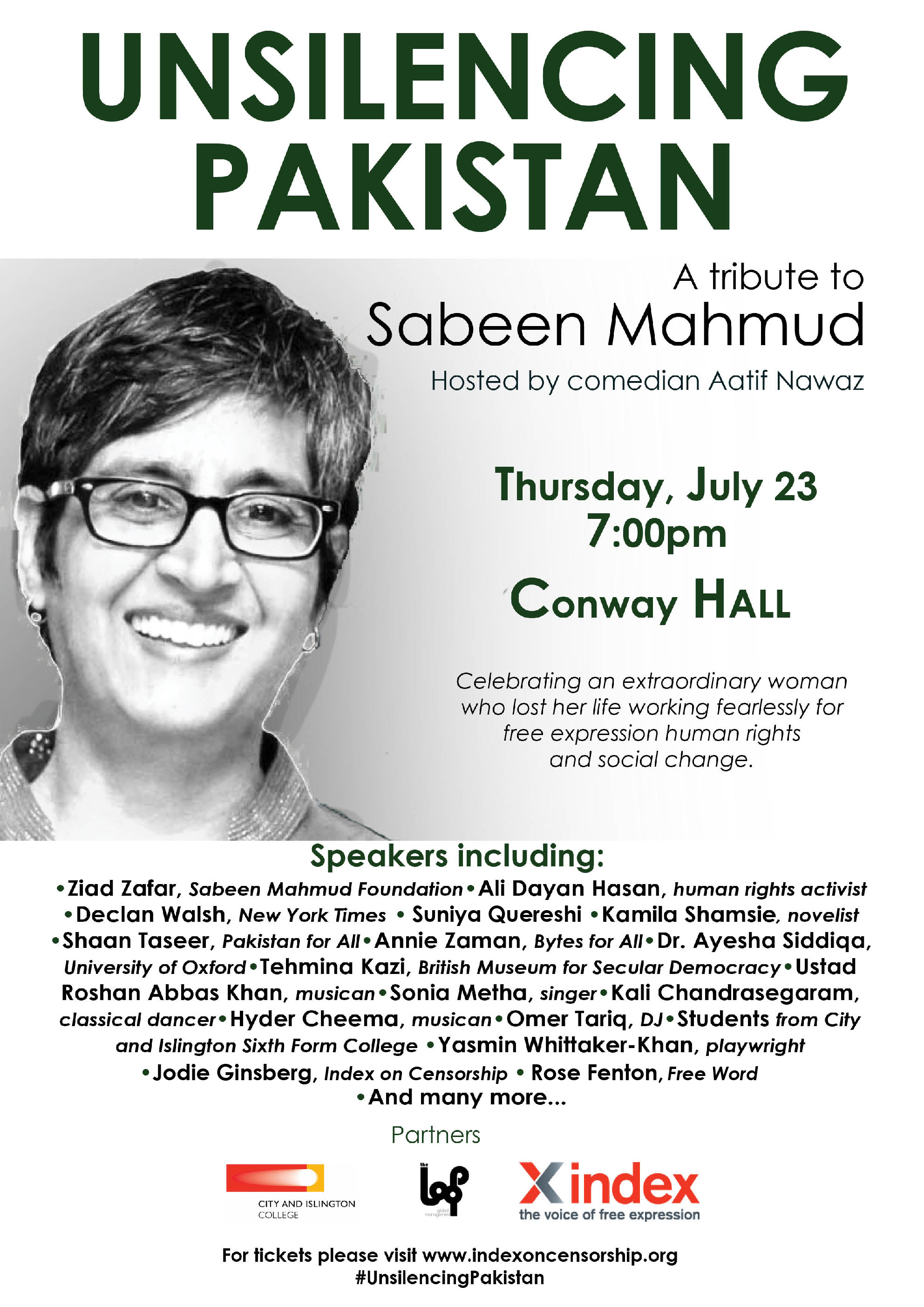 In May 2007 Sabeen Mahmud founded The Second Floor (now known as T2F), a coffee house and "community space for open dialogue" in Karachi, Pakistan.
In April 2015, Mahmud was shot dead by unidentified gunmen. Travelling home after hosting a panel discussion on the missing people of Balochistan, a poor but resource rich province of Pakistan, armed motorcyclists surrounded her car and opened fire.
Three months after this brutal act, Index on Censorship are working together with Yasmin Whittaker-Khan, Anneqa Malik and the Sabeen Mahmud Foundation to commemorate and celebrate an extraordinary woman.
Featuring prominent speakers alongside live art, music, poetry and Pakistani food.
Hosted by British-Pakistani stand-up comedian and TV presenter Aatif Nawaz. With:
Ali Dayan Hasan, Pakistani human rights activist
Annie Zaman, Bytes for All
Declan Walsh, New York Times
Dr Ayesha Siddiqa, University of Oxford
Jodie Ginsberg, Index on Censorship
Kali Chandrasegaram, classical dancer
Hyder Cheema, musician
Kamila Shamsie, novelist
Omer Tariq, DJ
Shaan Taseer, Pakistan for All (and son of late Salman Taseer)
Sonia Metha, singer
Students from City And Islington Sixth Form College
Suniya Qureshi, Qismat Foundation
Tehmina Kazi, British Muslims for Secular Democracy
Ustad Roshan Abbas Khan, musician
Yasmin Whittaker-Khan, playwright
Ziad Zafar, Sabeen Mahmud Foundation
When: Thursday 23 July, 7:00pm
Where: Conway Hall, 25 Red Lion Square, London WC1R 4RL (Map/directions)
Tickets: Free, book here
Presented in partnership with Conway Hall Ethical Society and the Sabeen Mahmud Foundation