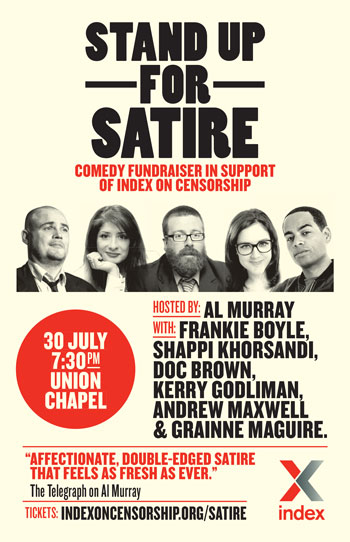 Join stand-up star Al Murray the Pub Landlord and outspoken friends for a top night of comedy in support of international freedom of expression charity Index on Censorship.
With a stellar line-up including the "foully inventive" Frankie Boyle, "razor sharp" Shappi Khorsandi, "truly inspired" Doc Brown, "smart and very funny" Kerry Godliman, "unpredictable" Andrew Maxwell and "delightfully quirky" Grainne Maguire.
Index on Censorship has long championed comedians, cartoonists and others facing threats of persecution, violence and even death. Index provides a platform for the censored to be read, seen and heard – promoting and defending the right to free speech globally. All proceeds from the event will go to support this work.
Satire is a powerful weapon that must be used wisely as anyone who wrote jokes about David Cameron for the last five years can attest. It's great to be able to help Index do their bit in keeping freedom of expression alive in the UK." – Al Murray
WHERE: Union Chapel, Compton Terrace, Islington, N1 2UN (Map)
WHEN: 30 July 7:30pm (Doors 6:30pm)
TICKETS: £40 VIP*, £20 general, £15 concessions – limited availability book now
*includes premium seating and exclusive drinks reception with VIP guests
Tickets are now sold out
Affectionate, double-edged satire that feels as fresh as ever."
The Telegraph on Al Murray
black-hearted brilliance… the chance to see him at close quarters is not to be missed."
The Guardian on Frankie Boyle
Don't be fooled by her innocent looks, she packs a deceptively powerful punch."
Evening Standard on Shappi Khorsandi
Sharp punch lines, imaginative devices and knows more than a thing or two about timing."
Metro on Doc Brown
Goes for the jugular, quick wit, frank and engaging."
The Independent on Kerry Godliman
Infuriatingly excellent…he delivers a superb set."
The Sunday Times on Andrew Maxwell
Highly promising, delightfully quirky – has a big future ahead of her."
Time Out on Grainne Maguire