Index on Censorship has had a longstanding interest in the issue of freedom of expression relating to satire. Drawing on Index on Censorship magazine's more than 40-year-archive, this reading list compiles articles looking at the relationship between comedy and censorship, including a recent piece by Samm Farai Monro aka Comrade Fatso, founder of Zambezi News, Zimbabwe's leading satirical news programme.
Students and academics can browse the Index magazine archive in thousands of university libraries via Sage Journals.
Comedy and censorship articles
Comedy of Terrors: Zimbabwean satirists challenge power by Samm Farai Monro
Samm Farai Monro, June 2015; vol. 44, 2: pp. 78-82.
Samm Farai Monro, aka Comrade Fatso, talks about founding Zimbabwe's leading satirical show, and how the nation's comedians challenge politicians and take on longstanding taboos
Out in Africa by Scott Capurro
Scott Capurro, March 2001; vol. 30, 2: pp. 190-194.
Stand up comedian Scott Capurro explores the limits of stand-up comedy in South Africa
Laughter Lines by Arthur Matthews
Arthur Matthews, March 2015; vol. 44, 1: pp. 86-88.
Co-writer of comedy sitcom, Arthur Matthews discusses censorship in comedy and satire in Ireland
Opiate of the Masses by Saeed Okasha
Saeed Okasha, November 2000; vol. 29, 6: pp. 106-111.
"No matter what form it takes, comedy is a political act in the first degree. It serves as an outlet for frustrations and is a way of putting impossible and incomprehensible situations into perspective. Egyptian society today is urgently in need of such therapy"
Comfort Zones by Scott Capurro
Scott Capurro, November 2000; vol. 29, 6: pp. 134-138.
Stand-up Comedian Capurro provides commentary on how political correctness stifles comedy
South Korea: A Serious Business by Andrew H. Malcolm
Andrew H. Malcolm, July 1978; vol. 7, 4: pp. 62.
A brief look at how comedy was strictly censored in South Korea, as the "serious government has cracked down on humour."
Side road, dark corner by Edgar Langeveldt
Edgar Langeveldt, November 2000; vol. 29, 6: pp. 86-89.
A stand-up comedian in Zimbabwe describes the dangers comedians face for covering controversial topics, including an account of his own violent attack in 1999.
They shoot comedians by Jamie Garzon
Jamie Garzon, January 2000; vol. 29, 1: pp. 132-133.
Transcripts of television satires by journalist and humourist Jaime Garzon. In August of 1999, Garzon was executed on his way to the Radionet studio.
How to Win Friends and Influence an Election by Rowan Atkinson
Rowan Atkinson, May 2005; vol. 34, 2: pp. 117-120.
Atkinson, a foremost British comedian, opposes the government's proposed law of Incitement of Religious Hatred in a speech given at the House of Lords, as he considers its dire effects on his profession.
Dark Magic by Martin Rowson
Martin Rowson, February 2009; vol. 38, 1: pp. 140-164
Author and cartoonist Martin Rowson expounds on satire, discussing how breaking cultural taboos often stimulates the best political satire
Confronting fear with laughter by Martin Smith
Martin Smith, January 1992; vol. 21, 1: pp. 8-10.
Smith writes about the terror that Burma's army has inflicted, specifically mentioning the comedian Zargana, who was punished for his bold, pointed jokes.
Comedy is everywhere by Milan Kundera
Milan Kundera , November 1977; vol. 6, 6: pp. 3-7
Banned novelist, playwright, and short story writer Kundera writes on committed literature, the death of the novel, the nature of comedy, and more topics.
"Comedy isn't here simply to stay docilely in the drawer allotted to comedies, farces and entertainments, where ' serious spirits' would confine it."
Egypt: Shame on the censor by Karim Alrawi
Karim Alrawi, December 1983; vol. 12, 6: pp. 40..
Discusses the charges filed against the comic actor Said Saleh
"We can only assume that Said Saleh has been made an example of for the shameful act of making people laugh."
The reading list for comedy and censorship can also be found at the Sage website.
---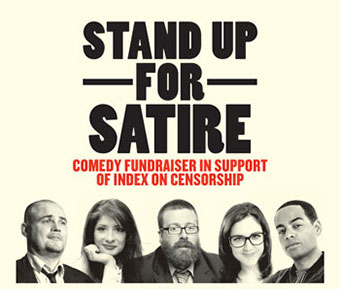 Index on Censorship has been publishing articles on satire by writers across the globe throughout its 43-year history. Prior to our event, Stand Up for Satire, we published a series of archival posts from the magazine on satire and its connection with freedom of expression.
14 July: The power of satirical comedy in Zimbabwe by Samm Farai Monro | 17 July: How to Win Friends and Influence an Election by Rowan Atkinson | 21 July: Comfort Zones by Scott Capurro | 24 July: They shoot comedians by Jamie Garzon | 28 July: Comedy is everywhere by Milan Kundera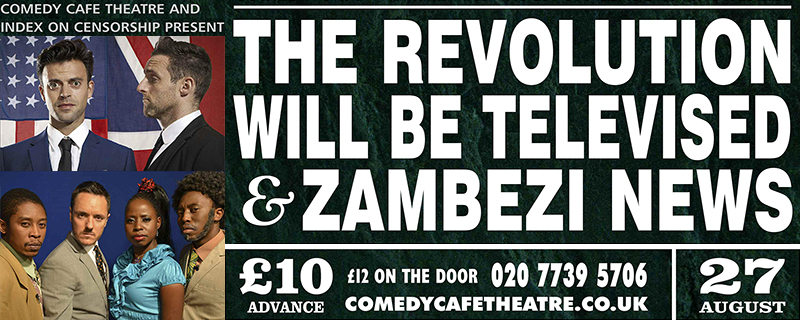 ---