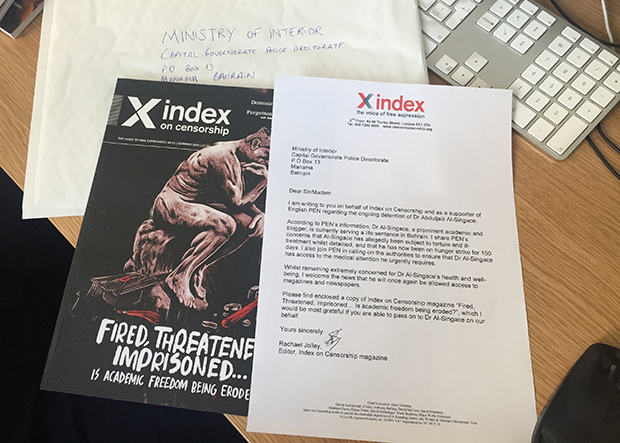 Today marks the 150th day of prominent Bahraini academic and blogger Dr. Abduljalil Al-Singace's hunger strike.
Al-Singace is protesting prison conditions in Bahrain. He is currently being held in solitary confinement at Al Qalaa hospital due to his poor health, and is reportedly being denied access to the full medical assistance he requires. Al-Singace, who has been promoting human rights in Bahrain since 2000, is serving a life sentence for allegedly plotting to overthrow the government.
Index's magazine editor, Rachael Jolley, responded to a call by English Pen to send a magazine for Abduljalil Al-Singace along with a copy of the letter below via the Ministry of Information.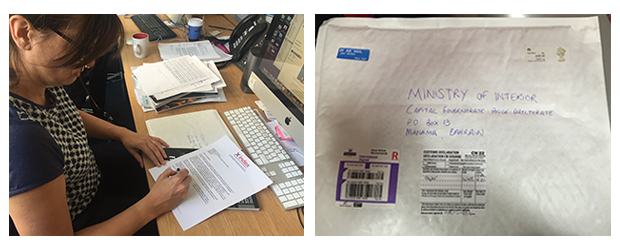 You too can express your support for Al-Singace by signing the petition asking for the immediate and unconditional release of Al-Singace and of all those detained in Bahrain in violation of their right to freedom of expression.
You can also join the social media campaign for Al-Singace by sharing details of his case with your friends and contacts using #SingaceHungerStrike.
Letter to the Ministry of Interior
Ministry of Interior
Capital Governorate Police Directorate
P.O Box 13
Manama
Bahrain
Dear Sir/Madam
I am writing to you on behalf of Index on Censorship and as a supporter of English PEN regarding the ongoing detention of Dr Abduljalil Al-Singace.
According to PEN's information, Dr Al-Singace, a prominent academic and blogger, is currently serving a life sentence in Bahrain. I share PEN's concerns that Al-Singace has allegedly been subject to torture and ill-treatment whilst detained, and that he has now been on hunger strike for 150 days. I also join PEN in calling on the authorities to ensure that Dr Al-Singace has access to the medical attention he urgently requires.
Whilst remaining extremely concerned for Dr Al-Singace's health and well-being, I welcome the news that he will once again be allowed access to magazines and newspapers.
Please find enclosed a copy of Index on Censorship magazine "Fired, threatened, imprisoned… Is academic freedom being eroded?", which I would be most grateful if you are able to pass on to Dr. Al-Singace on our behalf.
Yours sincerely
Rachael Jolley,
Editor, Index on Censorship magazine