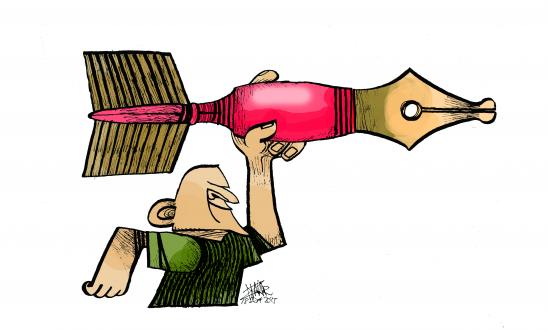 Malaysian cartoonist Zulkiflee Anwar Haque, aka Zunar, is facing nine simultaneous charges under the country's Sedition Act and will appear in court on 6 November. He could be sentenced to 43 years in prison for drawing cartoons that mock Malaysia's corrupt government officials.
Ahead of his court appearance, Zunar is coming to the UK to display a small selection of his work as part of the permanent exhibition at the Cartoon Museum and several other events.
Five of his cartoon books have been banned by the Malaysian government for allegedly carrying content "detrimental to public order" and thousands confiscated in an effort to curtail freedom of expression.
In early October 2015, the country's Supreme Court rejected a challenge to the constitutionality to the Sedition Act. The decision was a setback for Zunar, who's trial had been postponed pending the outcome.
The court, challenged by law professor Azmi Sharom, ruled on 6 October that the Sedition Act 1948 remains constitutional and a valid piece of legislation. Azmi had argued that the Sedition Act 1948 is not a valid law as it was not enacted by parliament and contradicted with the Article 10 of Malaysia's constitution.
At the time, Zunar said: "The decision by the court simply mocked the Constitution and [is] politically motivated."
The cartoonist said the Sedition Act has been used as political weapon by the government to constrain and curtail freedom of expression since it was introduced in 1948. More than 200 activists – students, lecturers, lawyers, writers, religious activists, opposition leaders and cartoonist – have either been arrested, detained, investigated or charged since last year.
"I am now being slapped with nine charges under the draconian act and facing a possible 43 years of jail term," he added. "The hope to get justice from the court is just fairy tale."