Index on Censorship recently appointed a new youth advisory board who attend monthly online meetings to discuss current freedom of expression issues and complete related tasks. As their first assignments they were asked to provide a short bio to introduce themselves, along with a photograph of them holding a quotation highlighting what free expression means to them.
Simon Engelkes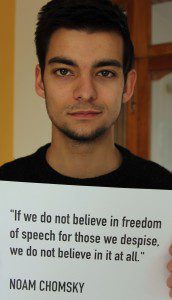 I am from Berlin, Germany, where I study political science at Free University Berlin. I have worked as an intern with Reporters Without Borders and RTL Television, which made me passionate about the importance of freedom of speech.
I believe that freedom of expression forms an important cornerstone of any effective democracy. Journalists and bloggers must live without fear and without interference from state or economic interests. Unfortunately, this is not the case. Journalists, authors and everyday citizens are imprisoned or killed by radicals, state agencies or drug cartels. Raif Badawi, James Foley, Khadija Ismayilova, Avijit Roy – the list is endless.
We need to remind ourselves and the powerful of today, that freedom of expression as well as freedom of information are basic human rights, which we have to defend at all costs.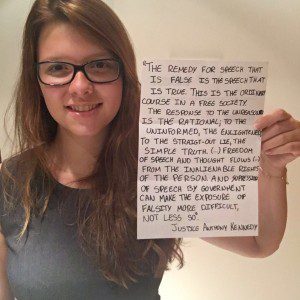 Mariana Cunha e Melo 
I am from Rio de Janeiro, Brazil. I graduated from law school in Rio and I have a degree from New York University School of Law. My family has taught me about the dangers of censorship and dictatorship, so I have always been interested in studying civil rights. This was the main reason I decided to study law.
I grew up listening to stories about the media censorship in Brazil during the military dictatorship. The fight against the ghost of state censorship has always sounded very natural to me – and, I believe, to all my generation. When I finished law school I found out that the new villain my generation has to face is the censorship based on constitutional values. The argument has changed, but the censorship is not all that different. So I decided to dedicate my academic and my professional life as a lawyer to fight all sorts of institutionalised censorship in Brazil.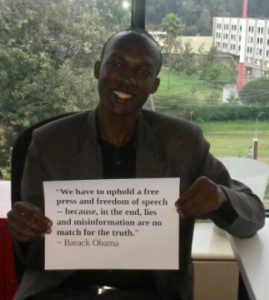 Ephraim Kenyanito
I was born and raised in Kenya, and I am currently working as the sub-Saharan Africa policy analyst at Access Now, an international organisation that defends and extends the digital rights of users at risk around the world. My role involves working on the connection between internet policy and human rights in African Union member countries. I am an affiliate at the Internet Policy Observatory (IPO) at the Center for Global Communication Studies, University of Pennsylvania. I also currently serve as a member of the UN Secretary General's Multi-stakeholder Advisory Group on internet governance.
The reason why I have always been passionate about protecting the open internet is that it is a cornerstone for advancing free speech in the post-millennium era and there is a great need to build common ground around a public interest-oriented approach to internet governance.
Emily Wright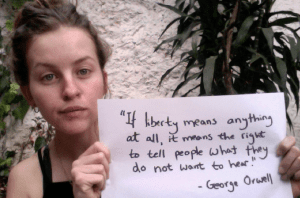 I grew up in Portugal, and I am now based between London and Bogotá, Colombia. I am a freelance filmmaker and journalist. Working in documentary production and community-based, participatory journalism informed a growing interest in journalistic practices, freedom of expression and access to information.
I believe that one of the greatest threats to freedom of expression is the flagrant violation of civil liberties under the banner of national security. The war on terror, underscored by Bush's declaration "You're either for us or against us", has collapsed the middle ground, suppressing any struggles that challenge that statement. Freedom of expression has become a pretext for silencing those who have the least access to it; those who do not fall in line with the global order's supposed defence of freedom against barbarism and obscurantism.
Mark Crawford
I'm originally from Birmingham, and now a postgraduate student at University College London, specialising in Russian and post-Soviet politics. This has inevitably educated me on the pressures exerted upon freedom of expression in Russia, whose suffocated and disenfranchised opposition journalists I am currently investigating.
Hostility to free expression has become a staple of my university life. Rather than developing a coherent set of ideologies to challenge toxic values in the open, it has become mainstream for students of the most privileged universities in the world to veto them on behalf of everyone else, no-platforming and deriding free speech.
I am convinced that there is no point fighting for an egalitarian society if any monopolies over truth are permitted. Freedom of speech is, therefore, something I am keen to promote in whatever small way I can.
Madeleine Stone 
My home is in south-east London but I spend most of my time in York, studying for my bachelor's degree in English and related literature. I am currently the co-chair of York PEN, the University of York's branch of English PEN, and a founding member of the Antione Collective, a human rights-focused theatre company.
Studying literature from across the globe has introduced me to issues of freedom and censorship, and the devastating effects censorship can have on national progress. Freedom of expression on campuses is hugely important to me as a student and it is currently under threat. Well-meaning individuals are shutting down the open debate that is vital to academic institutions. The only way to fight harmful ideas is to engage them head-on and destroy them through academic debate, not to ban them.
Layli Foroudi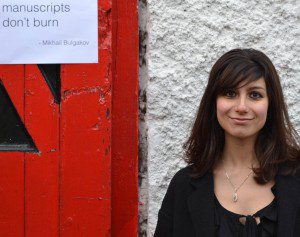 I am a journalist and student currently studying for a MPhil in race, ethnicity and conflict at Trinity College Dublin. It was studying literary works from the Soviet period during my undergraduate degree in Russian and French at University College London that initially highlighted the issue of censorship for me. The quote I selected, "manuscripts don't burn", is from the book Master and Margarita by Russian author Mikhail Bulgakov. He wrote about the hardship that many writers faced as they had to adjust their own writing in accordance with the authority, as well as the fact that not all that is written can be taken to be true.
I think that these themes are very relevant today. Whether people are censored or self-censor out of fear of punishment or of being wrong, limiting freedom of expression results in loss of debate, of exchange and of creativity. Being denied freedom of expression is being denied the right to participation in society.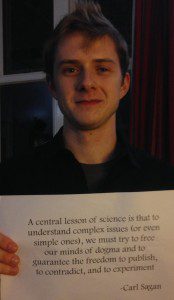 Ian Morse
I have been involved in journalism since I began studying at Lafayette College, Pennsylvania, USA, and have been engaged in press freedom and reporting in three countries since then. I studied in Turkey last spring, where I interviewed and wrote about journalists and press freedom. It motivated me to begin researching and writing on my own about these topics. Now, as I study for a semester in Cambridge in the UK, I continue to talk about and advocate for free speech and press.
I find it absolutely amazing the power words and information can have in a society. It becomes then extremely damaging to realise that some things cannot be published because they conflict with those in power. Free speech is now becoming a hot topic around the world, particularly among youth, and it makes it all the more important to be able to approach freedom of expression critically and objectively.