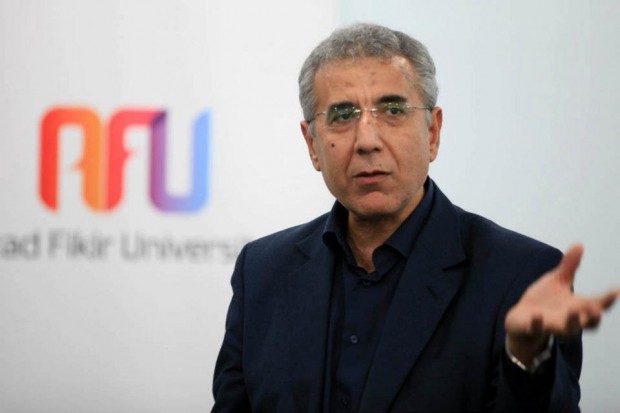 Index on Censorship welcomes the release of lawyer Intigam Aliyev, but says the Azerbaijan authorities must now release journalists and activists who remain imprisoned.
Aliyev is a lawyer who specialised in defending the rights of Azerbaijani citizens before the European Court of Human Rights. Index calls on the government of Ilham Aliyev, the president, to further release journalists Khadija Ismayilova, Seymur Hezi and all political prisoners who have been locked up for voicing criticism of the government.
"This release is good news for Intigam Aliyev's family. The international community must continue to put pressure on Azerbaijan to free journalists and political prisoners that it remain in detention," Index on Censorship CEO Jodie Ginsberg said. "Azerbaijan still has a very long road ahead in delivering basic freedoms — including a guarantee of freedom of expression for all its citizens. It must end its judicial harrassment of reporters, political opponents and others who are committed to the promotion of democracy and human rights."
Aliyev, who ran the Azerbaijan-base Legal Research Institute, was one of a score of prominent human rights activists and journalists who were arrested and subjected to show trials in 2014 and 2015.
In April 2015, Aliyev was sentenced to 7.5 years imprisonment for illegal business activities, tax evasion and abuse of power. The case was widely condemned as being politically motivated by Azerbaijan's government.
Aliyev's release follows the pardoning of 14 political prisoners by a presidential decree on 17 March.
Human rights defender Rasul Jafarov, the founder of the Sport for Rights campaign, stepped out from Baku's Prison Number 10 into freedom on 17 March after spending 593 days unjustly jailed. The same day, the European Court of Human Rights issued a judgment in Jafarov's case, acknowledging that his arrest and detention were politically motivated.
Jafarov was one of 14 political prisoners included in the pardon decree signed on 17 March. The other political prisoners pardoned through that decree included journalists Parviz Hashimli, Hilal Mammadov, and Tofig Yagublu; human rights defenders Taleh Khasmammadov and Anar Mammadli; NIDA civic movement activists Rashadat Akhundov, Mahammad Azizov and Rashad Hasanov; bloggers Siraj Karimli and Omar Mammadov; former government official Akif Muradverdiyev; chairman of the National Statehood party Nemat Penahli; and Musavat party activist Yadigar Sadigov.
A further political prisoner, journalist Rauf Mirkadirov, was released on 17 March by the Baku Court of Appeals, which commuted his six-year prison sentence into a suspended five-year sentence. Mirkadirov had been unjustly jailed since April 2014 on politically motivated treason charges.
Award-winning investigative journalist Khadija Ismayilova, who has been detained since 5 December 2014. Ismayilova was initially arrested on charges of incitement to suicide, which Index condemned as spurious. In February 2015, Ismayilova was additionally charged with tax evasion and abuse of power. In September 2015, she was sentenced to 7.5 years after a show trial at which she declared her innocence.
Journalist Seymur Hezi was sentenced to five years imprisonment for "aggravated hooliganism" on 29 January 2015. He was arrested and detained in August 2014.
Rahim Haciyev, acting editor of Index award-winning newspaper Azadliq, told Index in September 2015 Hezi's prosecution was due to his critical articles of the Azerbaijan authorities in the newspaper, as well as critiques he had made in his online TV programme, Azerbaijan Hour.