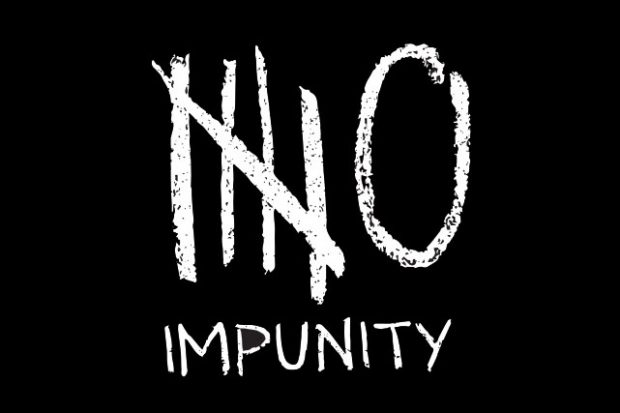 Today is the International Day to End Impunity for Crimes Against Journalists. Since 2006, 827 journalists have been killed for their reporting. Nine out of 10 of these cases go unpunished.
Index on Censorship's Mapping Media Freedom platform verified a number of reports of impunity since it began monitoring threats to press freedom across Europe in May 2014. Here are just five reports from three countries of concern: Russia, Belarus and Ukraine.
"Impunity empowers those who orchestrate crimes and leaves victims feeling vulnerable and abandoned," said Hannah Machlin, Index's project officer for MMF. "What we are witnessing is a vicious cycle of unresolved crimes against journalists."
Most recently, MMF reported that Sergey Dorovskoy, who the Lyublinski district court in Moscow recognised as orchestrating the murder of Novaya Gazeta journalist Igor Domnikov, received a 200,000 rubles (€2,860) fine but no jail time because the statute of limitations had passed. This small punishment was in compensation for "moral damages" to Domnikov's wife.
From 1998-2000, Igor Domnikov headed Novaya Gazeta's special projects department which ran investigations. He had published a series of articles about Dorovskoy's alleged criminal activities and corruption.
On 19 February 2014, Vyacheslav Veremiy, a Ukrainian journalist for the newspaper, Vesti, died from injuries he sustained from a gunshot and a brutal beating. Veremiy was targeted while covering the anti-government Euromaidan protests in the country's capital Kyiv. The two-year-old case has produced suspects but no prosecutions. The investigation remains open.
The year ended with an attack on the editor-in-chief of the news website Taiga.info, Yevgeniy Mezdrikov in Russia. Two individuals posed as couriers to gain access to the offices, where they assaulted Mezdrikov. After just one year the offender was granted a pardon.
In Ukraine, on 21 January 2015, Rivne TV journalists Arten Lahovsky and Kateryna Munkachi were physically attacked. The assailants released an unknown substance from a gas canister, choking Lahovsky. The journalists believe the attack to be premeditated and have criticised police failure to investigate.
In Belarus, officials did not file a criminal case in the assault of TUT.by journalist Pavel Dabravolski, who said he was beaten on 25 January 2016 by police while filming another incident at a court facility. The officers involved testified that Dabravolski did not present a press card when requested and grabbed at them while shouting insults. Additionally, police claimed that Dabravolski was interfering with their duties.
Dabravolski captured the incident on his mobile phone, though the recording was not considered as part of the three-month investigation into the incident. According to the journalist, he was thrown to the ground and kicked by police. He was fined for charges of contempt of court and disobeying legal demands.
Index on Censorship calls for more to be done to ensure justice is served for crimes against journalists.