[vc_row][vc_column][vc_column_text]


Turkey Uncensored is an Index on Censorship project to publish a series of articles from censored Turkish writers, artists and translators.
[/vc_column_text][vc_column_text]More than anything else, it's the central question that takes a grip on you: "Will I ever be able to see Turkey, my homeland, again?"
This was the feeling that caught me as I crossed the 15 July Martyrs Bridge over the Bosphorus just days after the failed coup attempt.
Before the failed coup it was known as the First Bridge. During the coup it was one of the centers of bloody scenes that marked the beginning of nationwide chaos and trauma that is still unfolding.
I knew I, just as my nation, was heading towards the unknown. At the time, the only thing that mattered was freedom – perhaps the most precious element in any journalist's existence.
I knew, even as the tragedy for Turkey played out on the streets, that no matter the outcome, among the first victims would be our freedom, which had been fragile for years. Before the coup, we had been forced to deal with the monster of intolerance deeply embedded in the upper echelons of the state. The fierce power struggle had snowballed into a putsch.
As I watched the sun rise on 16 July, I knew without a doubt that the Turkey's weary journalists — including me — would be rounded up sooner or later.
Freedom mattered. Freedom to be. Freedom to do. My most vivid thought, crossing the bridge, was to move to a free domain, to be able to do what I should: to observe, to listen and to write Turkey's interesting and baffling story.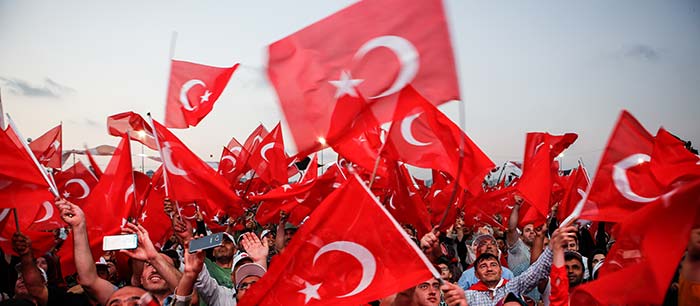 But when you must leave, crossing into exile means something much different than a sigh of relief. You leave parts of yourself behind and you know that they will haunt you. Exile, voluntary or not, means a total reset on your existence. It is a journey laced with second thoughts and unforeseen consequences. You will questioned and criticised by some and admired by others for your adventurous nature.
But once in exile, you are very much on your own. Your routines ruined, and your plans abandoned or in need of modification. It's like entering a darkened room that you must map by touch.
I felt, still, lucky.
Once across the border, all I felt initially was a sense of numbness. It was strangely calming because I had already made this journey out of Turkey into exile.
Decades ago, as a student repulsed by political violence and state brutality, I had to leave Turkey for Scandinavia. I had a memory, a developed sense of intuition: I knew what the stakes were. When you proceed to safety, you rely on your good friends, forget dwelling so much on tomorrow or the day after, and find a place to settle. Whenever in doubt, remember to be thankful that you are free. It's calmness that matters.
Then you do two things: recalculate your sources for survival and try to do your best to save those that you left behind who are in danger. As I settled somewhere in Europe, I had already absorbed the notion that I would be living on the minimum.
I sensed that good colleagues would not leave Turkey's exiled journalists out in the cold. Most of them loved Turkey and its people; found its story fascinating, and admired our resilience in the face of repeated waves of oppression. In many cases recently, I was proven right. Those of us in exile, I believe, do not feel abandoned.
Exile means living in solidarity. I persuaded two colleagues to get out before they too were served with invitations to discuss their involvement in the "media leg of a terrorist organisation". A third changed their mind and luckily still stands free. I worked on the cases of journalists who are stuck or on the run, connecting them with others who can provide legal or financial help. It's an ongoing process, just as the era of emergency rule continues.
Exile means living with the uncertainty of time. It eats at you. It is an indefinite sentence filled with questions: When will things return to a semblance of normality? Will I ever be able to return? What if I end up like an Iranian intellectual, who have never been able to go home? What if I will have to abandon journalism, cease my sharing of the truth and be forced to do something else?
My gut tells me that this time Turkey's turmoil may turn out to be long-lasting and leave a more harmful imprint on the nation's soul. We are in the midst of an open-ended story, mapping the contours by touch with very few clues about the finale.
Exile means spending your days in a fog.[/vc_column_text][/vc_column][/vc_row][vc_row][vc_column][vc_column_text]Yavuz Baydar is the co-founder of Platform for Independent Journalism (P24), an initiative to support and promote editorial independence in the Turkish press. He is a veteran Turkish columnist and blogger and was awarded the Special Award of the European Press Prize in 2014.[/vc_column_text][/vc_column][/vc_row][vc_row][vc_column][vc_custom_heading text="Turkey Uncensored" use_theme_fonts="yes"][vc_basic_grid post_type="post" max_items="4″ element_width="6″ grid_id="vc_gid:1485774765528-af1463e8-b299-7″ taxonomies="8607″][/vc_column][/vc_row]