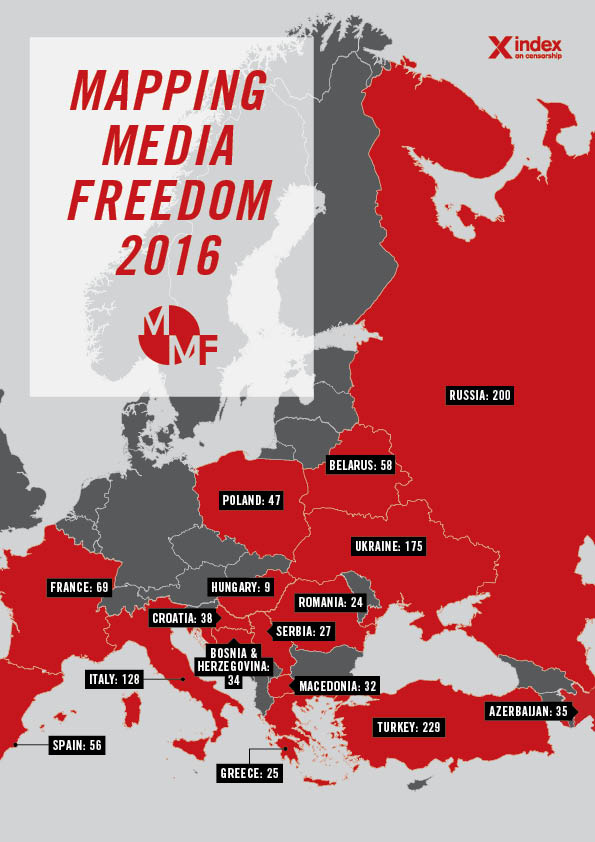 Freedom of expression campaign group Index on Censorship launches Media Freedom Month in March with the release of its annual report into media freedom in Europe. The report shows journalists face regular harassment, legal sanctions and even jail for doing their job – even in supposed democracies. Index's Media Freedom Month aims to raise awareness of and funding for its work campaigning on press freedom.
"Right now, journalists and journalism are threatened from all directions: UK journalists who travel to the US are being told they need to hand over their mobile phone contacts and Facebook passwords. US journalists are being labelled as peddlers of 'fake news' over any articles the President dislikes and reporters across Europe face a host of laws that hamper their ability to work," said Index chief executive Jodie Ginsberg.
Media Freedom Month will begin with the launch on Tuesday of the latest Mapping Media Freedom report on Europe and will end with an exclusive study of media freedom in the United States that goes well beyond the current focus on Donald Trump and his relationship with the press.
"A country without a free media is not a free country: Journalism provides a vital check on corruption and abuse of power and we must fight to protect it," said Ginsberg.
Between 1 January and 31 December 2016, Mapping Media Freedom's network of correspondents, partners and other journalists submitted a total of 1,387 verified threats to press freedom in 42 European countries.
"The precarious state of press freedom across the globe is underlined by the volume of verified incidents added to Mapping Media Freedom in 2016. The spectrum of threats is growing, the pressure on journalists increasing and the public right to transparent information is under assault. People who are simply trying to do their job are being targeted like never before. These trends do not bode well for 2017," Hannah Machlin, Mapping Media Freedom project officer, said.
Some of the major themes in the data – and which journalists should be wary of in 2017 – include:
Violence from right-wing groups

Dangers faced when reporting on protests and demonstrations organised across the political spectrum

Impunity: Physical attacks on journalists not properly investigated; government officials intimidating reporters without fear of punishment

Difficulties reporting on refugees, including being denied access and violence

Silencing journalists by arresting them on ties to terrorist or extremist groups

Criminalised libel laws subjecting media outlets to high fines

Economic difficulties leading to the closure or restructuring media outlets and buyouts by wealthy businesspeople, often leading to job cuts and dismissals

State of emergency laws being used to detain journalists without charge

Death threats and smear campaigns disseminated online
The 2016 report is available in web and pdf format at https://mappingmediafreedom.org/plus/
For more information, please contact Hannah Machlin, Mapping Media Freedom project officer at [email protected]
About Mapping Media Freedom
Mapping Media Freedom – a major Index on Censorship project and a joint undertaking with the European Federation of Journalists and Reporters Without Borders, partially funded by the European Commission – covers 42 countries, including all EU member states, plus Bosnia, Iceland, Kosovo, Macedonia, Montenegro, Norway, Serbia, Turkey, Albania along with Ukraine, Belarus and Russia in (added in April 2015), and Azerbaijan (added in February 2016). The platform was launched in May 2014 and has recorded over 2,700 incidents threatening media freedom.
About Index on Censorship
Index on Censorship is a freedom of expression charity that campaigns against censorship and promotes free expression worldwide. Founded in 1972, Index has published some of the world's leading writers and artists in its award-winning quarterly magazine, including Nadine Gordimer, Mario Vargas Llosa, Samuel Beckett and Kurt Vonnegut. It also has published some of the greatest campaigning writers from Vaclav Havel to Elif Shafak.