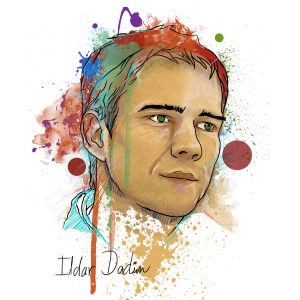 A Russian opposition and LGBT rights activist, Ildar Dadin was the first, and remains the only, person to be convicted under a notorious 2014 public assembly law. Aimed at punishing anyone who breaks strict rules on protest, the law was enacted to silence dissent after a wave of demonstrations following Putin's last election victory. Dadin's crime was to stage a series of one-man pickets, often standing silently with a billboard, attempting to duck the cynical law and push for free expression. For his solo enterprise, Dadin was arrested and sentenced to three years imprisonment in December 2015. In November 2016, website Meduza published a letter smuggled from Dadin to his wife, exposing torture he claimed he was suffering alongside fellow prisoners.  The letter, a brave move for a serving prisoner, was widely reported. A government investigation was prompted, and Dadin was transferred – against his will – to an undisclosed new location. A wave of public protest led to Dadin's new location in a Siberian prison colony being revealed in January 2017. In February 2017, Russia's constitutional and Supreme Courts suddenly quashed Dadin's conviction, ruling he should be released and afforded opportunity for rehabilitation.
Активист, долгое время защищавший права ЛГБТ и оппозиции, Ильдар Дадин стал первым и единственным в России осужденным по принятой в 2014 году статье «Неоднократное нарушение установленного порядка организации либо проведения собрания, митинга, демонстрации, шествия или пикетирования».
Пытаясь обойти этот закон, Дадин провел серию одиночных пикетов против нарушений прав человека, за что был арестован и в 2015 приговорен к трем годам тюрьмы. В ноябре 2016, интернет-издание «Медуза» опубликовало письмо, которое Дадин передал через свою жену. В нем он рассказал о том, как его пытали, и о повсеместности насилия в российских тюрьмах. Публикация его письма – смелый шаг для отбывающего наказание заключенного – имело широкий общественный резонанс, вызвав реакцию со стороны правительства и став основанием для расследования. Дадина, против его воли, перевели из его колонии, после чего он исчез внутри российской пенитенциарной системы. Его местонахождение было раскрыто лишь в январе 2017 после волны общественных протестов. После того как Верховный суд отменил приговор, Ильдар Дадин вышел на свободу из колонии, 26 февраля.
"Nastya, I ask you to publish this letter because there is a real 'information blockade' in this place. (…) I am not afraid of death. Most of all, I am afraid of not being able to withstand the torture and surrendering." — Ildar Dadin