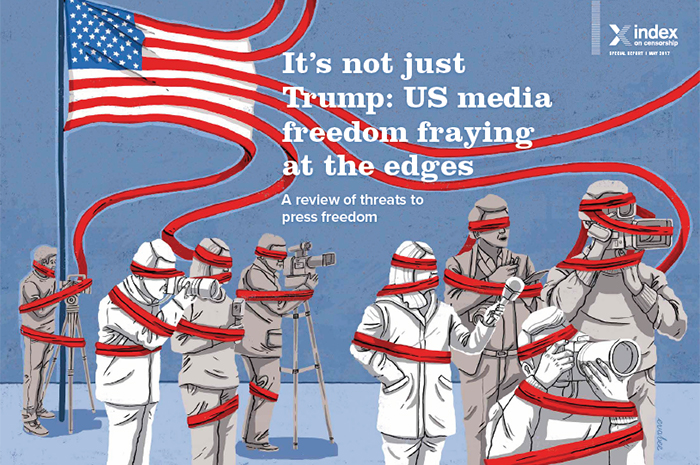 Threats to media freedom in the United States go far beyond the high-profile attacks on news outlets made by President Donald Trump, a new study shows.
The study – by international freedom of expression organization Index on Censorship – examined a range of threats to the independence and standing of the media in the period leading up to the US presidential election and in the months following.
It found that journalists are increasingly targeted by police, public authorities and the public at large, making it increasingly hard for the press and broadcasters to properly investigate and expose corruption and wrongdoing and hold those in power to account.
"Freedom of the press is the cornerstone of democracy," Index on Censorship chief executive Jodie Ginsberg said. "Yet even in the United States, where this freedom is enshrined in the constitution, that freedom is under threat."
Examples of attacks on the press include the arrest and detention of journalists covering protests, online harassment, physical assaults, and the branding of factual reporting by media outlets that high-ranking officials – including the President – do not like as "fake news".
This survey reviewed over 150 publicly reported incidents of media freedom violations that occurred in the United States between 30 June 2016 and 28 February 2017.
The report is available on the web and in PDF format.
For further information, please contact Sean Gallagher at [email protected]
Notes for editors
Index on Censorship is a UK-based non-profit organisation that publishes the work of censored writers and artists and campaigns against censorship worldwide.
The study is based on a non-exhaustive survey of press freedom incidents recorded publicly between 30 June 2016 and 28 February 2017. It uses criteria developed and employed by Index's European media freedom monitoring project: Mapping Media Freedom. Launched in May 2014, Mapping Media Freedom monitors the media landscape in 42 European and neighbouring countries.
Index on Censorship is part of a coalition of organisations who will later this year launch a news site to track press freedom violations in the United States. The coalition includes Index, the Committee to Protect Journalists, the Freedom of the Press Foundation, the Reporters Committee for the Freedom of the Press, the Knight First Amendment Institute at Columbia University and Reporters Without Borders