[vc_row][vc_column][vc_column_text]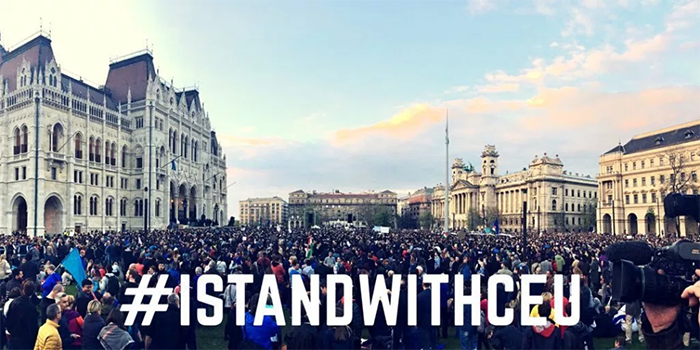 As a new law passed by Hungarian prime minister Viktor Orbán's government threatens the existence of Central European University in Budapest, 70,000 people marched in protest in the capital to save it as part of the #IStandWithCEU campaign.
Among those offering supportto protect the academic freedom of one of central Europe's most prominent graduate universities, either by writing letters or demonstrating, include more than 20 Nobel Laureates including Mario Vargas Llosa, hundreds of academics worldwide, the European Commission, the UN, the governments of France and Germany, 11 US Senators, Noam Chomsky and Kofi Annan.
Whilst the amendment, which will effectively force CEU to shut, has been signed into statute by Hungarian president Janos Ader, the university hopes to challenge the law in the Hungary's Constitutional Court.
In a video released on 20 April, Michael Ignatieff, president and rector of CEU, said: "Three weeks ago this university was attacked by a government who tabled legislation that would effectively shut us down. We fought back and the reception around the world has been just magnificent."
He added: "Academic freedom is one of the values we just can't compromise."
Orsolya Lehotai, a masters student at CEU and one of the organisers of the street protest movement Freedom for Education, told Index that initially the small group of students had hoped to "mimic democratic society" and stop the law passing in its original form.
"So far in the seven years of the Orbán government, whenever there was big opposition to something, people have taken to the streets and this has actually changed legislation, so we decided it would show a little power if we were to have people in the streets about this," Lehotai said. "Back then [at the first protest] we were unsure when the parliamentary debate was to happen but we had had news that it was to happen on a fast-track, which to us was outrageous."
Despite the protests and international criticism, the Hungarian government said that the law is designed to correct "irregularities" in the way some foreign institutions run campuses. Government officials maintain that the legislation is not politically motivated. 
Áron Tábor is a Fulbright scholar and another CEU student who has taken to the streets. He spoke to Index about the absurdity of the Hungarian government's stance: "This is one university, where the language is instruction is English and the programs run according to the American system.The government says that CEU is a 'phantom university', or even a 'mailbox university', which doesn't do any real teaching, but only issues American degrees from a distance. This is a ridiculous claim."
Gergő Brückner, a journalist at Index.hu described the political paranoia that lies behind the new laws: "One important thing to know is that Fidesz doesn't like anything that is not part of their own Fidesz system. You can be a famous filmmaker, a university researcher or an Olympic medal winner but you must, for them, be the part of the national circle of Fidesz."
"If you are an independent and well-funded American university – then you are not controlled, and you can easily be portrayed as a kind of enemy," he added.
Since its establishment in 1991, CEU has made no secret of its commitment to freedom of expression. It was founded by a group of intellectuals including George Soros, who has been much criticised by Orbán.
The university was designed to reinforce democratic ideals in an area of the world just emerging from communist control. This ethos continues: in February the annual president's lecture at CEU was given by the University of Oxford academic Timothy Garton Ash who spoke on the topic of "Free Speech and the Defense of an Open Society".
When the law comes into force, requirements for foreign higher education institutions to have a campus in their home country mean that it will be impossible for CEU to continue operating.
Similarly, requiring a bilateral agreement between the government of the country involved, and the Hungarian government is a huge obstacle, as in CEU's case this would be the USA but the US federal government has made it clear that it is not within their competence to negotiate this.
More generally, the ability of the Hungarian government to block any agreement raises worrying possibilities, too. Professor Jan Kubik told Index: "A democratic government has no business in the area of education, particularly higher education, except for providing funds for it. When a government tries to play an arbiter, dictating who does and who does not have the right to teach that is a sure sign of authoritarian tendency."
Kubik, director of University College London's School of Slavonic and Eastern European Studies, along with over a thousand other international academics, has strongly criticised the new legislation, and his department is holding a rally in London on April 26.
He has also signed an open letter published in the Financial Times.
He said: "Any governmental attempt to close down a university is always very troubling. An attack on a university in a country that has already been travelling on a path towards de-democratisation for a while is alarming.
"Universities are like canaries of freedom and independence of the public sphere. Their death or weakening signals trouble for this sphere, a sphere that is indispensable for democracy."
With the international condemnation of the Lex CEU amendment and a likely protracted legal battle ahead, what Kubik called "a magnificent institution of higher learning, as devoted to the freedom of intellectual inquiry and high ethical standards as any of the best universities in the world" is not expected to shut its doors this year.
Meanwhile, those fighting for fundamental freedoms in Hungary will continue to challenge Orbán. European Commission vice president Frans Timmermans said, CEU has been a "pearl in the crown" of central Europe that he would "continue to fight for", and for as long as global opinion remains so loudly behind CEU, Orbán will find it an institution difficult to silence. [/vc_column_text][/vc_column][/vc_row][vc_row][vc_column][vc_basic_grid post_type="post" max_items="4″ element_width="6″ grid_id="vc_gid:1493126838618-e2c5cf5d-d00a-0″ taxonomies="2942″][/vc_column][/vc_row]