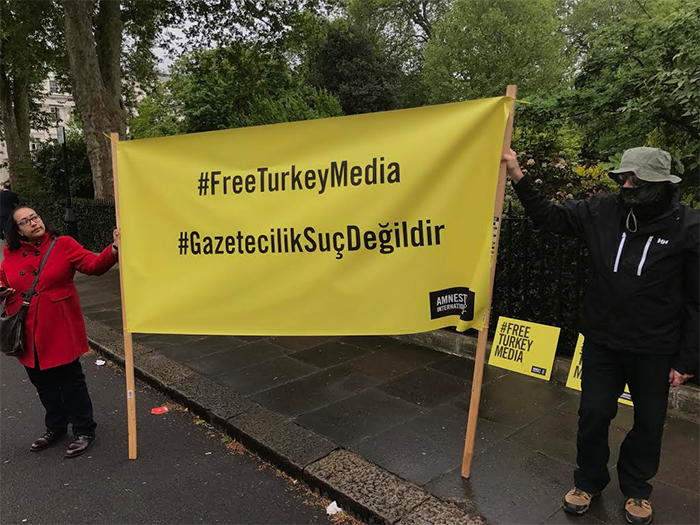 On 3 May, World Press Freedom Day, dozens of activists and journalists gathered outside the Turkish Embassy in London to protest the arrest and imprisonment of journalists in Turkey. Index on Censorship joined Amnesty International, English Pen, Article 19 and others bearing signs and messages of hope.
Following the failed military coup in July of 2016, the Turkish government has unleashed a massive crackdown on its opposition, specifically targeting journalists, media outlets and educators.
Since then, over 150 journalists have been detained and over 170 media outlets have been shut down, resulting in an additional 2,500 journalists being out of work. Turkey is now the number one jailer of journalists in the world.
Seamus Dooley, the acting general secretary of the Nation Union of Journalists, addressed the protest, which took place across the street from the embassy: "We may be on the wrong side of the road but we are on the right side of history."
Dooley highlighted the importance of coming out to protest in support of Turkey's journalists, regardless of the weather: "Solidarity is the most important thing we can give them. Although this may seem like a dark time, the fact we are still with them shines a light on it."
Many protesters stressed the importance of continuing to campaign until those being silenced in Turkey are free.
Ulrike Schmidt of Amnesty International said: "As a human rights organisation it's our job to speak out. It's World Press Freedom Day so we're standing here to support the journalists in Turkey. We will keep campaigning until they can do their work again."
Others spoke out specifically about friends who had been detained as a result of the crackdown. Two of the protesters (pictured below) came specifically to highlight the case of Ahmet Sik, a journalist with the Turkish opposition newspaper Cumhuriyet, who is currently being tried on accusations of spreading terrorist propaganda as well as insulting the state.