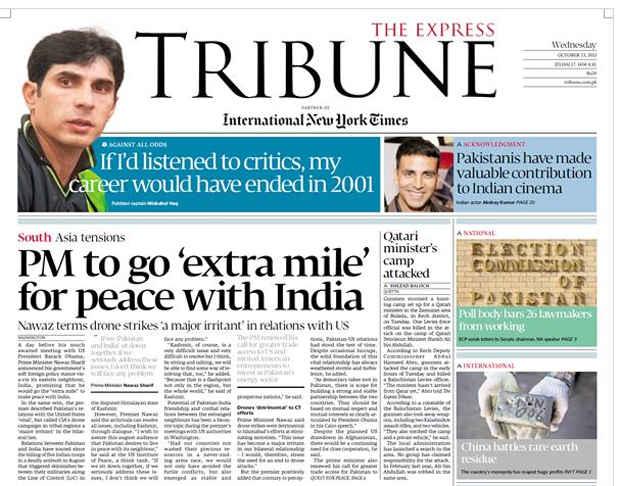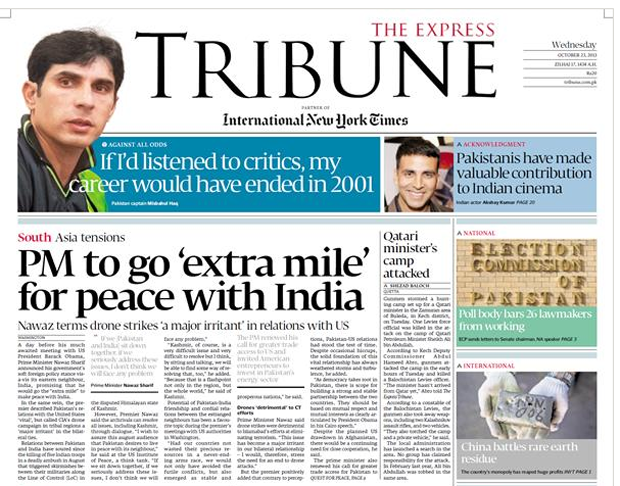 It's been over two weeks now that Rana Tanveer, a reporter in Lahore at the English daily, Express Tribune, has not gone to work.
Early this month, he received a one-page letter, in the Urdu language, terming him an apostate and accusing him of writing in favour of Ahmadis and Christians.
"It warned me to stop writing 'against' Islam and seek 'forgiveness' from God," he said over the phone from his home in the Punjab province.
It further warned him that if he did not desist, he would be killed — since that is the punishment of a person declared an apostate.
"I can't work like this; no reporter can, if he cannot roam about freely," said Tanveer.
Initially, he did not take the letter too seriously, but  a week after he received the letter, he felt he was being followed on a motorbike. "It's a scary experience," he conceded, adding: "I made a few turns just to be sure that this was not a figment of my imagination, but the man on the motorbike persisted. I knew then that this was no joke and I had to do something."
His seniors at work advised him to at least file a complaint with the police, which he did, but he did not name anyone "due to security reasons".
"My editor told me to keep a low profile and not to report on minority issues for a while, and if I had to, it would go without by byline," said the journalist.
Farahnaz Zahidi, features editor in the same paper as Tanveer's feels very strongly about one's byline being taken away. "As a journalist, perhaps the biggest satisfaction in this otherwise perilous and often under-paid profession is one's by-line; it also lends credibility."
However, she added, by shooting the messenger, society loses out. "The right to information is threatened when media persons threatened."
Tanveer finds a plethora of minority rights abuses strewn around his city but says few journalists feel inclined to take up these issues.
"Mine seems to be a lone battle," he said. "I am often scorned by my colleagues for reporting 'chooras' (derogatory term used for Christians, also among the poorest sections of society and consigned to menial janitorial jobs) and 'Qadianis' (also a derogatory name for those belonging to the Ahmadi faith, declared non-Muslims by state in 1974)," he said.
But it's not indifference to these rights issue alone that keeps journalists from reporting on them. Senior journalist and communication expert, Babar Ayaz, says it is also quite dangerous to write about "the victimisation of Ahmadis, Christians or Hindus".
Nevertheless, he added: "Journalists have to write what is right. Threats and killings are hazards of this job living in an increasingly intolerant society."
He remembered when he wrote a piece on the attack on the massacre of Ahmadis in Lahore [in May 2010], he received a couple "abusive phone calls". He also received some angry messages on a chapter in his book titled: What's Wrong With Pakistan? The book, which was published in August criticises Islamic laws in Pakistan.
"But we are small fry," said Ayaz. "When Nawaz Sharif expressed condolence on the killings of 'our Ahmadis bhais [brothers]' some mullahs said that by calling them 'bhai' he had committed a sin. The extremists have no logic but they have muscle power," he added.
According to Aamer Mahmood, who heads the press section of the Ahmadiyya Jammat, and is in regular touch with several journalists: "The fear among them is palpable. While many empathise with us for the way our rights are trampled, they say their hands are tied. Some are scared of the wrath of the extremists; others fear they will lose their jobs."
"It is indeed becoming more dangerous to write on these issues, in any language," agreed Kamila Hyat, a rights activist and former editor of English daily The News. "I believe that while sections of the English language press remain relatively liberal, more and more are succumbing to the bias and intolerance we see everywhere," she pointed out.
"The manner in which the 'agenda' for news is set, notably by the electronic media, also shoves minority issues to the sidelines, and intolerant mindsets exist everywhere — even among the educated," she said.
With seven journalists having lost their lives since January this year, according to the 2013 Impunity Index report by the Committee to Protect Journalists (CJP), just last year, Pakistan which was ranked tenth, has moved two spots up at eighth position for the worst place for the press. Further, it has been declared more dangerous than Russia, Brazil, Nigeria and India.
According to the CJP, 28 Pakistani journalists have been murdered since 1992 in connection with their work, 27 of whom were killed with impunity. The deaths of 24 additional killed during the same period cannot be confirmed as "targeted."
"Doing journalism in Pakistan is not easy, which is ranked the third most dangerous country for reporting after Syria and Egypt," observes Mazhar Abbas, former secretary general of the Pakistan Federal Union of Journalists, a formidable voice fighting for the rights of journalists. While journalists continue reporting despite threats particularly those working in the Federally Administered Tribal Area (FATA), Balochistan and even in the southern port city of Karachi, Abbas said, reporters from the Punjab province seemed comparatively safer.
But not anymore, it seems.
Abbas said every threat should be taken seriously. "The letter to Tanveer could be an individual act or from a group. The government and administration need to probe this matter and find out about the person who sent this letter in the first place. Journalists reporting on sensitive issues should do so responsibly; their reports should be factually correct with minimum expression that can lead to stoking up controversy."
This article was originally posted on 23 Oct 2013 at indexoncensorship.org