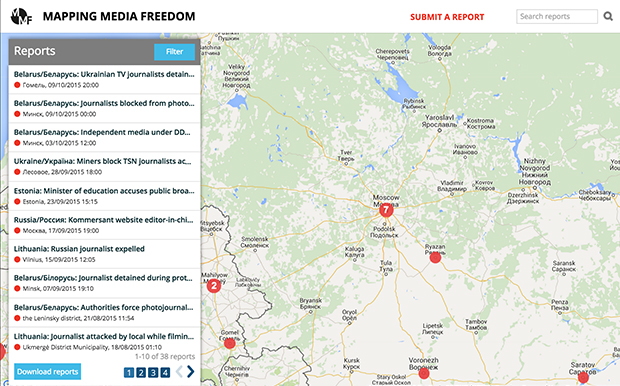 On 6 November 2010, prominent Russian journalist Oleg Kashin was badly beaten with a steel pipe on his doorstep and nearly killed. He suffered a broken skull and injuries to his legs and hands — including broken fingers and one amputated digit. He was hospitalised in a coma and spent months recovering. Dmitry Medvedev, who was then President of Russia, visited him promising that the case would be solved and the attackers would be punished.
At the time, Kashin's editor told the BBC that the attack was retribution for articles he had written and that he had recently reported on anti-Kremlin protests and extremist rallies.
Two months prior to the assault, Kashin had had an online quarrel with Andrey Turchak, the powerful governor of the Pskov region. According to the police investigation into the attack, the alleged organiser Alexander Gorbunov paid 3.3 million roubles ($53,000) to ex-employees of the security department of Zaslon, a company owned by Turchak's family, to beat Kashin. Later the wife of Danila Veselov, one of the defendants, gave an interview to the Kommersant newspaper, claiming that her husband had met Turchak before the attack and had recorded the governor saying that Kashin had to be beaten so he "could not write anymore".
After five years of investigation, in September 2015, Kashin publicly named the men who were officially accused of attempted murder. Despite evidence of the possible involvement of Turchak, who is a son of a friend of Putin, he has not been questioned about the attack.
On 3 October, Kashin posted A Letter to the Leaders of the Russian Federation on his blog. In it, Kashin wrote about his frustrations, saying: "Your will in Russia is stronger than any law, and simply obeying the law is an impossible fantasy." The open letter accuses the government of hindering the investigation into his violent assault and ends as a strong indictment of the whole political system in Russia.
Moreover, the investigator who arrested the attackers was suspended from the case. His successor was quoted in Kashin's letter saying: "There's the law, but there's also the man in charge, and the will of the boss is always stronger than any law."
In his letter, Kashin directly accused the leaders of the country of protecting Turchak from any judicial responsibility.
"You've decided to side with your Governor Turchak; you're protecting him and his gang of thugs and murderers. It would make sense for somebody like me — a victim of this gang — to be outraged about all this and tell you that it's dishonest and unjust, but I understand that such words would only make you laugh. You have complete and absolute control over the adoption and implementation of laws in Russia, and yet you still live like criminals."
Kashin admitted that he does not expect a fair punishment for the alleged mastermind of his beating: "I can see perfectly well that the worst thing Turchak faces now is a quiet resignation, timed long after any developments in my case. This is the only justice citizens can expect, and it means that your system isn't capable of any kind of justice at all."
Kashin's case has become the symbol of impunity for attacks and murders of journalists. Hundreds of leading Russian journalists signed a petition that demands the police question Turchak. Some of them publicly boycotted a literature festival in the Pskov region, while the Kremlin and the Gorbunov's press office remained silent.
Kashin said he wishes all journalists would boycott Turchak and continue to send requests about his role in Kashin's case to government officials. However, that level of solidarity seems to be impossible when so much of the media is directly run by the Kremlin and do not dare to do anything without its approval, said Kashin. He also holds out no hope for support from the Russian Union of Journalists, which he describes as "a weird organization" that doesn't function properly.
According to Glasnost Defence Foundation, over 150 journalists were killed in Russia in last 15 years. The majority of these cases remain unsolved. Those who are accused of obstruction of professional activities of journalists, rarely face a fair punishment. Between 2006-2014, only one such defendant was sentenced to jail.
The murder of Igor Domnikov, a journalist with Novaya Gazeta, in 2000 has become the first case in the history of modern Russia where the mastermind behind the killing of a journalist was officially accused. In this case, it was a former Vice-Governor of Lipetsk region Sergey Dobrovskiy. After 15 years of investigations, he was summoned to a court in April 2015, but a month later the case against him was dropped due to the statute of limitations.
Kashin said he will not be surprised if his case goes the same way. However, he stressed that the difference is that the investigators don't need 10 years more as there is already evidence.
"We can see that the government is just not interested in punishing criminals," Kashin said.
---
Mapping Media Freedom

Click on the bubbles to view reports or double-click to zoom in on specific regions. The full site can be accessed at https://mappingmediafreedom.org/
---