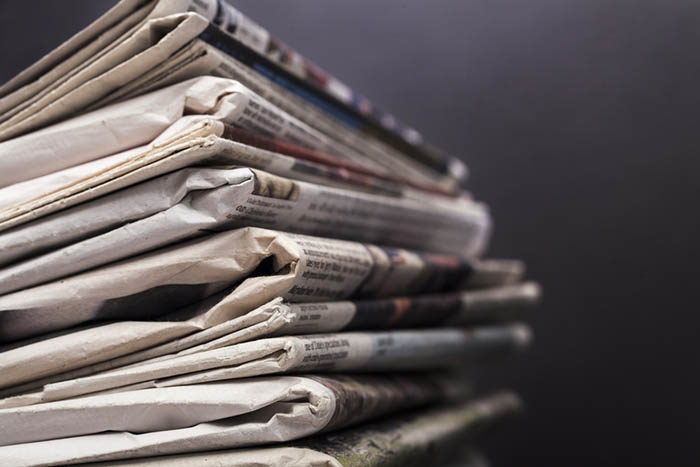 Each week, Index on Censorship's Mapping Media Freedom project verifies threats, violations and limitations faced by the media throughout the European Union and neighbouring countries. Here are five recent reports that give us cause for concern.
16 August, 2016 – IMC TV reporter Gulfem Karatas and cameraman Gokhan Cetin were assaulted and detained while covering the police raid on the daily Ozgur Gundem. Footage of the attack was shared via IMC TV Twitter account, showing police grabbing the camera and physically assaulting the reporter, who is heard screaming in the footage.
Karatas and Cetin were detained along with journalists Günay Aslan, Reyhan Hacıoğlu, Ender Öndeş, Doğan Güzel, Ersin Çaksu, Kemal Bozkurt, Sinan Balık, Önder Elaldı, Davut Uçar, Zana Kaya, Fırat Yeşilçınar and Mesut Karnak.
In an official statement IMC TV said: "During the live broadcast, the police prevented Gulfem Karatas and Gokhan Cetin from reporting and detained them violently along with at least 21 Ozgur Gundem employees. We condemn this unacceptable treatment to our colleagues who were on duty and ask for their immediate release."
16 August, 2016 – Journalist Vladimir Zivanovic and photographer Boris Mirko, who work for the daily Serbian Telegraph were threatened and insulted while reporting on the illegal construction of an aqua park in the capital Belgrade.
The journalists were in an area of the city where former professional football player Nikola Mijailovic is building the controversial aqua park. Mijailovic approached the journalists and shouted a series of insults about them and their families. He reportedly told them that they should be put in a gas chamber together.
Mijailovic also reportedly tried to bribe them. The journalists have reported the threats to the police and Serbia's Independent Association of Journalists has condemned the incident.
15 August, 2016 – A court in Baku ruled to uphold a travel ban against investigative reporter Khadija Ismayilova. "Binagadi Court told me because I have no husband, kids or property, I might not be able to return if I leave the country," Ismayilova said following the hearing in Baku.
Ismayilova was released from prison on 25 May on a suspended three-and-a-half-year sentence.
Also read: Azerbaijan's long assault on media freedom
16 August, 2016 – The eighth administrative court in Istanbul ordered the closure of the newspaper Ozgur Gundem on the grounds of "producing terrorist propaganda".
The court order described the closure as "temporary" although no duration appears to be specified in the text of the decision.
Later that day, Ozgur Gundem's offices were raided by the police.
According to P24, the 23 members of staff were taken into custody. They are: Editor-in-Chief Zana Kaya, journalists Zana Kaya, Günay Aksoy, Kemal Bozkurt, Reyhan Hacıoğlu, Önder Elaldı, Ender Önder, Sinan Balık, Fırat Yeşilçınar, İnan Kızılkaya, Özgür Paksoy (DİHA news agency) , Zeki Erden, Elif Aydoğmuş, Bilir Kaya, Ersin Çaksu, Mesut Kaynar (DİHA), Sevdiye Gürbüz, Amine Demirkıran, Baryram Balcı, Burcu Özkaya, Yılmaz Bozkurt (member of the press office of the Istanbu Medical Chamber), Gülfem Karataş (İMC), Gökhan Çetin (İMC) and Hüseyin Gündüz (Doğu Publishing House).
Also read: Turkey's continuing crackdown on the press must end
11 August, 2016 – Dmitri Remisov, the Rostov-on-Don regional correspondent for Rosbalt news agency, told the agency that he was repeatedly assaulted by police officers while being questioned at the regional Center for Counteracting Extremism.
According to Remisov, he was asked to come to the CCE to answer questions related to a criminal case "on the preparation of a terrorist act" in Rostov, a city in south-west Russia.
He reported that two police officers asked him whether he knew certain individuals, where most of the people he was asked about were opposition activists.
"Then they asked me if I knew a certain Smyshlayev. I said that I didn't remember such a person," Remizov said."One officer started saying I did know this person in 2009, after which he struck my head three times. Afterwards, he began threatening me, saying he could prosecute me under the criminal law or could have some Nazis punish me."
After he was questioned another policeman threatened him with physical punishment, saying "we will meet [with you] once again".
The Rosbalt correspondent received medical care after the questioning. He also filed a complaint against police officers, Rosbalt reported.