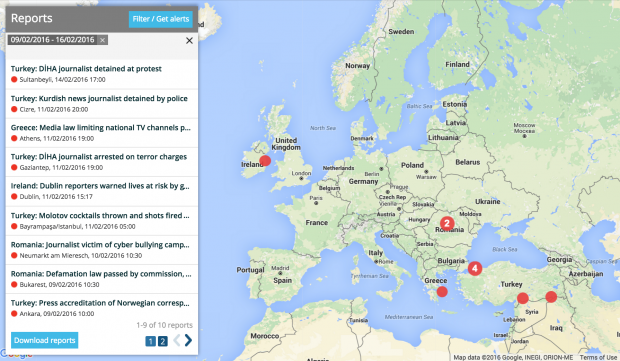 Each week, Index on Censorship's Mapping Media Freedom project verifies threats, violations and limitations faced by the media throughout the European Union and neighbouring countries. Here are just five reports from 9-16 February that give us cause for concern.
1. Ireland: Reporters receive death threats amid Dublin's gangland feud
Irish journalists threatened by Dublin crime gangs https://t.co/duEWnhYQuU pic.twitter.com/NshRqJRmYT

— Media Guardian (@mediaguardian) February 11, 2016
It was reported on 11 February that a number of journalists have been threatened by criminal gangs in Dublin stemming from their reporting of a current gangland feud in the city that saw two murders in the space of four days earlier this month. Police informed Independent News and Media, which owns the Irish Independent newspaper, that the safety of two reporters — a man and a woman — was at risk.
Irish secretary for the National Union of Journalists Seamus Dooley said he was "gravely concerned" by the threats. "Journalists and media organisations will not be intimidated by such threats, which have no place in a democratic society," he said.
The death threats come almost 20 years after the high-profile murder of journalist Veronica Guerin, who dared to investigate organised crime in Dublin. "Successive governments have let down the memory of Veronica … by failing to provide the resources required to beat the gangs," said Jimmy Guerin, brother of Veronica.
2. Romania: Journalist faces campaign of cyberbullying and online threats
Boróka Parászka, an ethnic Hungarian publicist and editor working at the public radio in Marosvásárhely/Târgu Mureş area, has become the victim of cyberbullying and online abuse. On 10 February, an online petition was published entitled We Are Sick and Tired of Parászka, which appealed to media outlets not to publish or broadcast any of the journalist's "left-liberal" work. It claims her pieces are "subversive" (felforgató), that she aggressively attacks everything "Hungarian" and she "undermines the community interests".
In the wake of the petition, derogatory messages were sent to Parászka via Facebook, including anti-Semitic slurs, sexual comments and threats of violence.
On the day the petition went live, the Hungarian Journalist's Association of Romania issued a reminder that the Romanian constitution guarantees freedom of thought and expression, provisions that need to be emphasised when it comes to journalists.
3. Romania: Draft defamation law passes first vote
#Romania: Law Against #Defamation Splits Media https://t.co/gN6BsGQtcu pic.twitter.com/3uLYRZYjsi

— EIHRC/CIEDH (@EIHRC) February 15, 2016
A draft defamation law has passed a legal committee vote in Romania. If adopted, those found guilty of defamation could be fined up to RON 100,000 (€22,000). The law would be equally applicable to reports in the media as to messages posted on Facebook.
Liviu Dragnea, leader of the Social Democratic Party, the largest party in the Romanian parliament, said a Department for Promoting Human Dignity and Tolerance will be established to prevent and penalise defamation, defined as "the act or statement by which a person is put in a position of inferiority on the grounds of belonging to a social group".
Some Romanian journalists have criticised the draft law as a means to protect politicians from criticism. "This law aims to protect the politicians from being criticised for their actions," TV producer Radu Banciu said. "In the name of defending tolerance of group differences, they just want to control not only the mass media but also Facebook and other social media."
4. Greece: New media law limits national TV channels
Controversial new legislation regarding TV channels was passed in the Greek Parliament late on 11 February in a narrow vote. While there are currently seven national TV stations, the new law will allow licences for just four.
The law has angered many. "You are choosing the path of authoritarian practices, which alienate the country from the European principles of justice," New Democracy leader Kyriakos Mitsotakis told MPs. The Association of Private TV Channels (EITISEE) has also accused the government of performing a "sleight of hand" by basing its decision to launch a tender for just four TV licenses on a study that contains calculations that are incorrect.
5. Turkey: Molotov cocktails thrown and shots fired at newspaper headquarters
On 11 February, a group of 3-4 masked assailants opened fire and threw molotov cocktails at the headquarters of newspapers Yeni Safak and Yeni Akit, in Istanbul.
While there were no casualties, a fire broke out in front of the building and some vehicles were damaged. Firefighters rushed to the scene as police cordoned off the area. Tight security measures were put in place around the building.
The United States Ambassador to Turkey, John Bass, and his German counterpart Martin Erdmann have condemned the attack. "No violence against journalists is acceptable. Free and polyphonic press is essential to a democratic society," said Bass.
This article was originally published on Index on Censorship.