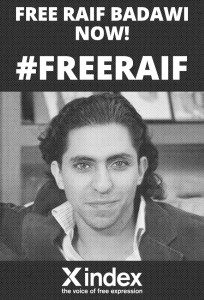 Saudi Arabian blogger and activist Raif Badawi is the winner of this year's Sakharov Prize for Freedom of Thought, awarded by the European Parliament.
Badawi, who also won 2015 PEN Pinter Prize for an International Writer of Courage, was convicted in May 2014 for insulting Islam and founding a liberal website. He received a fine of 1 million riyals (£175,000) and a ten-year prison sentence. In addition, the court in Jeddah sentenced him to 1,000 lashes.
On 9 January 2015, after morning prayers, Badawi was flogged 50 times, but subsequent floggings have been postponed. Earlier this week however, Raif Badawi's wife Ensaf Haidar, was informed that the floggings were to resume.
Meanwhile, his lawyer and brother-in-law Waleed Abulkhair is serving 15 years in prison for his peaceful activism.
Index calls for the immediate release of Raif Badawi and Waleed Abulkhair. Together with English PEN and fellow campaign organisations, we support "We Are Raif: a campaign for free speech and human rights in Saudi Arabia".
Please join us in front of the Saudi embassy in London on Friday 30 October, from 9am. Activists are asked to meet at the Curzon Street entrance to the Embassy of the Kingdom of Saudi Arabia, Mayfair, London.
When: Friday, 30 Oct, 2015, from 9am
Where: Saudi embassy in London, Curzon Street entrance (note: the postal address of the Embassy is 30-32 Charles Street).