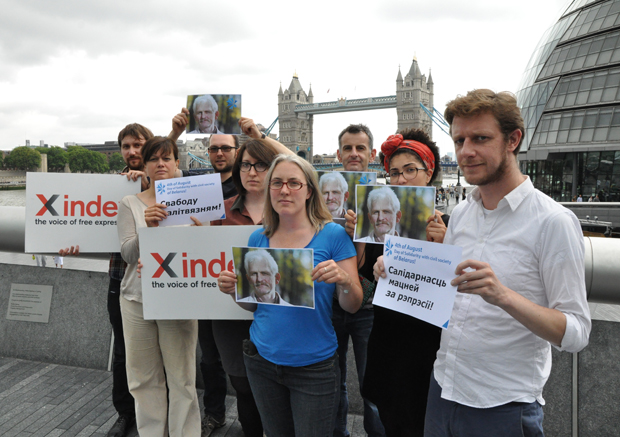 Index joins the International Day of Solidarity with Civil Society of Belarus to be held on 4 August, on the second anniversary of the arrest of a well-known Belarusian human rights defender Ales Bialiatski.
Mike Harris, Head of Advocacy at Index, said:
"Today we send our solidarity and support to Belarusian independent journalists and civil society activists, who continue their courageous work to defend human rights in Belarus. The government of Belarus must immediately and unconditionally release all of its political prisoners. Before the EU engages with Belarus, all political prisoners need to be released and concrete steps taken to remove restrictions that curtail freedom of expression."
The International Day of Solidarity with Civil Society of Belarus is a joint initiative of NGOs from different countries. It is created as a demonstration of solidarity with civil society of Belarus and of moral support to human rights defenders, journalists and activists, who continue their work in the country dubbed "Europe's last dictatorship."
"We will observe this day every year, until the situation of civil society in Belarus changes: until its authorities put an end to imprisoning people for human rights activities, until there is a guarantee of fundamental human rights: freedom of expression, assembly and association," the Solidarity Day Manifesto reads.
Last year, actions dedicated to the International Day of Solidarity with Civil Society of Belarus were held in 18 countries of the world. This year the organisers call on people around the globe to send letters of support to Belarusian political prisoners and human rights defenders, to publish articles and hold events about the situation in Belarus. A detailed list of possible actions within the framework of the Solidarity Day can be found here.
Ales Bialiatski, a Peace Nobel Prize nominee and a leader of Human Rights Centre Viasna, was arrested 4 August 2011, and currently serving a four-and-a-half year prison sentence for alleged tax evasion. The income on which he was found guilty of not paying taxes had in fact been used to support victims of human rights violations in Belarus.
According to Belarusian human rights defenders, there are currently 12 political prisoners in Belarus. The country is also criticised for failing to have free and fair elections and serious violations of fundamental rights and freedoms of its citizens.