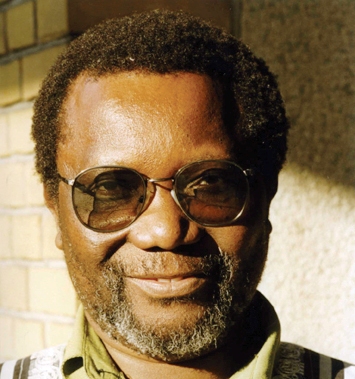 Born in Malawi in 1944, Jack Mapanje, one of Africa's most distinguished poets, studied in England before returning to teach at the University of
Malawi.
His first collection of poems, Of Chameleons and Gods, published in the UK in 1981, was banned in Malawi in June 1985 due to its being 'full of … coded attacks' on the ruling dictatorship of Hastings Kamuzu Banda. Two years later, in September 1987, he was imprisoned without trial or charge by the Malawian government.
Many writers, linguists and human rights activists campaigned for his release, including Harold Pinter and Wole Soyinka, and in 1990 he was awarded the PEN/Barbara Goldsmith Freedom to Write Award. Despite this international pressure, Mapanje served almost four years in Mikuyu prison, where he composed his second collection of poetry, The Chattering Wagtails of Mikuyu Prison, and most of his third collection, Skipping without Ropes. He was finally released in May 1991.
On His Royal Blindness Paramount Chief Kwangala
by Jack Mapanje
I admire the quixotic display of your paramountcy
How you brandish our ancestral shields and spears
Among your warriors dazzled by your loftiness
But I fear the way you spend your golden breath
Those impromptu, long-winded tirades of your might
In the heat, do they suit your brittle constitution?
I know I too must sing to such royal happiness
And I am not arguing. Wasn't I too tucked away in my
Loin-cloth infested by jiggers and fleas before
Your bright eminence showed up? How could I quibble
Over your having changed all that? How dare I when
We have scribbled our praises all over our graves?
Why should I quarrel when I too have known mask
Dancers making troubled journeys to the gold mines
On bare feet and bringing back fake European gadgets
The broken pipes, torn coats, crumpled bowler hats,
Dangling mirrors and rusty tincans to make their
Mask dancing strange? Didn't my brothers die there?
No, your grace, I am no alarmist nor banterer
I am only a child surprised how you broadly disparage
Me shocked by the tedium of your continuous palaver. I
Adore your majesty. But paramountcy is like a raindrop
On a vast sea. Why should we wait for the children to
Tell us about our toothless gums or our showing flies?