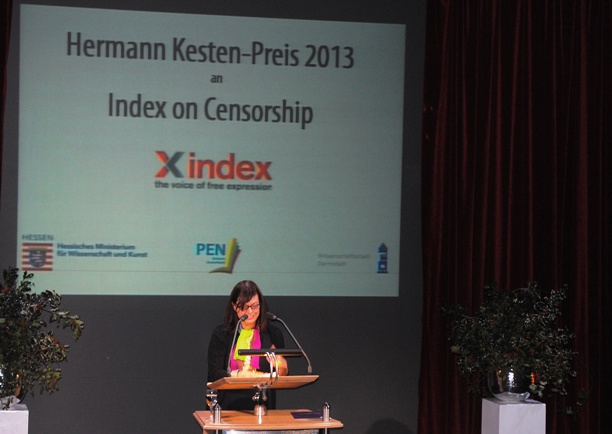 Index on Censorship was in Darmstadt, Germany, last week to receive the prestigious Hermann Kesten literary prize from German PEN.
The prize is given in honour of Hermann Kesten, the German novelist, who left Germany for Paris in 1933. From Paris, Kesten helped exiled and banned writers get published.
Previous recipients of the prize include Gunter Grass and Harold Pinter, and last year's winner Belarusian journalist Irina Khalip. Khalip, who was not able to attend the ceremony last year as she was under house arrest, was in Darmstadt to present the award to Index. In her speech introducing Index, Khalip spoke of her personal connection with Index, as well as its history working with exiled and imprisioned writers. She said: When in prison Natalia (Radzina, of opposition website Charter 97) and I did not know that in 2011 together with all political prisoners in Belarus we were awarded the special Freedom of Expression prize.  Index on Censorship did everything so that we were not forgotten in prison and were released as soon as possible. For instance, together with Free Belarus Now and the Belarus Free Theatre, Index persuaded several European banks to stop trading Belarus government bonds to prevent Europe from trading with the dictator. This made a big difference in persuading the regime it could not withstand international pressure forever.
Rachael Jolley, editor of Index on Censorship magazine, received the prize on behalf of the organization from the president of German PEN Josef Haslinger. She told the audience " Index has taken aim at many authoritarian rulers and their regimes and made clear that contrary to what many may have thought and hoped for censorship is not over."
"Index has sought, too, to keep the public aware of the pressure on journalists all over the world, who were struggling to do their jobs in difficult circumstances, often where their lives were in danger."