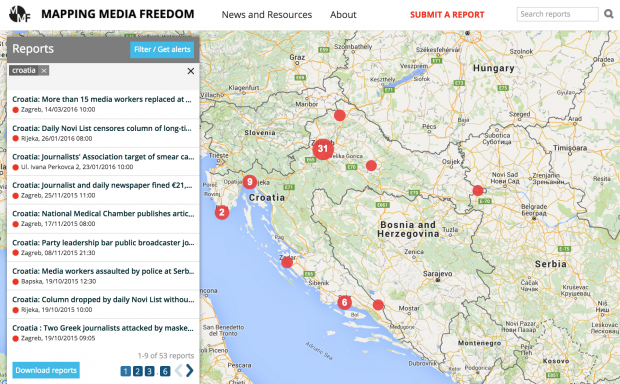 Walking around the Zagreb offices of the Electronic Media Council (AEM), Croatia's broadcast regulator, must have had a distinctive feel to it on 26 January. According to Croatian media, outside the building stood about 5,000 demonstrators singing Croatian patriotic songs, calling for AEM chair Marjana Rakic's resignation and carrying an effigy of her dressed as a Yugoslav Partizan and holding a machine gun. Some shouted "Za dom spremni" ("For the homeland, ready"), a Nazi-style salute used by the Ustaše regime that ruled Croatia during World War II.
The reason? An episode of Markov Trg, a TV show created by Marko Juric and broadcast by Z1 TV, which AEM punished by suspending its license for three days over claims it was "inciting hatred on the basis of race and ethnicity".
On 19 January, Markov Trg reported that Zagreb's Serb Orthodox clergy routinely sang "Chetnik" songs.
As Balkan Transitional Justice notes, the word "Chetnik" has a few different connotations in the former Yugoslavia. "Originally applied to Serbian royalist fighters in World War II, it later became a more pejorative expression, even more so during the wars of the 1990s when many Serbian paramilitary groups styled themselves 'Chetniks'."
At the end of the show, anchor and direkto.hr columnist Marko Juric said: "The message to residents of Zagreb, to all those taking a stroll in Cvjetni Trg [one of the squares in downtown Zagreb], is to be careful, given that this is where the [Serb Orthodox] church led by a Chetnik vicar is located.
"Beware when you are walking down Cvjetnik Trg, especially mothers with children, because one of those Chetnik vicars could run out of the church and commit a slaughter in Zagreb's most beautiful square.
"Maybe 'Beware of Chetnik' signs should be put up there."
The statement prompted a disagreement in Croatian media.
The Croatian Journalists Association (HND) was quick condemn the show, as on 21 January its president Sasha Lekovic said in a statement that the show hadn't done any journalistic work, and was instead "irresponsible and alarming public appearance".
"We believe that all media should keep in mind at all times that there is a fine line between verbal and actual violence," his statement reads.
One day later, on 22 January, the AEM found that Juric had incited hatred, and suspended Z1 TV's license for three days between 26 and 29 January.
The Association of Croatian Journalists and Publicists (HNiP), a new Croatian press association, strongly condemned the decision to suspend the broadcaster, calling it an "unprecedented, serious attack on the freedom of the media and freedom of expression". Marko Juric is a member of the HNiP.
After that the 26 January protest, which was organised by civil war veterans, who also strongly condemned the HND's statement, claiming they were "attacking freedom of expression, instead of protecting it".
According to HDN reports, veterans have also sent the association a letter which "endangers the safety of journalists", which pairs with "verbal harassment" via phone and "hate speech". HND also criticised Croatia's right-wing government for failing to condemn the protest and the country's vice president for actually joining the demonstration against the regulator.
The protest is one of the episodes of an ongoing disagreement in Croatian media, where HND and HNiP have been accusing each other of suffocating media freedom and lowering journalistic standards.
HNiP was launched on 2 July 2015 by journalists dissatisfied with HND standards and "lack of democracy and world-view balance in the media", and counts 45 members.
HND is the biggest and oldest journalists' association in the country. It was founded in 1910, counts about 3,000 members and has joined the International Federation of Journalists in 1992. HND's Lekovic is critical of the HNiP's integrity. Speaking to Index on Censorship in August 2015, Lekovic said that lack of professional integrity was one of the primary threats in the Croatian media landscape.
"We have a number of media outlets, especially web portals, not following any professional standard; they are actually using media freedom against the media," he said.
After the Z1 TV case and the protest that followed it, the dispute continued with exchanges of accusations, the HNiP said Lekovic is trying to discredit them, while HND said HNiP is part of Prime Minister Karamanko's plan to take over the media.
At the beginning of March 2016, Croatia's government appointed Sinisa Kovacic, president of the HNiP, as a new acting director general at the public broadcaster Croatian Radiotelevision (HRT). Since then, around 15 editors and programme directors have been replaced at HRT.
There are also now suggestions that the government is trying to replace Rakic as AEM's president.
On 4 March, Lekovic said in a statement: "They [members of the HNiP] want to neutralise the HND and introduce unprofessional and unethical conduct in journalism, and servility to the incumbent government as a desirable model of journalist work."