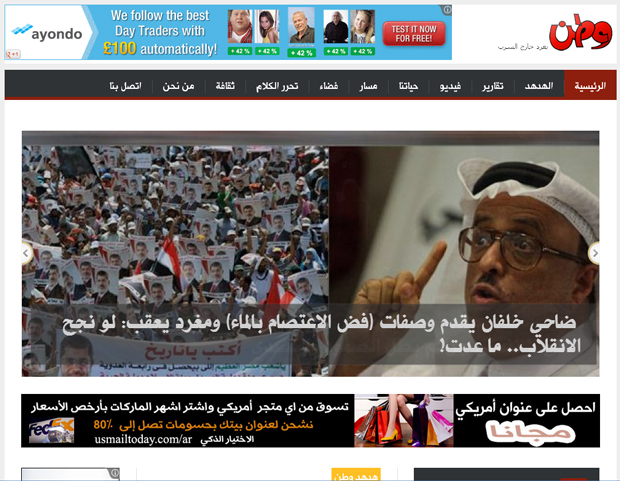 Authorities in the United Arab Emirates (UAE) are making transnational attempts to shut down a site belonging to the United States' largest Arab-American newspaper, al-Watan.
The UAE's Telecom Regularity Authority has sent a letter to watan.com's German hosting company demanding the site be shut down, alleging that it is owned by the 'Global Muslim Brotherhood Union'. The site's founder Nezam Mahdawi denies this, claiming that they are being targeted due to reporting of human rights violations in the UAE.
Al-Watan is a popular news site in the Arab world, receiving over 120,000 pageviews per day, and is known for its liberal secular stance when reporting on political developments in the Middle East from its base in the United States. The site, which is banned in the UAE and other Gulf states, reports freely on sensitive political issues that domestic media are unable to broach due to censorship laws.
The UAE is ranked 114th for press freedom by Reporters Without Borders. Political parties are banned in the UAE and when a forum discussing political reform became popular in 2011 it was swiftly shut down along with the site's owner put in prison for insulting the president. Social media sites have seen much criticism of the authorities, which led to a new Cybercrimes Decree being passed in September 2012 outlawing the use of information technology to criticize the government.
The increased chill on free speech stems from a March 2011 petition calling for democratic reform in the shape of a wholly elected parliament with full legislative powers. Those supporting reform are smeared as Muslim Brotherhood conspirators in a crude attempt by authorities to turn the public against anyone who questions their autocratic powers.
As al-Watan's founder Nezam Mahdawi says: "if you criticize human rights violations in the UAE the authorities label you Muslim Brotherhood". Mahdawi has also been personally targeted, with Emirati authorities hacking his personal email account and threatening to publish photos of his daughter should he refuse to close his news site. These attempts to shut down watan.com contradict the image of a country whose rulers try very hard to project as liberal and progressive.
It is worth noting that authorities have not blocked any English language news sites that criticize the government yet have aggressively pursued the Arabic al-Watan. Dr. Matt J Duffy, an expert on media law in the Middle East, believes this "allows the government to feign the appearance of plurality of opinion to the English-speaking audience". The reality of the situation is that the UAE is neither liberal nor progressive when it comes to dealing with those who wish to criticize human rights violations or call for democratic reforms.
The attacks on al-Watan are a clear attempt to take the UAE's free speech restrictions beyond its own borders. Thankfully the site is still running although the German hosting company, Hetzner Online AG, has yet to respond to al-Watan's letter asking for the site not to be shut down.
Al-Watan provides a crucial platform for news to be reported in Arabic to a Middle East audience bereft of newspapers. It is easy to see why the UAE, with one of the highest per capita rates of political prisoners in the region, would want to shutdown a website that exposes their abuses.
The UAE enjoys an international image of being seen as liberal and progressive, belying the reality of a country becoming a police state. This is why it is so important that the hosting company of watan.com resist pressure from authorities to shut it down and why international media should highlight the plight of the United States' largest Arab-American newspaper.
This article was originally published on 13 Aug, 2013 at indexoncensorship.org. Index on Censorship: The voice of free expression.