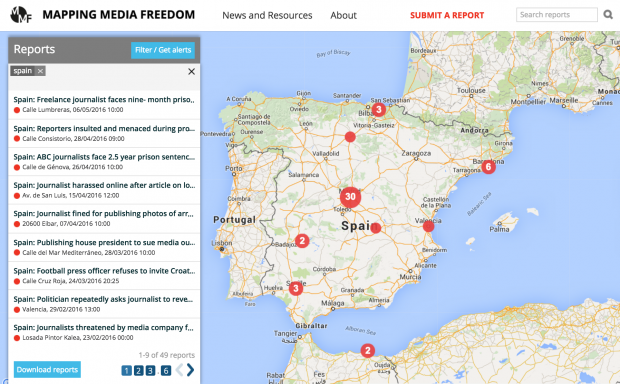 When Axier López, the 37-year-old reporter for the Basque-language magazine Argia, opened the mailbox at his home in Barakaldo early April, he discovered he'd become the first journalist in Spain to be punished under the Public Security Law.
He was ordered to pay €601 (£466) for photos of an arrest he published on Twitter without state permission on 7 March.
"It is a fine similar to a parking ticket," López told Mapping Media Freedom. "Signed by a local government representative, it claims I committed a crime by putting on-duty police officers in danger."
The photos in question were taken when López was in the city of Eibar covering the arrest of a woman who had previously refused to appear in court. In 2007 she had participated in a protest against the forced closure of a local youth organisation which the state and court linked to a Basque separatist terrorist group. The woman was accused of blocking a road.
The so-called "gag law" under which López was fined came into force on 1 June 2015. It bans coverage of on-duty police officers without prior police permission and prohibits the publication of any clue as to their identity. The Spanish centre-right government said the purpose of the law is to protect officer security.
"What is the problem if we track and inform the public about events involving police officers?" López asked. "Policemen are paid with public money, so I don't see a problem if they appear in media content."
"Almost every day you can see arrests of different people on TV, where police officers appear in front of the camera, but they punished only us," he added.
Journalists in Spain have recently come under mounting legal pressures related to their work.
In April two journalists from the daily newspaper ABC, Pablo Muñoz and Cruz Morcillo, were facing two-and-a-half-year prison sentences for publishing a telephone conversation between members of the Italian mafia, who were talking about Luis Bárcenas, former treasurer of Partido Popular. After an avalanche of support for the journalists, the general attorney in Madrid dropped the charges in May.
The journalists had published their article in July 2014, a year after police investigators intercepted the phone conversation between two mafioso. The general attorney had claimed they revealed details of a secret police investigation.
"Charges, in this case, were really severe," said Elsa González, president of the Spanish Federation of Journalist Associations (FAPE), the main journalist body in the country. "A journalist has to publish information if it's in the public interest."
González added that according to a poll by Madrid's Association of Journalist (APM), last year only 23.2% of reporters with permanent contracts and 22.2% of freelancers said they never received pressure to modify information in their reports. APM said the pressure could come from multiple angles, including political and corporate powers, public institutions and advertisers.
A group of Spanish media companies has also recently been threatened with legal action after online newspapers El Confidencial and Eldiario.es, along with private TV channel La Sexta reported that Juan Luís Cebrián, president of the Prisa media group, publisher of the national newspaper El País and sports daily AS, appeared in the Panama Papers.
On 26 April Prisa issued a statement on its website stating that its president had taken legal action against the outlets for "clear defamatory intent" by linking Cebrián to the Panama Papers "in which he categorically does not appear".
The centre-right daily newspaper El Mundo, a competitor of Prisa's left-leaning daily El País, then reported that journalists who work for Prisa publishing house were prohibited from engaging with the three media outlets.
Nacho Cardero, director of El Confidencial, told Mapping Media Freedom that Cebrián has yet to take any formal action.
"At the moment there are no actions against any of the three media sources and furthermore, the intention to expel contributors of El Confidencial, La Sexta or Eldiario.es from his group, hasn't occurred," said Cardero. "However, Prisa has closed the door to Ignacio Escolar, director of Eldiario.es."
López believes all these cases serve to spread fear among journalists. Meanwhile, his appeal against his fine has been refused. It could have been reduced to €300 (£232) if he had paid in 15 days. "However, we are not going to pay because we were doing our job," he said.
"I don't know where we can go in the legal process," López added. "But it is important that the debate on this law is open and that we resist in order to prevent possible fear in other journalists."
Mapping Media Freedom approached Cebrián for comment but received no response.