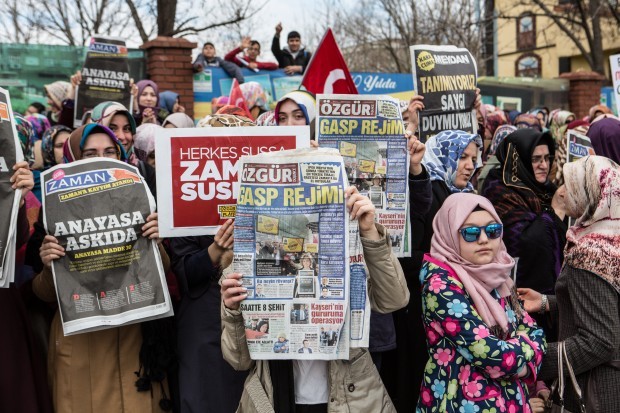 A week and 2,611 signatures later, our work denouncing the Turkish authorities for the takeover of Zaman — a formerly independent publication once critical of President Recep Tayyip Erdogan's regime — is far from over.
Leading UK newspaper editors and journalists including Tony Gallagher (The Sun) and Paul Dacre (Daily Mail) have already joined journalists Tim Stanley, Peter Oborne and James Ball — among others, including artist and author Molly Crabapple, historian and author Tom Holland and Greg Lukianoff, president and CEO of the Foundation for Individual Rights in Education (FIRE) — to condemn the seizure by signing Index on Censorship's open letter. If you haven't already, please join them.
Petition pushes #Turkey court to reverse #Zaman takeover, urges Erdoğan to end crackdown. https://t.co/lnsr3500V8 pic.twitter.com/VfheA0Bucn

— Jim Roberts (@nycjim) March 5, 2016
The call to action reads: "Today Turkey seized one of the country's leading newspapers. In so doing, Turkey has confirmed that it is no longer committed to a free press, which is the bedrock of any democratic society."
In the days following the attack on Zaman with tear gas and water cannons, Turkey's prime minister Ahmet Davutoğlu was greeted in Brussels with offers of billions of dollars in aid, visa-free travel for Turks in Europe and renewed prospects for joining the European Union. In return, Turkey says it will help Europe manage its refugee crisis. As talks continue, so must our efforts to ensure the most basic standards of democracy and a free press are upheld in Turkey.
As Index on Censorship's Mapping Media Freedom project shows, Zaman is just the latest in a long line of media violations in Turkey. In the wake of the takeover, the crackdown looks set to continue.
We must ensure Turkish authorities are held to account for their actions. Start now, with the small act of signing the petition calling for the court to reverse its decision and show solidarity and support afflicted journalists.