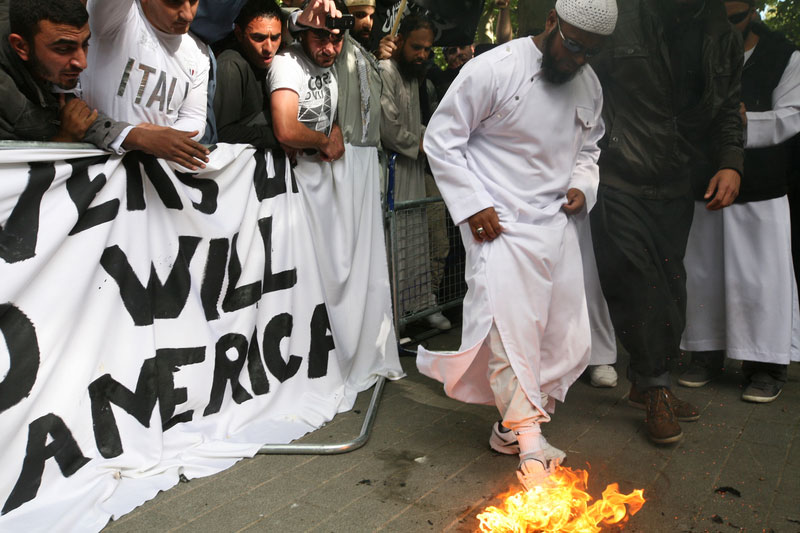 Protests against The Innocence of Muslims at the US Embassy in London (Demotix)
This one sneaked under the radar before Christmas. On 6 December, UK parliamentarian Alex Cunningham, the Labour MP for Stockton North, tabled an "Early Day Motion" demanding that the British government ban the controversial anti-Islam film "The Innocence of Muslims". The moved was backed by 14 other MPs — 11 Labour, two Liberal Democrats, and RESPECT's George Galloway.
Here's the text of the EDM in full:
That this House notes the anger of Muslim constituents in response to the online video, The Innocence of Muslims; is offended by the vile, Islamophobic slurs it makes about a faith followed by over two billion people worldwide; believes that the film constitutes incitement to hatred on the grounds of race and religion; further believes that the film itself is of appallingly poor quality; and urges the Government tomake provision for its banning.
Note the invocation of our friend Muslim anger; note the absurd generalisation of the feelings of "two billion people worldwide" — none of the 15 signatories is actually Muslim. Note the remark on the "poor quality" of the film, a classic censor's gambit ("it's rubbish anyway, so this doesn't really count as censorship"), but one which also raises the question of whether they'd call for Innocence of Muslims to be banned if it was well made. All rather grim.
The signatories are listed below (source http://www.edms.org.uk). Is your MP part of this censorious set?
Alex Cunningham Stockton North (Labour)
Iain Wright Hartlepool (Labour)
Simon Danczuk Rochdale (Labour)
Ian Lavery Wansbeck (Labour)
Jim Dobbin Heywood and Middleton (Labour)
Andy McDonald Middlesborough, Labour
Ronnie Campbell Blyth Valley (Labour)
Sandra Osborne Ayr, Carrick and Cumnock (Labour)
Kelvin Hopkins Luton North (Labour)
Alan Meale Mansfield (Labour)
George Galloway Bradford West (Respect)
Andrew George St Ives (Liberal Democrat)
Mike Hancock Portsmouth South (Liberal Democrat)
Roger Godsiff Birmingham, Hall Green (Labour)
Mary Glindon North Tyneside (Labour)
Read more on The Innocence of Muslims:
A new argument for censorship? Padraig Reidy asks if this time is different from previous blasphemy rows