[vc_row][vc_column][vc_column_text]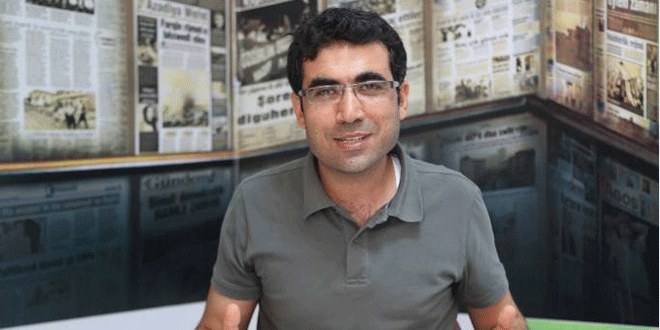 "Of course my family are worried. Who in this country isn't worried?" says Ramazan Ölçen, who was detained for owning the copyrights to Azadiya Welat (Freedom of the country), what was Turkey's only Kurdish-language daily newspaper. It was shut down by a cabinet decree issued under Turkey's state of emergency, which has been in place since 20 July 2016.
"On 4 March 2017, at around 6am, special operations officers and counterterrorism police raided my house [in Diyarbakır], which was completely unnecessary," he says. "I would have voluntarily gone and testified if the prosecutor's office had sent me a notice."
Ölçen's wife was terrified by the "special operations officers wearing masks on their faces and sporting automatic rifles" he says. "Honestly, I too was afraid."
The couple's one-year-old was spared that fear as he was asleep throughout. "He didn't wake up to all that noise," Ölçen says.
The officers searched the house for about an hour but found no evidence of a crime. They seized Ölçen's mobile phone and he was taken into custody. He was held for two days and released on 6 March, but his family are still deeply worried.
"Detention was a situation we did anticipate, yet we were still surprised [by the raid]," he says."We were expecting it because they were rounding up everyone whose name appeared in the mastheads of the press organisations that were shut down under Cabinet decrees to testify."
From teaching French to Azadiya Welat
Ölçen was born in 1981 in the Silvan district of Diyarbakır. He graduated in French from Dicle University in 2003. For three years, he taught French at various schools as a contract teacher. "In 2006 I gave up teaching and chose not to renew my contract. Of course, school principals who didn't deem contract teachers as teachers played a role in my decision. As did local education directors, ministry bureaucrats, education ministers and the government's overall education policies."
In 2008 Ölçen started working as a journalist at Azadiya Welat. He assumed many roles until the newspaper's closure, from news editor and editor of culture and arts to editor of the language and literature pages.
In 2014 the formal owner of Azadiya Welat parted ways with the newspaper. Ölçen assumed the responsibility and became the formal owner of the copyrights of Zozan Publishing, the publishing group under which Azadiya Welat was published. "As such, my name formally entered the masthead of the newspaper of Apê Musa," Ölçen said, referring to Musa Anter, a Kurdish dissident intellectual and writer, who was assassinated in 1992, often referred to as "apê" (uncle), a word of both affection and esteem.
"This was a source of immense pride for me and until the day it was shut down with a cabinet decree I tried my best to be worthy of the tradition of Apê Musa in terms of serving the Kurdish language."
At Azadiya Welat, the day started with the editorial morning meeting. In addition to journalism and editing, Ölçen was in charge of administrative affairs. They worked hard to meet the printing deadlines.
On 28 August 2016 the police raided the newspaper's head office in Diyarbakır, detaining 25 of its employees. The newspaper was then only "temporarily" shut down. A new decree shuttered it permanently in October of the same year.
A troubled history
When the newspaper was closed, Ölçen started working as a freelance journalist, as did around 3,500 other former employees.
Recently, Ölçen started working as an editor for the Kurdish language newspaper Rojeva Medya, which started publishing after Azadiya Welat's closure. Rojeva is not a direct successor, Ölçen says, most of its employees are former Azadiya Welat journalists, and the two have very similar editorial policies.
Azadiya Welat, which had been in print for 21 years, was no stranger to suppression. As a Kurdish outlet, even before the state of emergency, it was constantly harassed by authorities, its journalists routinely imprisoned and tried. It was shut down and reopened countless times. Currently, ten of its journalists and distributors are in prison, most of them serving convictions issues before the coup attempt.
Many of its journalists have been in and out of jail since that first raid in August 2016, but the price the newspaper has paid in its nearly a quarter of a century history has been much higher than that.
In 2010, Metin Alataş, an Azadiya Welat distributor, was found hanging dead from an orange tree in Adana. In 2014, Kadri Bağdu, a distributor for Azadiya Welat was murdered in an armed attack.
More recently, Azadiya Welat journalist Rohat Aktaş was killed during a curfew in the southeastern town of Cizre while he was reporting on the security forces' operations in the area. Aktaş was allegedly killed along with many other civilians who were hiding in a residential basement where they had taken refuge from the shelling in February 2016. But the authorities wouldn't leave him alone after his death. On 7 March the Diyarbakır Prosecutor's Office launched criminal proceedings against Aktaş. The prosecutor asked for up to seven years on terrorism-related charges for the slain journalist.
Not surprisingly, Kurds have had more than their fair share of difficulties since Turkey's 15 July coup attempt. Many pro-Kurdish outlets have been shut down under Turkey's state of emergency, which was itself extended this week for another three months. The ban on the Kurdish language seems to be making a de-facto comeback. With Turkey's 16 April referendum expected to turn the country even more authoritarian, the prospects for any minority outlets being able to thrive seems slim. Will things ever improve for the country's Kurdish media?
Ölçen is not entirely optimistic. "However, I am not completely hopeless either. There have always been pressures and there always will be. But there has also always been resistance against pressure, and those will also always be."[/vc_column_text][vc_column_text]


Turkey Uncensored is an Index on Censorship project to publish a series of articles from censored Turkish writers, artists and translators.
[/vc_column_text][/vc_column][/vc_row][vc_row][vc_column][vc_basic_grid post_type="post" max_items="4″ element_width="6″ grid_id="vc_gid:1493282486109-b08bdef5-201d-8″ taxonomies="8607″][/vc_column][/vc_row]