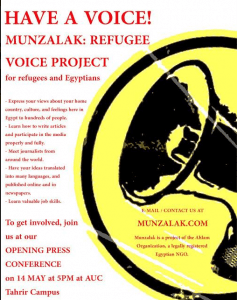 It is still hot in the shade of the palm trees and stuccoed buildings on the American University in Cairo's (AUC) downtown campus. Groups of refugees sit around on wicker chairs.
Everyone is here to learn about journalism. Munzalak is a new organization that aims to get refugees living in Egypt involved in the media and in command of their own voice. The name translates to "your comfortable place," like a home from home – the one you were forced to leave.
Every weekend Munzalak hires out a room at AUC. Refugees are invited to come along and learn the basics of journalism for free. Aurora Ellis, a news editor for an international news agency, runs the workshops with aim of producing "articles that deal with refugee issues and with the refugee experience."
The ultimate aim is to give refugees a space to voice their experiences. A blog on Munzalak's website publishes pieces written by refugees (with the option of writing under a pseudonym) while training goes on and – organizers hope – more people join.
Similar initiatives have existed. The Refugee Voice was a newspaper based in Tel Aviv run by African asylum seekers and Israelis inside Israel and founded in April 2011, but is no longer published. Radar, a London-based NGO, also trains local populations in areas around the world (including Sierra Leone, Kenya and India) with the aim of connecting isolated communities.
"We're being given the opportunity to write about our experiences…I can write about my experiences, and interview other refugees about theirs," says Edward, a Sudanese refugee who arrived in Cairo earlier this year.
"We have several basic problems – in housing, security, education and health." He quietly tells stories of life in Egypt; harassment and assault in the streets and pervasive racism (even, he says, from some people who are there to help). "We live a separated life. We are here by force only."
Ultimately, Edward wants to write a history of the Nuba Mountains, the war-torn area straddling the border between Sudan and South Sudan, where he was born in over 25 years ago. Edward carries a notebook with ideas for this book – scribbled notes of a people and culture disappearing; histories of war and exodus. Edward sees his journalism as self-preservation, telling stories that other people don't want to be told. He most admires Nuba Reports, a non-profit news source staffed by Sudanese reporters, which aims to break reporting black-spots while humanitarian crises and fighting continues on the ground.
Some activists working alongside refugees see initiatives like this as an important way to break the silence.
"Before June 30, refugees were always neglected in the national media. They were only included [the media] if they were being used as scapegoats," says Saleh Mohamed from the Refugee Solidarity Movement (RSM) in Cairo. Famous examples include right-wing TV host Tawfik Okasha calling for Egyptians to arrest and attack Syrian and Palestinian refugees on sight. Syrians and Palestinians arrested by security forces have been routinely referred to as "terrorists" by the authorities, a narrative often repeated verbatim by pro-regime newspapers. "Now I think the media wants to keep refugees in the shadows and not talk with them," Mohamed adds. "You never hear about refugees."
But Munzalak is not without its risks and challenges. Staying independent but still being able to attract funding and support is one thing. Another is security.
Last Sunday 13 Syrians were sentenced to five years in prison after protesting in March 2012 against Bashar al-Assad. They were charged with illegal assembly and "threatening…security [forces] with danger," something the defendants all denied, according to state-run newspaper Al-Ahram. A UNHCR official last year had told Syrian refugees to stay away from domestic politics – a warning that could feasibly include journalism as well.
Although historically repressive towards journalists during the rule of Hosni Mubarak, the Supreme Council of the Armed Forces (SCAF) and the Muslim Brotherhood's Mohamed Morsi, Egypt's media landscape has taken a significant nosedive since the July coup. Several journalists have been killed in the violence; Mayada Ashraf, a young reporter for Al-Dostour became the latest casualty after she was shot in the head during a protest, allegedly by a police sniper; while reporters remain behind bars and on trial for doing their job.
So is it a good idea to get refugees involved?
Mohamed says that street reporting and visibly working as journalists could put refugees – like Edward – "in danger." Their legal ability to work also depends on what refugee status they have.
"But otherwise they can talk about themselves rather than waiting for journalists to approach them instead…They definitely need a voice." But for some refugees, other priorities come first.
Jomana is a 20-year-old Syrian refugee and media studies undergraduate, originally from Aleppo. She visited Munzalak once and liked the idea, but is more concerned about getting a job and paying her way than talking about her experiences – which, like so many Syrian refugees in Egypt nowadays, are harsh. Of almost 184,000 refugees living in Egypt, according to mid-2013 figures from the United Nations Refugee Agency (UNHCR), around 130,000 of that number are Syrians.
"I don't have enough money to continue my studies so I will have to leave," she explains plainly. Jomana's home was bombed out during the war and they fled the country with just their passports, arriving in Cairo over two years ago. Eventually her father went back to Aleppo to try and restart his old factory, but returned to find rubble. He came back to Cairo to economic uncertainty, incitement and political instability. "Other people are going back to Syria and dying there. Those that stay [here] aren't dying from bombing or from fighting…but from hunger."
Munzalak might help, but for some refugees, not in the most crucial of ways.
"It means I can express my opinion freely," Jomana says, "but will I get paid for my opinion?"
This article was published on June 20, 2014 at indexoncensorship.org