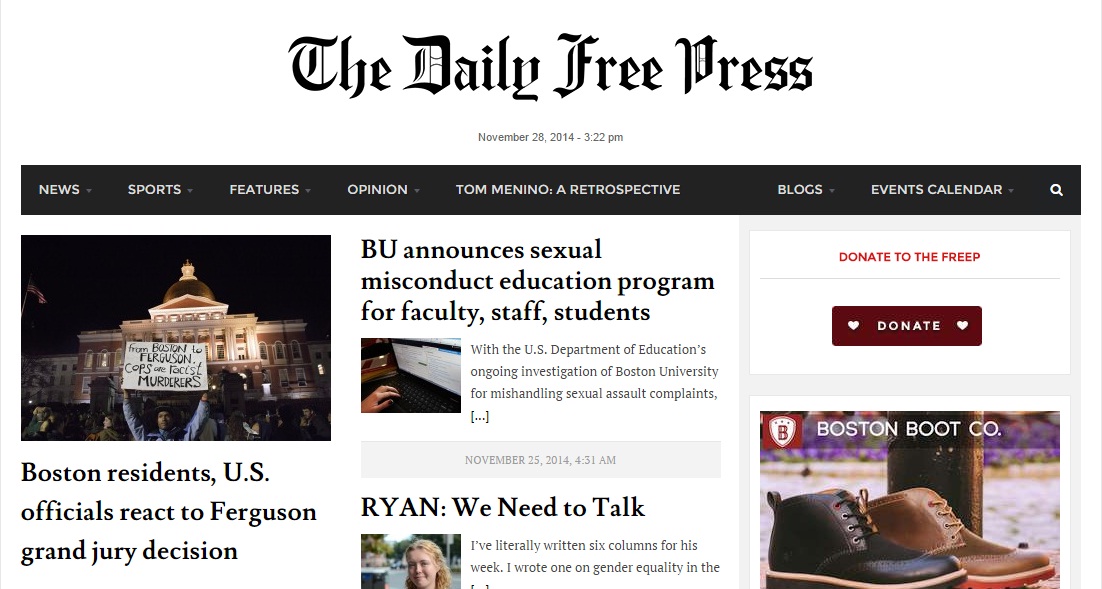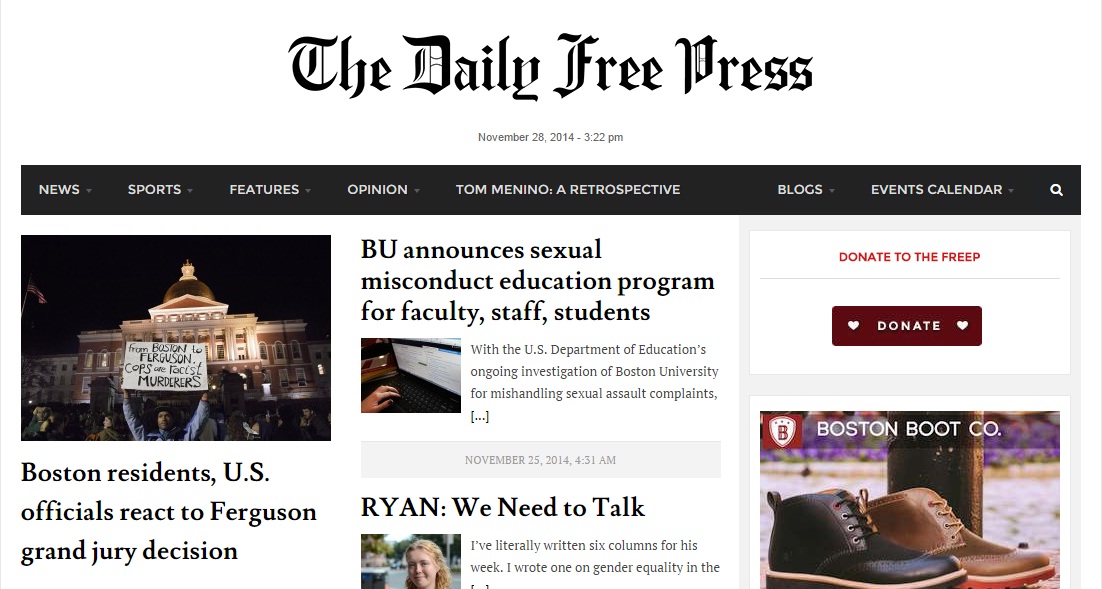 Independent student newspapers struggle in an increasingly digital world. Advertising revenue is shrinking. Budding journalists must learn how to fill the gap while maintaining news coverage free of administration censorship.
Of the more than 500 student newspapers in the US, Index spoke with two papers about their work and how they finance themselves independently.
"We really value our independent status because it allows us to be critical of the administration and be a watchdog of our university," Kyle Plantz, editor-in-chief at Boston University's Daily Free Press, said in an email interview.
The paper formed in 1970 after the university's then president John Silber cut funding to two campus publications to prevent coverage of Kent State protests. As a result they merged to become the Free Press.
In recent years, Daily Free Press staff has written articles covering topics on campus such as gender neutral housing and students' issues with the Student Activities Office, which oversees student organisations.  In late 2011-2012, the paper provided extensive coverage of the arrest of two ice hockey players charged with sexual assault.
Nicole Brown, editor-in-chief at New York University's Washington Square Press, also said her paper acts as a watchdog on the NYU administration.
"We need to be able to question our university and present information to the community," Brown said. "We also need to be able to voice our opinions without fear of being punished for those opinions."
The Washington Square Press keeps an open dialogue on campus through its feature, NYU Reacts. It includes students' thoughts on topics ranging from ISIS subway threats to pro-democracy protests in Hong Kong. The paper also publishes articles on sensitive issues, such as a November 2013 piece in which NYU faculty express concern over the London campus's rapid expansion.
Many student papers struggle to maintain steady revenue. Brown said the Washington Square Press relies on advertising, sold and managed by student staff.
"With a move toward more online content, there are more opportunities to sell ad spaces online, as well as in print," Brown said.
For the Free Press, nearly $70,000 (£44,576.05) debt to their printers recently threatened to shutter their publication. They switched from publishing four days a week to once a week and, on 10 November, launched a crowd-sourcing campaign.
The paper surpassed their goal and raised over $82,000 in just three days, with Daily Free Press alumnus Bill O'Reilly donating $10,000 and local businessman Ernie Boch Jr. donating $50,000.
"[Reducing publication], along with cutting some other costs, we are able to continue to receive ad revenue and sustain our weekly print edition," Plantz said. "We are assessing how we want to use [the extra funds] and what will be beneficial to our organization in the future."
Independent newspapers must find a way to financially sustain themselves or campuses will lose reliable, student-run news.
As Plantz said, "We are one of the only outlets that allow students to have a voice, question authority, and be a place for students, faculty, staff, and the administration to come together to learn about what's happening on campus."
This article was originally posted 28 November on indexoncensorship.org