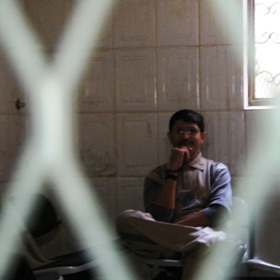 A Yemeni journalist accused of advising an Al-Qaeda cleric alleges he was kidnapped and tortured by the state. Iona Craig reports

With prayer beads wrapped tightly around his right hand, Abdul-Elah Haidar Shaye paced slowly around the white cell, smiling and shaking his head in disbelief as the judge listed the charges, stopping occasionally to pose for photographers seated on the other side of the steel mesh wall that separated him from the court.
Shaye, a Yemeni journalist, accused by the state of being the "media man" for Al-Qaeda in Yemen, attended the first hearing of his case, on Tuesday, since his arrest more than 65 days ago. Friend and co-defendant Abdul Kareem Al Sham, was accused of assisting Shaye by passing e- mails between the journalist and Al-Qaeda in the Arabian Peninsular (AQAP) members.
The 34-year-old, was taken, by force and without charge, from his home on 16 August, by Yemen's Political Security Organization (PSO) and held for 34 days without access to a lawyer or his family. After his previous appearance in court, on 22 September, Shaye was transferred to a state security prison. His lawyer, Abderrahman Barman, claims Shaye was kept in solitary confinement, tortured and beaten during his detention.
Amongst the evidence from the prosecution Shaye was accused of working as a media advisor for Yemeni-American radical preacher Anwar Al-Awlaki — labelled as mentor to the failed Detroit bomber in December 2009 — and of holding meetings with senior leaders of AQAP, urging them to strike Yemeni and foreign interests.
Prosecutors said photographs of Yemen security bases and foreign embassies, found on his laptop, were being passed to Al-Qaeda as potential targets. In a detailed statement read out to the court prosecutors said Shaye was recruiting new members on behalf of the terrorist organisation.
Shaye, who specialised as a terrorism and Al-Qaeda expert, conducted an exclusive interview with Anwar al-Awlaki for Al-Jazeera in 2009.
He chose not to be represented by a lawyer on the grounds that the trial was illegal, and refused to recognise the legitimacy of proceedings in the Special Criminal Court for Security Affairs. In reply to the charges and prosecution evidence, which took nearly two hours to present, Shaye was given just a few minutes to respond.
"I disappeared for 35 days. Then I was kept in prison for another 30 days, on your orders, judge," shouted Shaye through the bars of his cell. "Now the 30 days are over, I request immediate release and demand you order the arrest of the intelligence officers who kidnapped me."
Locked in a tiled room, adjacent to the court, visible through a white metal grill, Shaye spoke confidently, appearing healthy and in good spirits.
Shaye's case closely reflects that of Mohamed al-Maqaleh, editor of the Yemeni Socialist Party news website Aleshteraki. Taken by the PSO in September 2009, the government denied holding al-Maqaleh for the first five months of his detention. After two court hearings, including one in the newly created press court, his case was dissolved.
In May 2009 the government created a special journalists court for "press offences". New legislation is currently being drafted to tighten the existing Press and Publications Law against defaming the state and the president. Proposed amendments to the penal code will increase prison sentences for offenders. A new bill, to regulate television, radio, and online media is also being drafted.  Details of the proposed changes remain unclear.
Reporters Without Borders (RSF), which last week released the 2010 Press Freedom Index ranking Yemen 170 out of 178 countries, responded to Shaye's trial by calling on the Yemeni authorities to "immediately release the journalist'' and "abolish the special courts."
RSF is not optimistic about the future for press freedom in Yemen. "Since September 2009 we have been really concerned regarding press freedom and the life of journalists (in Yemen)," said RSF's Soazig Dollet, head of the North Africa & Middle-East desk, in a phone call. "Even without the new legislation I don't think the situation will improve."
Three US journalists have been deported this year, most recently Ellen Knickmeyer, two weeks after writing an October article, critical of Yemen's president, for Foreign Policy magazine. More than 56 international media organisations have been denied entry into Yemen in the last three months, according to a Hakim Almasmari, publisher and editor-in-chief of the Yemen Post. This figure has not been confirmed by Yemeni authorities. This is "a strategy by the government to limit what people should know about Yemen, to what the government wants them to know," said Almasmari in an editorial on October 4.
Yemen's president, Ali Abdullah Saleh, has been in power for 32 years, initially as leader of the northern Yemen Arab Republic and then as president of the Republic of Yemen, following unification with the south in 1992. Elections, postponed since April 2009, are due to take place in May 2011.
Shaye's next court appearance is set for 2 November.