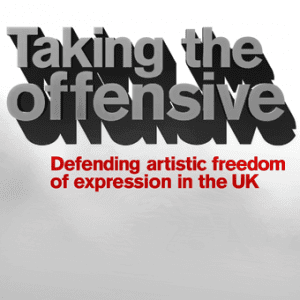 Index on Censorship's conference Taking the Offensive, held at London's Southbank Centre highlighted how artistic freedom in the UK is under threat. The conference focused on how arts organisations support artistic freedom especially when controversy is arises.

A host of influential speakers gathered on Tuesday to discuss how to monitor, stand up to and combat artistic censorship in the UK. Nicholas Serota set the tone for greater openness in his key note speech.  He cited two works had been taken down by Tate — Richard Prince's Spiritual America and John Latham's God is Great describing the decisions that lead to their removal, acknowledging the need for greater transparency.
It was pointed out that since one of the functions of art is to trigger debate, then let's hear the debate when controversy breaks, instead of it taking place behind closed doors.
Lawyer Anthony Julius said that whilst the paradigm for censorship is the authoritarian state, there are more ambiguous threats to artistic freedom in the UK: "Elements of civil society are coercing the artists, rather than the state."
Threatened by internal and external forces, arts organisations and institutions artists  are increasingly constrained by diminishing resources, the fear of causing offence, or the threat of police intervention.
Anthony Julius described senior police officer Sir Hugh Orde's assertion as "weasly words" when the latter claimed that the police are faced with difficult decisions and are not always able do guarantee the safety of those involved in public order incidents generated by contentious art work.  
The conference also heard how corporate sponsorship could curtail arts organisations expense of innovation and risk-taking. Larissa Sansour, visual artist, said that corporates must not regard support for artists as an "extension of their advertising campaigns".Jeanette Bain-Burnett, Director of the Association of Dance of the African Diaspora, put this in the context of  artists from the Diaspora seeking to promote their work in the UK:
"There are various understandings of the kind of work artists are expected to produce and they change their work either consciously or subconsciously. We mustn't censor through our role as curator."
Referring to the fear of causing offence, academic Mona Siddiqui said that we need to be absolutely clear about the need to open up dialogue when artistic expression exposes a head on clash of values: "If artists are concerned about upsetting religious sensitivities, in particular Muslim sensitivity, then we must be clear about this and say so."
David Lan, artistic director at the Young Vic Theatre, warned about moving towards the "American model" experience where theatre board members are willing to make sizeable financial contributions to the theatre, but also expect more creative input. "They have the skills, yes, but they also have the money." The effect of this over time, he warned, becomes "quite radical". While he declined to name the theatre, he did cite an example from the UK:  'When it came time to appoint a new artistic director, the board chose a "safe pair of hands" to reduce the amount of risk the theatre was taking.
Anthony Julius suggested that once the board had supported the programme they shouldn't be able to retreat from that support in the face of controversy. The "what-if" culture leading to self-censorship amongst arts organisations artists was a point observed by a number of speakers. Julius said:
"Artists and the institutions representing them are ruled by counterfactuals and hypothesising. It's possible to tell yourself horror stories and follow worst case scenarios."
This cautiousness contributes to a general trend, observed by Erica Whyman, deputy artistic director at the Royal Shakespeare Company, to believe that the arts should only exist to please and entertain. Whyman talked about the importance of producing art that people don't like. Philosopher Nigel Warburton, who chaired the discussion on self-censorship, highlighted that "there are many points in-between censorship and a reasonable editing process."
Writer and director Penny Woolcock  called for a stronger support system and legal guidelines for artists and arts organisations.  Index is working with law firm Bindmans to produce such a document.
"Fear and anticipation of trouble mean that the best thing to do is close things down. What can we do to be more protected? There isn't a support structure of advice network within the arts (community)," said Woolcock, who led the breakout session Artists Speak Out.
Throughout the day short videos of artists talking about work that has been banned or contested were shown. The featured artists show clearly whose voices are more likely to cause controversy are young black men, gay Christian and people with mental illness.  Artists who want to explore tensions within and/or between ethnic minority communities have also encountered censorship.
Despite this, panellists opposed establishing a regulatory system or governing body, fearing it could prove dangerous and restrictive, having a chilling impact on creativity. "There's a danger of seeing art as something special or privileged when it comes to freedom of expression," said writer and broadcaster Kenan Malik, arguing this could undermine freedom of expression outside of the arts. "I'm against fetishising artistic freedom of expression. A policy of non interference does not equal indifference."
Moira Sinclair, Executive Director of the Arts Council, questioned where ownership of such regulation would lie. "Freedom of expression doesn't come from box ticking and requirements from a piece of paper — it comes from debate, discussion and disagreement."
A full report of this event will be published on this site soon

Padraig Reidy is the editor of
Little Atoms
and a columnist for Index on Censorship. He has also written for The Observer, The Guardian, and The Irish Times.

Latest posts by Padraig Reidy (see all)