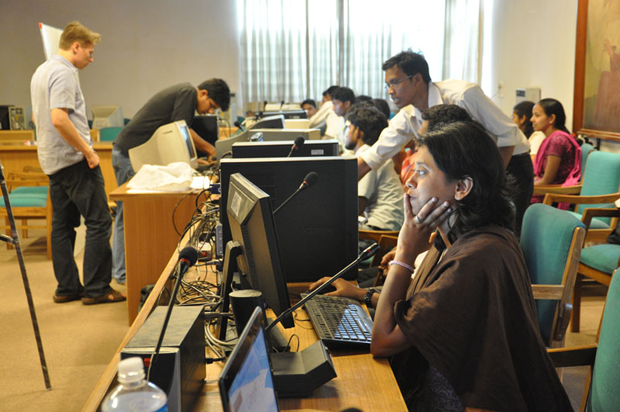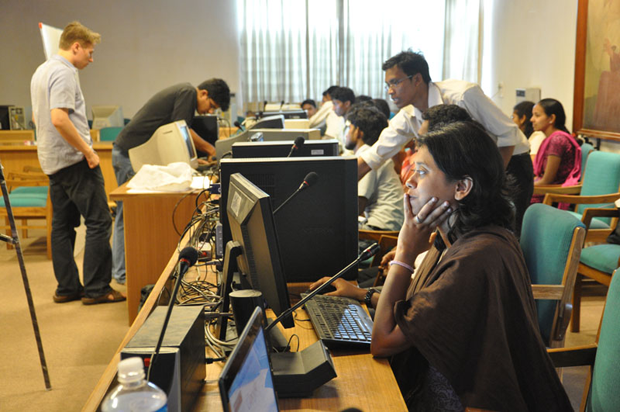 ---
CONTENTS
Introduction and Recommendations | 1. Online censorship | 2. Criminalisation of online speech | 3. Surveillance, privacy and government's access to individuals' online data | 4. Access: obstacles and opportunities | 5. India's role in global internet debates | Conclusion
---
The rules India makes for its online users are highly significant – for not only will they apply to 1 in 6 people on earth in the near future as more Indians go online, but as the country emerges as a global power they will shape future debates over freedom of expression online.
India is the world's largest democracy and protects free speech in its laws and constitution.[1] Yet, freedom of expression in the online sphere is increasingly being restricted in India for a number of reasons– including defamation, the maintenance of national security and communal harmony, which are chilling the free flow of information and ideas. Many of the most restrictive laws and technical means used to enforce these restrictions are recent developments that have undermined India's record on freedom of expression. A mix of social and political pressure, alongside the terrorist attacks in Mumbai in 2008, has led to this decline, but civil society is beginning to push back.
This paper explores the main digital issues and challenges affecting freedom of expression in India today and offers some recommendations to improve digital freedom in the country.
Constraints on digital freedom have caused much controversy and debate in India, and some of the biggest web host companies, such as Google, Yahoo and Facebook, have faced court cases and criminal charges for failing to remove what is deemed "objectionable" content. The main threat to free expression online in India stems from specific laws: most notorious among them the 2000 Information Technology Act (IT Act) and its post-Mumbai attack amendments in 2008 that introduced new regulations around offence and national security.
New regulations introduced in 2011 oblige internet service providers to take down content within 36 hours of a complaint, whether made by an individual, organisation or government body, or face prosecution. This is problematic in many ways: it makes intermediaries liable for content which they did not author on websites and platforms which they may not control and encourages them to monitor and pre-emptively censor online content, which leads to the excessive censorship of content.
Meanwhile, the arrest and prosecution of citizens who have posted content deemed "grossly harmful", "harassing", or "blasphemous" has multiplied. Censorship through the criminalisation of online speech and social media usage is troubling, especially when it affects legitimate political comment or harmless content.
Other issues addressed in this paper include how individual states and the national government of India restricts online communications using filters, and increasingly engages in mass surveillance, which can chill freedom of expression. One of the most pressing challenges to digital freedom remains India's use of network shutdowns in certain regions, it is claimed, in order to prevent public disorder.
Ensuring access to the digital world remains a national challenge. With only 10 percent of the Indian population online today, there may be a billion new Indian netizens online in the future. How India enables this to happen will be a major challenge. While India is an increasingly influential player in global internet governance, now is a critical time to analyse its domestic regulations and policies that will shape the path not only for the people of India but also for regional neighbours and emerging democratic powers.
This paper is divided into the following chapters: online censorship; the criminalisation of online speech and social media; surveillance, privacy and government's access to individuals' online data; access to digital; and India's role in global internet debates.
The online censorship chapter looks at intermediary liability and the issue of state and corporate censorship mainly via takedown requests and filtering and blocking policies. The criminalisation of online speech chapter covers the prosecution of Indian citizens who post content on the net, including on social media.
The surveillance chapter looks at the recent revelations on the extraordinary extent of domestic surveillance online, and how it contributes to chilling free speech online. It also looks at privacy and government's access to individuals' online data. The access chapter covers obstacles and opportunities in expanding digital access across the country.
Finally, the chapter on India's role in global internet debates looks at India's positioning in the current debates that will result in potentially significant changes to net governance in the next two years.
This policy paper is based on research from London and a series of interviews conducted between June and October 2013 with a range of interviewees from civil society, internet businesses, political figures and journalists.
RECOMMENDATIONS
To end internet censorship and provide a safe space for digital freedom, Indian authorities must:
• Stop prosecuting citizens who express legitimate opinions in online debates, posts and discussions;
• Revise takedown procedures, so that demands for online content to be removed do not apply to legitimate expression of opinions or content in the public interest, so not to undermine freedom of expression;
• Reform IT Act provisions 66A and 79 and takedown procedures so that content authors are notified and offered the opportunity to appeal takedown requests before censorship occurs;
• Stop issuing takedown requests without court orders, an increasingly common procedure;
• Lift restrictions on access to and functioning of cybercafés;
• Take better account of the right to privacy and end unwarranted digital intrusions and interference with citizens' online communications;
• Maintain their support for a multistakeholder approach to global internet governance.
---
CONTENTS
Introduction and Recommendations | 1. Online censorship | 2. Criminalisation of online speech | 3. Surveillance, privacy and government's access to individuals' online data | 4. Access: obstacles and opportunities | 5. India's role in global internet debates | Conclusion
---
This report was originally posted on 21 Nov 2013 at indexoncensorship.org
---
[1] Article 19 of the Indian Constitution protects freedom of speech and expression. Government of India, 'The Constitution of India,' as modified up to the 1st December 2007, Article 19. (1)(a) 'All citizens shall have the right to freedom of speech and expression' http://lawmin.nic.in/ accessed on 23 September 2013.