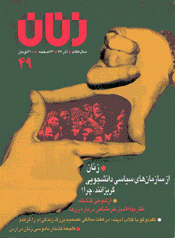 Iran's Commission for Press Authorisation and Surveillance has suspended feminist monthly Zanan (Women) for "publishing information detrimental to society's psychological tranquillity". Hengameh Golestan reports
Zanan has been published regularly over the last 19 years in Tehran. In the past, Zanan has always shown support to other magazines and newspapers which have been shut down. What has upset Iranian journalists is the fact that Zanan was not only closed, but its authorisation for publishing has been revoked, meaning it is very unlikely it will reopen in the future.
This short statement was made on writer Asieh Amini's blog a few hours after the closure of Zanan magazine.
"I have worked for many newspapers that have been closed down by the authorities — my wedding day actually coincided with the day that Roznameh Zan [a women's journal] was shut down — but none of these closures angered me as much as the closure of Zanan magazine.
"Damn! I'm angry and furious, way more than my words here can describe. I know that all my dear friends from Zanan share my feelings. My good friend Shahla Sherkat [editor of Zanan] feels as though she has lost a daughter, for she had put blood sweat and tears into the publication.
"All of my best pieces were published in Zanan. Being present at the weekly Monday meeting at Zanan made me privy to some of the sharpest analysis of the newspapers in a world where the media nowadays tend to only be critical of what may offend the government."

Latest posts by Padraig Reidy
(see all)