Conventional wisdom suggests that the web's power to drive social revolution is over-rated, but the Tunisian government still isn't taking any chances. Its agents are hacking its opponents' networks and sabotaging them, even as foreign hackers retaliate by doing the same to the state's own sites. Rohan Jayasekera reports

In the country once entrusted with hosting the future of the world wide web, Tunisia's cyber-counter-revolutionaries are fighting back against free speech defenders in both virtual and real worlds.
A wave of protest and sometimes violent repression is spreading across the country from its trigger point in Sidi Bouzid, in southern Tunisia, where jobless 26-year-old Mohamed Bouazizi set himself alight on 17 December in protest against unemployment. Bouazizi is since reported to have died.
What little news that escapes the country's censorship regimes and isn't buried by a compliant pro-government press comes via a loose and limited network of citizen journalists online. This has made them a prime target for the state.
"The police aim to break into the accounts of users to know who communicates with whom and on what subject," blogged Astrubal, the Tunisian co-editor of the independent www.nawaat.org website, "with the end objective of dismantling the citizen journalist networks that formed spontaneously after the Sidi Bouzid protests."
Monitoring by Index on Censorship and others has found that independent journalists in Tunisia — print, online or on air — are routinely persecuted. New applications for independent newspaper licenses or radio frequencies are ignored. State control of the judiciary ensures that appeals are refused and political critics jailed on trumped-up charges.
Private broadcasting is controlled by the friends and family of Tunisian president Abidene Ben Ali. All five licences issued since 2003 have gone to them, most recently, Radio Shems and Radio Express, launched in the autumn by his daughter Cyrine Ben Ali and Mourad Gueddiche, son of his private physician.
Journalists have been repeatedly dragged to courts, like Mouldi Zouabi of the beleaguered Radio Kalima, or harassed like Taoufik Ben Brik, Lotfi Hajji, Slim Boukhdhir and Lotfi Hidouri.
Last year an amendment to Article 61a of the Penal Code promised up to five years in jail for Tunisians in "contact with agents of a foreign power or a foreign organisation" who could harm Tunisia's "economic security". The aim was to cut off stringers working for foreign media and silence protestors who want the EU to demand human rights guarantees from Tunis in exchange for "advanced" trading status.
This systematic stifling of independent opinion over the years has turned many Tunisians to the internet for news denied by the mainstream press, keeping the Tunisian online censor, popularly nicknamed Ammar 404, particularly busy.
Tunisia was the first Arab state to embrace the internet, and to no-one's surprise, the first to systematically repress it.
Five years ago, against the advice of free expression groups, including Index on Censorship, the UN chose Tunis to host the World Summit on the Information Society (WSIS), established to lead states towards "concrete steps to establish the foundations for an Information Society for all, reflecting all the different interests at stake".
Today Tunisia is pioneering new methods to slander or silence dissidents and nip opposition in the bud online, stepping up pressure after the 28 November release of a selection of 17 secret cables from the US embassy in Tunis to Washington DC.
Tunisian activists at the nawaat.org portal set up a website — Tunileaks — within an hour. The government responded just as quickly, blocking the site as it has blocked several others over the years — including at times, Index on Censorship's own webpages. More threateningly they also tried to block the secure encyrpted HTTPS version of the site by blocking the Google Apps engine that runs the Tunileaks site.
Email accounts and Facebook friend lists are prime targets for hacking, as the state tries to identify the leaders of the protests, driven by a social movement initiated by lawyers, journalists, and trades unionists, but energised by a general sense of frustration over unemployment and corruption in Tunisia.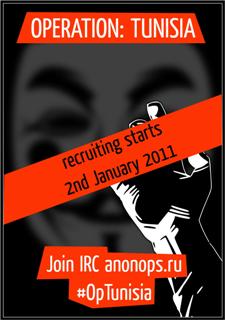 This state-directed hacking directly parallels the rival attacks organised from abroad by the "hacktivist" group Anonymous. Tagged on Twitter as #optunisia, the attacks on Tunisian state-run websites, included the president, prime minister, the stock exchange and several ministries.
"This is a warning to the Tunisian government," Anonymous stated. "Attacks at the freedom of speech and information of its citizens will not be tolerated. Any organisation involved in censorship will be targeted and will not be released until the Tunisian government hears the claim for freedom to its people."
The conventional wisdom is that the alternative communications links offered by the internet and social networking on the web will have a limited effect on change in Tunisia. CNN's Octavia Nasr considers that despite the fact that the internet is longer and more broadly established in Tunisia than in most Arab countries, its online activists are not so well personally connected.
But with national media either repressed or full square behind the state, it remains the main conduit for news of any kind from Tunisia, especially for foreign media, chief among them al-Jazeera, which has given substantial coverage to the protests, even though its operations in the country are strictly limited, requiring it to rely on video content and updates from social networking sites.
"There have been complaints from bloggers about this silence but in a way it's refreshing not to have the likes of Fox News, Bernard Lewis and Glenn Beck telling us what should be done," commented Middle East observer Brian Whitaker. "In any case, the Tunisians — so far at least — seem to be getting on quite well with their uprising by themselves."
Individual acts of protest are going on, such as this poignant spelling out of "Free Tunisia" by students, but they are not yet getting the numbers of viewers needed to trigger an Iran-style global media focus. Inside Tunisia, the internet's contribution is a long way even from convincing the majority, if not to support change, at least not to oppose it.
But the internet is also a tool of youth. As @weddady, one of the most diligent tweeters of news from Tunisia put it: "Someone do the math: Ben Ali has been in power for 23 years, 54.3% of tunisians r under 30 #sidibouzid #Tunisia."
Rohan Jayasekera is Associate Editor at Index on Censorship, which currently chairs the International Freedom of Expression Exchange Tunisia Monitoring Group