Belarusian people are living under "an iron fist in an iron glove," said Sir Tom Stoppard on the Radio 4 Today programme, after presenting a special commendation to prisoners of conscience in Belarus at the Index on Censorship Freedom of Expression Awards 2011

The British playwright Sir Tom Stoppard yesterday dedicated a special commendation to prisoners of conscience in Belarus. Members of the Belarus Free Theatre collected the award at the 11th annual Freedom of Expression Awards.
The special award was dedicated to all the prisoners of conscience who have been detained because they exercised their right to free expression in criticising President Lukashenko.
"This Index on Censorship award is all the more important as the figure of prisoner of conscience should have been consigned to history," Sir Tom Stoppard said. "Yet in Europe in 2011 there are 42 prisoners of conscience held by the government of Belarus."
Interviewed by Evan Davis on the Radio 4 Today programme this morning, Sir Tom Stoppard described the Belarusian regime as an "anomaly".
"It's a way of dictatorship which has been consigned in history in Europe except in this one place and the Index on Censorship awards … are acknowledging these Belarusian victims of what is now an iron fist in an iron glove."
Natalia Koliada, the co-founder of the Belarus Free Theatre, was one of those arrested and gave an emotional acceptance speech at last night's awards, paying tribute to Oleg Bebenin, a Charter 97 journalist found dead in suspicious circumstances. Irina Bogdanova, sister o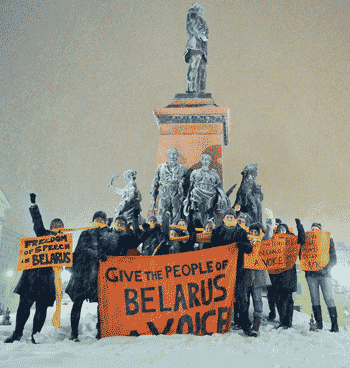 f imprisoned presidential candidate Andrei Sannikov, said "together we will win", repeating a Sannikov slogan.
On 19 December, the night of the presidential elections in Belarus, a large demonstration was held in Independence Square in Minsk. The protest was dispersed violently, with the arrest of around 700 people. Those held were treated appallingly.
Natalia Koliada was one of those arrested. The Free Theatre had performed at an event organised by Index on Censorship just two weeks previously at the Young Vic. Whilst Koliada was in prison, guards made vile threats: "You are animals. We want to kill you. Our dream is to kill you."
Those detained were not held in cells, but had to stand in freezing prison corridors. All the prisoners had biometric photographs taken and were fingerprinted and filmed.
Ales Mikhalevich, one of seven presidential candidates who was detained, has subsequently made allegations of torture. In total, 42 people face criminal prosecutions for organising a "mass disturbance". The charges carry a prison sentence of up to 15 years. With so many presidential candidates amongst those charged, it is likely there is a political motive behind the charges.
Latest posts by Judith Townend
(see all)