The 11th annual Index on Censorship Freedom of Expression Awards, sponsored by SAGE, were presented tonight (24 March) at a ceremony in London hosted by Jonathan Dimbleby
The Winners
Index on Censorship New Media Award, supported by Google
After accepting the award, Sami Ben Gharbia, co-founder of Nawaat, said: "This award is very important to us. It is given to us the very year we are celebrating the Tunisian revolution and seven years of our existence as a collective blog, which was censored from its launch by Ben Ali's regime."
TuniLeaks is a selection of the WikiLeaks State Department cables published by Nawaat.org, an independent group blog run by Tunisian net activists.
TuniLeaks, like its parent site Nawaat, is entirely independent and does not receive funds from any political party.
The TuniLeaks cables revealed the extent of the corruption deeply entrenched in many aspects of Tunisian life. Despite attempts to block the site, news of the cables being released swiftly spread around the country and Nawaat helped informal media networks link communities that had been cut off by government censors.
Nawaat highlights how important transparency is in a country like Tunisia, where citizens had for so many years been cut off from vital information and dialogue. "The aim is to get everyone to read, to get an idea and give meaning to the facts provided," the website states. "The debate is open."
The other nominees were the Tor Project and Chinese internet activist Wen Yunchao. Details here
Bindmans Law and Campaigning Award
Gao Zhisheng

Gao Zhisheng has been persecuted by the state for speaking out on human rights issues. Gao, a self-taught lawyer, forged a career representing the underdog in cases involving medical malpractice, land redistribution, employment disputes and forced sterilisation.
He has also defended journalists and religious minorities including Christians and members of Falun Gong. In 2005, he resigned from the Communist Party and wrote an open letter to President Hu Jintao and Prime Minister Wen Jiabao, documenting the suffering of Falun Gong practitioners and calling on the leaders to end their "large-scale, organised" abuse.
Security forces took Gao from his home in Shaanxi province on 4 February 2009. Gao claimed the security forces tortured him. The state denied any knowledge of his whereabouts until January 2010, when a foreign ministry official said the lawyer was "where he should be". After briefly reappearing Gao disappeared again in April 2010, and the Chinese state has refused to register him as a missing person.
The other nominees were David Coombs, the criminal defence lawyer leading the defence of Specialist Bradley Manning, the 23-year-old accused of leaking classified material to WikiLeaks; and Sherry Rehman, a member of Pakistan's parliament who submitted a bill proposing amendments to Pakistan's blasphemy law. Details here
The Guardian Journalism Award
After accepting the award  Ibrahim Eissa said "I consider this to be a prize for Tahrir Square".
Eissa is Egypt's leading independent editor, described as a "one-man barometer of Egypt's struggle for political and civic freedom". Throughout his career, he has faced prosecution when his push for media freedom has fallen foul of the government.
In 2010, he was fired from his position as editor of the independent newspaper al Dostour, after new owners bought the paper; his popular satellite talk show was also taken off air. His sacking came in the midst of a wider media crackdown in the run-up to the parliamentary elections, when Mubarak's ruling National Democratic Party emerged victorious amid accusations of unprecedented vote rigging.
When Eissa was sacked from his job last year, the novelist Alaa al Aswany wrote: "Ibrahim Eissa did not oppose the government; he opposed the system … He called for real democratic change through free and fair elections and regular change at the top."
The other nominee was Chiranuch Premchaiporn, the co-founder of the Thai online news site Prachatai ("Thai people"). She is currently on trial, facing up to 50 years in jail, for comments posted on Prachatai that were critical of the monarchy. Details here.
The Intelligent Life Arts Award
Celebrated and critically-acclaimed Indian artist Maqbool Fida (MF) Husain has been battling against censorship in his native India and elsewhere for close to 20 years. Born in 1915, he is recognised as one of India's greatest living artists. He has lived in exile since 2006.
Husain's work has caused controversy in sections of the conservative Hindu community, who regard his depiction of Hindu gods and goddesses in the nude as blasphemous and offensive. Husain has received numerous threats and exhibitions of his work have come under attack on several occasions; in India, he has faced hundreds of legal actions relating to his work.
In January 2011, three of Husain's artworks were removed from the Indian Art Summit in New Delhi following threats. Organisers said they could not guarantee the safety of the artwork or of those visiting the exhibition.
The other nominees were Gurpreet Kaur Bhatti, a Sikh British playwright, and acclaimed Iranian director Jafar Panahi. Details here
Belarus's prisoners of conscience were awarded a Special Commendation by Sir Tom Stoppard
Sir Tom Stoppard said: "This Index on Censorship award is all the more important as the figure of prisoner of conscience should have been consigned to history. Yet in Europe in 2011 there are 42 prisoners of conscience held by the government of Belarus."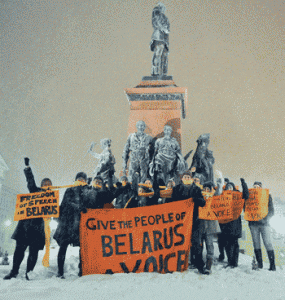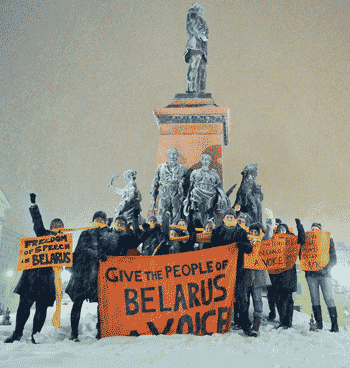 This award is dedicated to all the prisoners of conscience who have been detained because they exercised their right to free expression in criticising President Lukashenko.
On 19 December, the night of the presidential elections in Belarus, a large demonstration was held in Independence Square in Minsk. The protest was dispersed violently, with the arrest of around 700 people. Those held were treated appallingly.
Natalia Koliada, the co-founder of the Belarus Free Theatre, was one of those arrested. The Free Theatre had performed at an event organised by Index on Censorship just two weeks previously at the Young Vic. Whilst Koliada was in prison, guards made vile threats: "You are animals. We want to kill you. Our dream is to kill you."
Those detained were not held in cells, but had to stand in freezing prison corridors. All the prisoners had biometric photographs taken and were fingerprinted and filmed.
Ales Mikhalevich, one of seven presidential candidates who was detained, has subsequently made allegations of torture. In total, 42 people face criminal prosecutions for organising a "mass disturbance". The charges carry a prison sentence of up to 15 years. With so many presidential candidates amongst those charged, it is likely there is a political motive behind the charges.