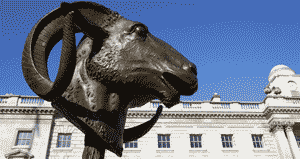 An extract from a speech by Tate Modern director Chris Dercon at the opening of a new show by imprisoned Chinese artist Ai Weiwei at Somerset House, London

This evening (11 May) we are to open gigantic recreations by Chinese artist Ai Weiwei of the so-called zodiac sculptures, the zodiac heads, a circle of animals that once adorned the fountain clock of the old summer palace just outside Beijing. The 12 original sculptures, created under the supervision of Italian Jesuits in the mid 18th century, were pillaged when the palace was ransacked by French and British troops in 1860. In recent years there have been many attempts — both official and unofficial — to buy them back. In February 2009 two of the original sculptures were auctioned in Paris as part of the sale of Yves Saint Laurent's art collection. The highest bidder — whom everybody thought was a rich collector from mainland China — backed out. Later it became clear that his bid was an act of protest, some say under the auspices of the Chinese government. When Ai heard about this story in the summer of 2009, he told me and other friends that it could make up for an "interesting" piece.
Why would Ai consider it "interesting" or "funny" to make such a piece? This animal circle, or animal house, is full of contradictions: it is neither a parody or ironic, it is not in the least cynical nor is it an iconoclastic gesture. It is a house of contradictions, just like China.
Some would say "aren't these sculptures kind of bland?" In his book In Praise of Blandness, the French professor of Chinese philosophy, François Jullien, argues that the "plainness treasured in Chinese aesthetics is in fact superior to any particular flavour, as it is open to all potential variations." Ai's art demonstrates how an artistic practice can explore all those variations and can investigate even diverse cultures, in order to do what? To purge its atavisms! In this sense Ai is more Chinese than other Chinese artists. And he is walking on different, meandering — sometimes even opposing — paths at once. His multiple "walks of life" and his confrontational words and actions may seem erratic and disturbing at first, but in fact they are deeply rooted in the Chinese philosophical traditions. Ai is constantly nurturing an artificial "in-betweenness", in between disciplines, in between the old and the new, in between the original and the reproduction, in between China and the West. In this sense he invokes old Chinese scholarly traditions. Is this why some Chinese police call him "professor" rather than "artist"? I wonder what they call him now?
Ai once said: "Art is about life. Our life is entirely political. Therefore all my art is political." To demand the release of Ai Weiwei is a matter of life and truth, which is the matter of art."
Chris Dercon is the Director of Tate Modern. Circle of Animals / Zodiac Heads runs at Somerset House, London, from 12 May – 26 June