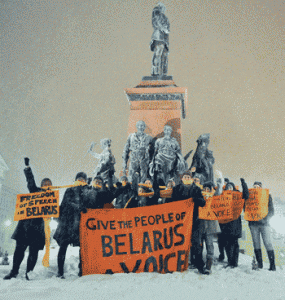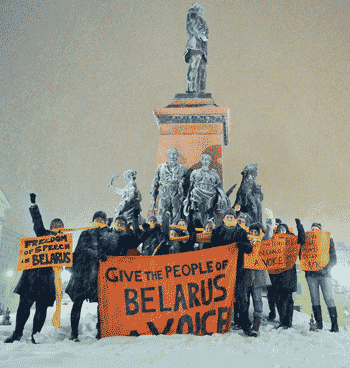 As politicians and journalists face trial for mass street protests, Olga Birukova explains the climate of fear and intimidation journalists face
Today in Belarus five former presidential candidates are on trial along with journalists and civil society figures. They are charged with protesting the re-election of President Alexander Lukashenko, or as the Belarussian state puts it "organising and participating in public mass disorder". Over 600 demonstrators were jailed in the violent crackdown on protest that followed the disputed December 2010 election in which Lukashenko won a fourth term. After a 19 December anti-Lukashenko rally seven presidential candidates were arrested, 26 journalists detained and 20 more injured. Eight journalists are currently being prosecuted and the authorities are on the verge of banning two popular newspapers — Nasha Niva and Narodnaya Volya.
In Belarus a journalists' life has never been easy, but now it seems to be an "extreme resistance test". Bynet (the Belarussian speaking section of the internet) is full of advice for the media on "how to recognise and cope with psychological trauma". Some journalists have left the country, some have gone on hunger strike and some struggle on from prison.
"It's only here [in jail] I realised what an emotional storm it must have been for all those state media workers, when you are not allowed to write the most interesting content. The only difference is: I am forced to stay here, but they put on their dog collars" — Andrej Poczobut wrote on his blog last week. Or more precisely, somebody posted his letter online for him.
Poczobut has been held in custody for 30 days. The first hearing date for his trial is yet to be set. Poczobut allegedly insulted Lukashenko online (twice) and in eight articles for the Polish newspaper Gazeta Wyborcza, including one on his personal blog where he detailed his interrogation by local KGB officers. These charges could see him spend up to two years of prison. He has also been accused of slandering the president — which could lead to a four year prison sentence.
Poczobut could have left the country, but he didn't. "I am linked too much to my Grodno area. Only here — despite all the bugging and surveillance — do I feel myself home, at my place. My escape would be a big gift for all those 'Paberskis, Rushnitskis, Stefanoviches' [officers dealing with his case], who are putting handcuffs on Belarussian society, who want to control the internet and are pulling my country back into totalitarian past." he wrote in his blog a few days before his arrest.
There are five other journalists and members of Belarus Association of Journalists who are currently being prosecuted. Irina Khalip, Natallia Radzina, Alaksandr Fiaduta, Siarhei Vazniak, Pavel Seviarynets are accused of "mass riot participation" and "actions to violate blatantly the public order". They all covered the 2010 campaign. Irina Khalip is the wife of Andrei Sannikov, the former presidential candidate who faces up to 15 years in prison. Natallia Radzina from popular opposition website Charter97 has reportedly left Belarus and sought asylum in Europe.
"Independent journalism in Belarus is a dangerous business as it is one of the main menaces to the regime", Janna Litvina, chairwomen of the Belarus Association of Journalists recently said. According to Litvina, the current economic situation forces the regime to seek further confrontation with the press and to increase the prosecution of journalists. Meanwhile the interest in independent information has been growing "as never before", she added.
On the internet journalists are even more open: "It seems Belarus's regime has foreseen its 'doomsday' and now they try to shut every mouth, just to save their asses" — one journalist recently posted in her blog.
The number of jailed reporters now is incredible, even for Belarus. Lukashenko understands the concept "media solidarity", each arrested journalist has a "special price" in his bargain with Europe.  Apparently he's deliberately chosen the this path as a way of suppressing the media. He is ready for further sanctions from West.
Olga Birukova is a Belarusian journalist based in London