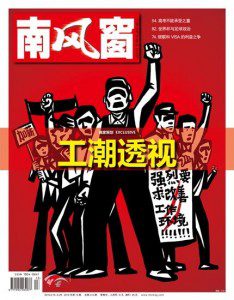 The suspension of one of China's top editors, Zhao Lingmin, who edited the high-profile magazine, Window on the South, has gripped the Chinese press. Locals are concerned that case indicates media freedoms will be further curbed.
Zhao spoke exclusively to Index on Censorship. She noted that even in the haven of China's most liberal media, the southern province of Guangdong, where Window on the South is based, media regulations are tightening. "Looking at the individual cases, it seems definite that the press here is not as free as before", Zhao said.
Window on the South is under the control of the local propaganda bureau of Guangdong. Every province in China has a propaganda bureau with its own level of severity when it comes to controlling media. For a long time the south had exemplified how liberal Chinese media could be –– Barack Obama gave an exclusive interview to a paper in the region upon his visit in 2009.
What got Zhao Lingmin in hot water? She was responsible for an article called "China Has Risen, We Must Say Goodbye to the Foreign Policy of Revolution", which took the words of a Taiwan historian to explain the Xinhai Revolution of 1911 and presented Sun Yat-sen, the founder of modern China, as a warmonger. The Communist Party has always maintained Sun Yat-sen as a figure who supported communism and started what communists now term as the beginning of "New China", a definitive break from the past. In all communist history, Sun Yat-sen is lauded as a "Founding Father" figure even though he was a Nationalist. Smearing him, or perceived smearing, is not a smart move.
Even though it's something that Zhao had been prepared for — she knew the risks of working in the media in China, where she has worked for seven year —this time it's serious. Even before she was suspended, there were changes within the editorial department. "Our magazine has persistently cultivated an independent spirit. But the editor-in-chief was replaced by someone who headed a newspaper in nearby Dongguan, and didn't know much apart from Dongguan. This is the first time that both the editor-in-chief and the president (previously Chen Zhong) of the magazine were both selected by the top."
The other thing that Zhao Lingmin was punished for was to interview a Taiwanese historian, Tang Chi-hua. When the article was published she was told that it had "fundamental problems." Zhao does not agree with this point of view, obviously. She says the majority of intellectuals in Mainland China agreed with what the Taiwanese professor said.
However, the Guangdong Propaganda Department didn't see it that way. Zhao needs to be reinstated before long, but she is optimistic about one thing: "I have only left temporarily. My name is still on the masthead." There is hope, after all.