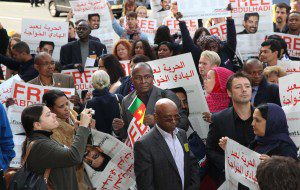 International outcry over the sentencing of 20 medics, who treated injured protesters,  in Bahrain has led to the announcement of their retrial. Front Line Defenders' Mary Lawlor explores the stories of others imprisoned in similar circumstances

Following the international outcry over the sentencing of 20 medical professionals to sentences ranging from 5 to 15 years the Attorney General of Bahrain has  announced that the doctors will now have a new trial before a civilian court. Front Line Defenders welcomes this positive news while treating it with due caution given the failure of the Bahraini Government to  honour previous commitments.
This announcement does nothing to address the fact that human rights defenders, political activists, health professionals and trade unionists have been subjected to summary justice, arrested on trumped up charges, held incommunicado, tortured and denied access to their lawyers and families. To date 208 people have been sentenced to nearly 2500 years in prison — while one person has been sentenced to death.
The courts have refused to address any of these issues  and  while welcoming this recent announcement we must measure the credibility of that promise  against the standard of past practice.
Ali Abdulemam was one of 23 political activists and human rights defenders arrested on 23 October 2010 – 4 months before the recent demonstrations. He is the founder of bahrainonline.org, one of the few independent media sources in the kingdom.
Ali subsequently described his treatment in detention:
"I was subjected to torture, beatings, insults and verbal abuse. They threatened to dismiss my wife and other family members from their jobs. I was interrogated without a lawyer, and the officer there who appeared to be from the National Security dismissed my denials to the allegations."
Ali Abdulemam is currently in hiding after being sentenced to 15 years imprisonment in absentia. None of the issues raised by his trial and treatment  in custody have been  addressed.
On 9 April 2011, human rights defender Mr Abdulhadi Al-Khawaja was arrested during a raid on the home of his daughter in the middle of the night and beaten so badly that he required a four hour operation. Abdulhadi Al-Khawaja is a former Protection Coordinator for the Middle East region for Front Line Defenders and former President of the Bahrain Centre for Human Rights (BCHR). Despite being a civilian, he and 20 other defendants were tried before a military court where they were not allowed to present or question witnesses. On 27 September, the life sentence imposed by the military court on him was upheld on appeal.
The authorities then targeted doctors and nurses who treated injured protestors after the break up of the demonstration at the Pearl Roundabout. After a series of armed and violent raids on the homes of medical personnel, the authorities initiated a series of show trials before a military court. The charges were based on confessions made by doctors while being tortured, and they were forced to sign papers without reading them.
On 29 September, 20 medical staff members were sentenced to prison sentences ranging from 5 to 15 years. Among those sentenced were Dr Ali Al Ekri, Dr Bassim Dhaif, and Dr Ghassan Dhaif, all of whom were trained at the Royal College of Surgeons in Ireland and received 15-year sentences. Among those receiving 5-year prison sentences were Dr Zahra Al-Sammak, who also trained in Dublin; Dr Fatima Haji, who was a lecturer at the RCSI campus in Bahrain; and Ms. Rola Al-Saffar, President of the Bahrain Nursing Society.
The medics' main crime seems to have been that they spoke out publicly and forcefully about the injuries they saw inflicted on demonstrators, and the fact that they protested the Minister of Health's refusal to allow ambulances to go to the Pearl Roundabout to collect injured demonstrators.
For complying with their Hippocratic Oath in providing medical care to the injured and speaking out on their behalf,  they have been imprisoned, brutally tortured, deprived of their livelihood and sentenced to significant prison terms.
The coming weeks will determine whether the concern of the Royal  Family and Government of Bahrain is to create the conditions for a real process of dialogue and national reconciliation or to orchestrate an international PR campaign which pays lip service to legal principle and human rights but the real purpose of which is the  maintenance of power and privilege at any price. On this the jury is still out.
Mary Lawlor is Executive Director of  Front Line Defenders