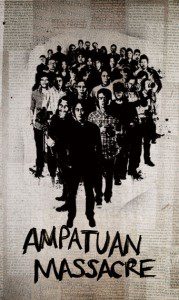 MURDERED 23 NOVEMBER 2009
Ampatuan massacre victims, Ampatuan — Maguindanao, Philippines
Join us in demanding action for the victims of the Ampatuan massacre. On 23 November 2009, Esmael Mangudadatu planned to register his candidacy for governor of Maguindanao. His rivals from the Ampatuan clan – who have controlled Maguindanao since 2001 with the backing of the Philippine government – had vowed to block his efforts, so instead he sent along journalists and some female relatives, believing they would be safe. An hour into the drive, 200 armed men ambushed the convoy; 58 people, including 32 journalists and media workers, were slaughtered in the single deadliest incident for journalists in history.
Two years on, dozens of suspects remain at large, including members of the Ampatuan family. The trials have been painfully slow, and attempts to subvert the judicial process – with bribes, threats and intimidation of families and witnesses – continue. The Ampatuans have been linked to at least 56 other killings over the past 20 years. The government has failed to seriously investigate any of the atrocities.
Click here for a full list of those killed.
International Day to End Impunity is on 23 November. Until that date,  we will reveal a story each day of a journalist, writer or free expression advocate who was killed in the line of duty.