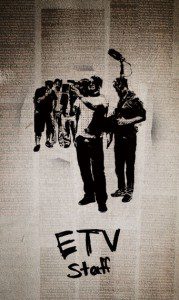 MURDERED 19 NOVEMBER 1997
Eenadu-TV (E-TV) staff — Hyderabad, India
Raja Sekhar, assistant; Jagadish Babu, producer; Gangadhara Raju, cameraman; Srinivas Rao, assistant cameraman; S. Krishna, assistant cameraman
Join us in demanding justice for Eenadu-TV staff.  On site to cover a film production, the E-TV crew were leaving the studio on 19 November 1997 when they were killed by a car bomb detonated near the entrance. The attack is believed to have targeted the film's producer, Paritala Ravi, a former guerrilla leader who had become a state legislator. According to the International Federation of Journalists, the E-TV staff were "collateral damage" in a cycle of murders and vendettas involving powerful political factions and families in Ravi's home district of Anantapur, Andhra Pradesh.
Soon after the blast, eight among the alleged suspects surrendered to local police. But the trial floundered and all were released on bail. In January 2005, Ravi himself was killed in an ambush – allegedly by the bombing conspirators. Since then, one suspect has been killed. Today no remaining suspects have been brought to justice.
Take Action: Write a letter demanding justice for Eenadu-TV Staff
International Day to End Impunity is on 23 November. Until that date,  we will reveal a story each day of a journalist, writer or free expression advocate who was killed in the line of duty.
Latest posts by Alice Purkiss
(see all)