Recognising artists, filmmakers and writers whose work asserts artistic freedom and battles against repression and injustice
Voina, performance artists, Russia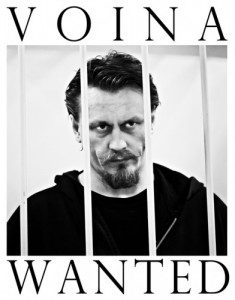 Voina, meaning "War", is a collective of radical Russian anarchist artists who combine political protest and performance art.
Voina's carries out actions directed against the authorities. In June 2010, members painted a 65-metre phallus on a drawbridge in St Petersburg which, when raised, faced the city headquarters of the federal security service.
Voina members Vorotnikov and Leonid Nikolayev were imprisoned from November 2010 to February 2011 in connection with an anti-corruption protest and, in July 2011, Russian police issued an international arrest warrant for Vorotnikov. A warrant for the arrest of fellow artist Natalia Sokol was issued in December 2011.
Ai Weiwei, artist, China
AiWeiwei is a Chinese artist and activist whose work incorporates social and political activism. He has investigated corruption and cover-ups and openly criticised the Chinese government's record on human rights.
Ai's 81-day detention in 2011 caused international uproar. He was arrested in April, alongside several of his friends and colleagues. Since the Chinese authorities released him on bail in June 2011, he has been fined $2.4 million in back taxes and penalties. Though officials arrested Ai for alleged economic crimes, supporters say he was punished for his activism and vocal critiques of the government. He paid a $1.3 million bond with loans from supporters, who contributed online and in person and even throwing cash over the walls of his studio in Beijing.
In November 2011, after Ai announced that authorities were investigating his cameraman for pornography in connection with photos that featured the artist and four women naked, internet users responded tweeting nude photos of themselves in support.
Ali Ferzat, cartoonist, Syria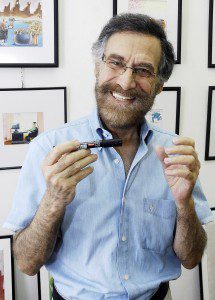 Syrian cartoonist Ali Ferzat has been called "an icon of freedom in the Arab world". He has spent decades ridiculing dictators in more than 15,000 caricatures. His depictions of President Assad and the police state have helped galvanise revolt in Syria.
In August 2011, Ferzat was wrenched from his vehicle in central Damascus by pro-Assad masked gunmen who beat him badly and broke his hands. Passers-by found Ferzat dumped at the side of a road; his briefcase and the drawings inside it had been confiscated by his attackers.
Ferzat earned regional and international recognition in the 1980s with stinging cartoons of officials, autocrats and dictators including Saddam Hussein and Muammar Gaddafi. Saddam Hussein called for Ferzat's death in 1989 after an unfavourable portrait of him was exhibited in Paris and Ferzat's cartoons have been banned in numerous Arabic countries.
Min Htin Ko Ko Gyi, poet, Burma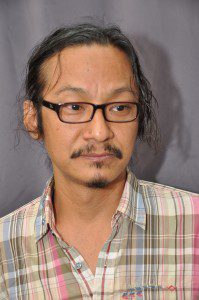 Min Htin Ko Ko Gyi, a poet, filmmaker and screenwriter, co-founded Burma's inaugural Arts of Freedom Film Festival, which took place in early January 2012.
Burmese citizens were invited to create a short film on the theme of freedom. Despite the state media's refusal to cover the announcement, Ko Ko Gyi and his organisers received 188 submissions. Thousands gathered in Rangoon under the banner "Free Art, free thought, freedom", to watch the selected films. More than 7,000 attendees voted for Cut This Scene to win one of five awards. The film is a satire of a government censorship committee struggling to set the criteria by which to censor films.