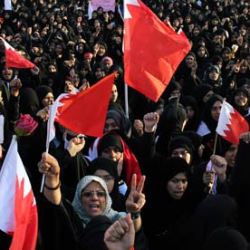 British politcians' fear of upsetting "allies" has meant oppression in the tiny gulf nation is ignored, says Rohan Jayasekera

This article was originally published at the Independent
Most international observers would agree with the UK Foreign Affairs Committee's conclusion that the Foreign Office should have listed the Gulf island Kingdom of Bahrain as a "country of concern" more than a year ago. Since February 2011 and the start of protests against state corruption and discrimination against Bahrain's Shia majority populace, the government has driven a fierce crackdown on protesters, bloggers, civil society leaders and ordinary citizens caught up in the crisis.
Instead the country was left off the list, reflecting Britain's significant business commitments in the country and the desire of some in Whitehall to treat Bahrain as a "country of un-concern" when the UK's commitment to human rights is tested there. The MPs were diplomatic, finding it "difficult" to discern "any consistency of logic" in the UK government's response to boycott calls around 2012's European Championship games in Ukraine but avoiding taking a position on similar calls around the Bahrain Grand Prix.
The issue is not a consistency of logic, but a consistency of oil, and in particular the government's unwillingness to antagonise Bahrain's strongest ally, Saudi Arabia, which has warned the UK off from "interference in the workings" of the Gulf Cooperation Council (GCC) alliance, which comprises Saudi Arabia, Bahrain, Kuwait, Qatar, the UAE and Oman.
Index on Censorship continues to protest the denial of freedom of expression in the country. Bahrain's media is severely controlled, and its public attacks on human rights defenders are directly or indirectly coordinated by the government. The regime wields a 2002 press law that allows prison sentences for critics of the regime and Article 246 of the country's penal code which blocks reporting on the current round of arrests.
Several websites have been forcibly shut down or banned, including the pro-democracy site Bahrain Online, founded by rights activist and blogger Ali Abdulemam. Bahrain's cyber defamation laws — which include the publication of "fake news" — were revised in September, resulting in heavier monitoring of social media networks to tackle the "misuse" of such platforms. Index award winner Nabeel Rajab of the Bahrain Human Rights Center is currently appealing a three-year sentence for organising pro-democracy rallies via social networks.
On Wednesday the country's Interior Ministry announced the arrest of four people for defaming public figures on social media. A fifth is still sought. The ministry said that the suspects confessed to their crime, which could result in a jail sentence of up to five years. The claim of "confessions" rings an immediate alarm bell. Many suspects have been tortured to extract "confessions" on fabricated charges, later admitted as evidence in court in contravention of international law.
Bahrain uses military courts to try civilians, and continues to sentence them to jail time way out of proportion to the supposed offence. Suspects are routinely ill-treated in detention, held incommunicado and denied access to family and lawyers. All of this has been documented in detail by an independent commission of inquiry set up by the King of Bahrain in July 2011, which reported it in November. Described as a "substantial and respected report", by UK MPs, it found clear evidence of torture and of physical and psychological abuse of detainees.
Yet the abuses go on. In one of several reports of general human rights abuse recorded by Index in recent months, five medics were arrested in dawn raids on 2 October, just a day after the nation's highest court upheld their prison sentences in a case international rights groups have condemned as politically motivated.
The Bahrain Independent Commission of Inquiry (BICI) report should be acted on. It called for, among other things, the founding of an independent and impartial Bahraini national commission to follow up and implement the BICIs recommendations. The commission was founded as asked, but its members were selected by the King leaving its independence and impartiality in doubt, but its ineffectiveness unchallengable.
The BICI also called on Bahrain to reopen the cases taken to military trial. It also sought for all convictions and sentences by the National Security Courts, where fundamental principles of a fair trial had not been respected, to be subject to review in civilian courts. Such action would only be a start at finally addressing the long list of rights abuses in Bahrain.
Index CEO Kirsty Hughes has said: "The government has been inconsistent in its approach to uprisings in the Middle East and North Africa. With Bahrain, it has allowed business interests to override human rights concerns and not put sufficient pressure on the Bahrain government to reform.'"
The UK needs to get its priorities straight and put Bahrani blood before oil.
Rohan Jayasekera is Associate Editor and Deputy Chief Executive of Index on Censorship
Latest posts by Rohan Jayasekera
(see all)