This week Index held a high level panel debate in partnership with the Editors Guild of India and the India International Centre to discuss the question "Is freedom of expression under threat in the digital age?" Mahima Kaul reports 
Index on Censorship, in partnership with The Editors Guild of India, hosted a debate in New Delhi on Tuesday (15 January) asking, "Is freedom of expression under threat in the digital age?"  Discussing the topic were Ajit Balakrishnan (founder and Chief Executive of rediff.com), Index on Censorship CEO Kirsty Hughes, Sunil Abraham (Executive Director of the centre for Internet and Society), and Professor Timothy Garton Ash, Director of the Free Speech Debate  project.
Sunil Abraham  questioned the idea of technology specific "internet freedom" that has been advocated by many not least the US Secretary of State Hillary Clinton. He said there was for instance much greater freedom and diversity on Indian TV than in the US.  He also argued that that this freedom does not seem to extend to a right of access to knowledge, as demonstrated by the charges brought against open access activist and developer Aaron Swartz, who committed suicide earlier this month. Swartz was facing charges for allegedly downloading 4.8 million academic articles from subscription-only digital library JSTOR.
Abraham said one unintentional effect of censorship by governments is that it teaches citizens how to protect themselves online. Finally, he questioned the Indian government's draconian laws and arbitrary actions in the digital realm, wondering whether this is the authorities' way of warning future netizens about "acceptable online behaviour", to condition the public not to criticise the government and to create a chilling effect.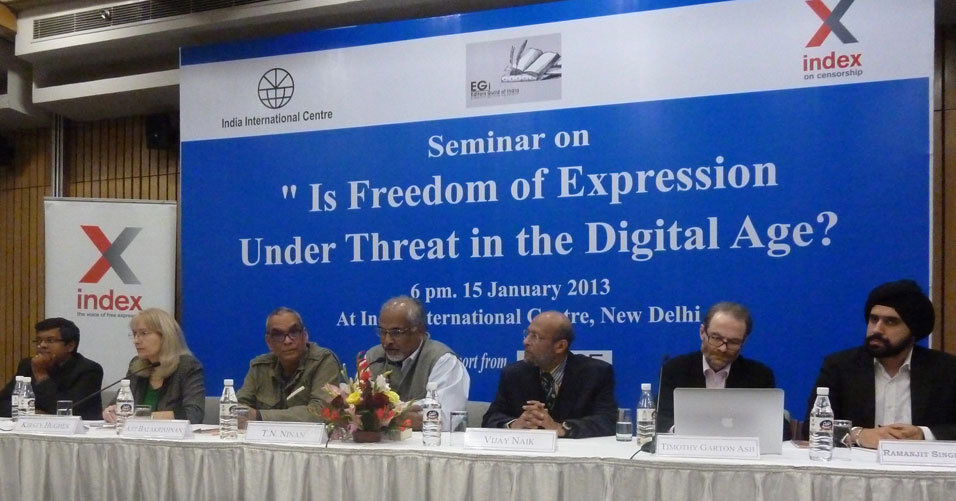 Freedom of expression is always under threat and in need of defending, argued Timothy Garton Ash. However, he didn't think the threat was particularly high today  in the digital realm — rather the threats to privacy were what were particularly concerning online. With 76.8 per cent of India's 1.2 billion population connected by mobile phone, there is an extraordinary opportunity for the prevalence of freedom of expression brought about by new technologies. But he said there are also a lot of challenges to free expression in India — and that "swing states" such as Brazil and India will be very important in determining where the global conversation goes on freedom of expression
Ajit Balakrishnan, founder of web portal Rediff.com, explained that many of the problems that have occurred in the digital realm in India have to do with poor drafting of legislation. He was particularly concerned about intermediary liability and explained why and how intermediaries roles needed protecting. He also explained that government officials have genuine problems with phrasing, and that when it comes to the application of these laws, understanding them and when they should be applied will take another 25 years. He added that the country is challenged by a legal system ill-equipped for coping with new technologies.
Kirsty Hughes said that freedom of expression is a universal right, meant to be applied across borders not just within countries.  She said that while the digital domain allowed a big expansion in freedom of expression there were risks we are heading towards a more controlled net, a partially censored net, and a fragmented net (for instance with Iran attempting to build its own internet disconnected from the rest of the world). She said that some of the negative reactions by government to social media in India were seen to in the UK where there had been a trend towards criminalising supposedly offensive comment — although the new interim guidelines on social media prosecutions were a step in the right direction.  Hughes emphasised three main concerns — state censorship, privatisation of censorship and the role of big companies, and mass surveillance. She pointed out that the British government had pushed for extensive surveillance with the Communications Data Bill, but this has now been shelved after a critical report from MPs.
Ramanjit Singh Chima, policy adviser for Google, said that  the question is not about absolute freedom, but about what is appropriate and lawful. He emphasised that in the US, judges had strongly defended free expression online as they saw the digital world as a powerful space for free exprssion.  He pointed out how effective social media tools, including Google's own products, have become in helping during emergency situations like natural disasters and terrorist attacks. He also pointed out that the internet is not only about free expression but business as well. The internet contributes to 1.6 per cent of India's GDP. Singh Chima said positive judgements by US  and EU courts protect the users, adding that regulation for the net should be appropriate for its engineering.
Mahima Kaul is a New Delhi based journalist. She tweets from @misskaul.
This event was kindly sponsored by SAGE India. You can watch the debate in full here.
Want to be able to attend events like this? Check out our events page to see what we have planned for 2013
Latest posts by Sara Yasin
(see all)