In Phnom Penh, Cambodia, for the IFEX General Meeting and Strategy Conference 2013, Index Director of Campaigns and Policy Marek Marczynski reported back on the manhandling of protesters outside the Royal Palace.
"The use of violence against the demonstrators today was clearly disproportional and unlawful. The authorities instead of cracking down on people exercising their freedom of speech and assembly should listen to their legitimate concerns. It is disturbing that as the global civil society meets in Phnom Penh today to discuss challenges to free expression the authorities apply such brutal measures to suppress this basic right", Marczynski said.
Here is Marczynski's full account:
I am in Phnom Penh, where I am attending the 2013 General Meeting of IFEX (International Freedom of Expression Exchange) which is a global network of organisations working together to defend and promote freedom of expression world-wide. Today, following the morning discussions I decided to take a walk to see the Royal Palace, one of the many examples of the beautiful Khmer architecture.
As I approached the main entrance to the palace I saw a group of about 40 people chanting slogans and holding flowers. Some of them were kneeling. Most of them were women and young children. I soon realised that they were demanding release from prison of Yorm Bopha, a land rights activist.
Yorm has been detained since September 2012, allegedly in relation to planning of an assault on two men in August 2012. In December 2012, after a trial which Amnesty International described as unfair, Yorm was sentenced by the municipal court in Phnom Penh to three years in prison on charges of "international violence with aggravating circumstances". The conviction was upheld on 14 June 2013 by the Cambodian Supreme Court but her prison sentence was reduced to two years.
Prior to her arrest, Bopha had been campaigning against forcible eviction of thousands of people from the area of Boeung Kak Lake in Phnom Penh which was leased to a private company in 2007.
Today's protest was calling for her immediate release. The participants were holding placards with photos of Bopha who has been proclaimed a prisoner of conscience by Amnesty International.
Though the protest was peaceful, there was a large police presence on the street, which was closed to traffic. Around 100 policemen were waiting nearby.
At about 3:40pm the police began cordoning off the gathering. I could not actually understand why they were doing this as the group of women and children were not causing any problems. It was just a cheerful gathering chanting and holding flowers.
The atmosphere changed quickly. Although I don't speak Khmer I could sense that it was tense. Soon after, the police started pushing the protesters, some of whom were still kneeling, away from the palace.
Initially the protesters did not react and stayed put. The police however quickly became violent. Some police officers started dragging the protesters and pulling their placards. One of the police officers wearing a mask was particularly violent, punching some of the women.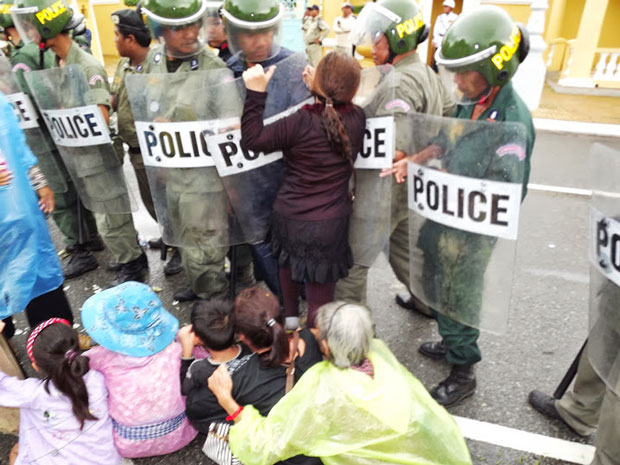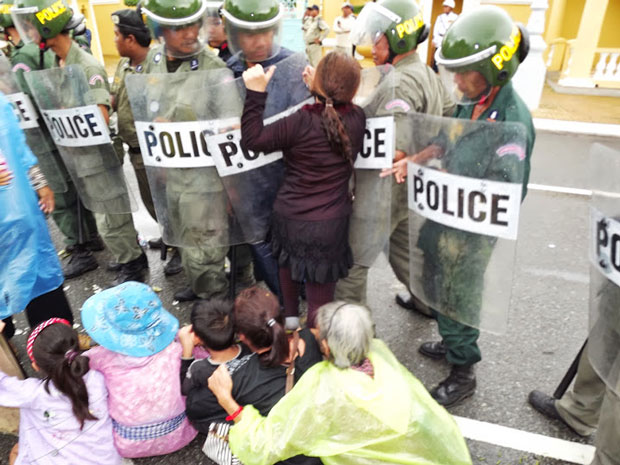 The violent confrontation lasted for another hour during which two women, after being pushed by the police, fainted.
For updates from #ifex13, follow @MarekMarczynski