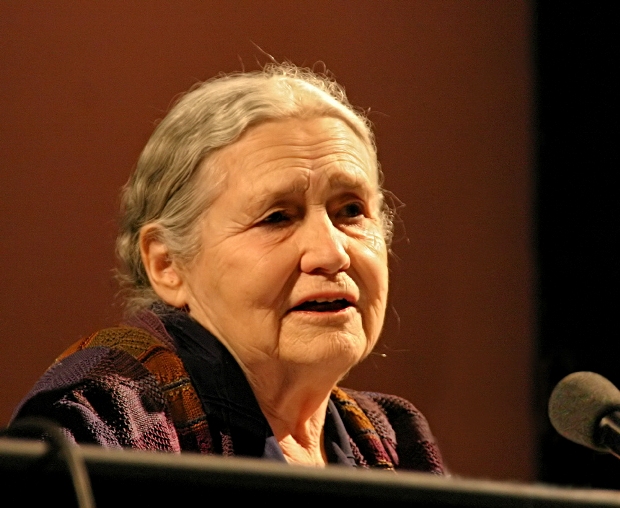 It is an astonishing fact that Zimbabwe, after 20 years of a rule that has starved libraries and schools of books, is full of people who yearn for books, who see them as a key to a better life, and whose attitude is similar to that of people in Europe and the USA up to 50 years ago who read because they agreed with Carlyle's dictum 'the real education is a good library' — and aspired to be educated.
There are libraries and libraries. Some I am involved with would not be recognised as such in more fortunate parts of the world. A certain trust sends boxes of books out to villages which might seem to the illinformed no more than clusters of poor thatched mud huts, but in them may be retired teachers, teachers on holiday, people with three or four years of education who yearn for better. These villages may have no electricity, telephone, running water, but they beg for books from every visitor. Perhaps a hut may be set aside for books, with a couple of shelves in it, or shelves or a trestle may be put under a tree. In a bush village far from any big town, or even a little one, such a trestle with 40 books on it has transformed the life of the area. Instantly study groups appeared, literacy classes — people who can read teaching those who can't — civic classes and groups of aspirant writers.
A letter from there reads: 'People cannot live without water. Books are our water and we drink from this spring.'
An enterprising council official in Bulawayo sends out books by donkey car — 'our travelling library' — to places where ordinary transport cannot go, because there are no roads, or roads that succumb to dust or mud.
A friend of mine, known to be involved with organisations that supply books, was approached .by two youths in a bush village near Lake Kariba who said, 'We have built a library, now please give us the books.'
The library was a shelf in a little lean-to of grass and poles, but the books would never succumb to white ants or the book-devouring fish-moth, because they would always be out on loan.
A survey was made in the villages and it turned out that what these book-starved people yearn for are romances, detective stories, poetry, adventures, biography, novels of all kinds, short stories.
Exactly what a survey in this country would reveal — that is, among people who still read.
One problem is that these people do not know what is available that they might like if they tried. The Mayor of Casterbridge was a school set book one year and was read by the adults, and so people ask for books by Hardy.
The most popular book everywhere is George Orwell's Animal Farm. Another that has queues waiting for it is World Tales by Idries Shah, and it is not only the tales themselves, but the scholarly footnotes attached to them which people enjoy. They say of a story, perhaps from the Sudan or the USA, 'But we have a story just like that.'
One problem is that people, hearing of this book hunger, at once offer to donate their cast-off books. These are not always suitable. Donations would be better. Book Aid International, based in London, sends books out to book-starved countries.
This article was originally published in Index on Censorship magazine, March 1999.
Click here to subscribe to Index on Censorship magazine, or download the app here